Dominant Showdown: India vs Sri Lanka – World Cup 2023 Encounter Unveiled
In a gripping face-off between cricket giants, India vs Sri Lanka, the Wankhede Stadium witnessed a monumental clash during the World Cup 2023. The game was an absolute spectacle, resulting in a resounding victory for India by a colossal 302 runs, securing their slot in the semifinals.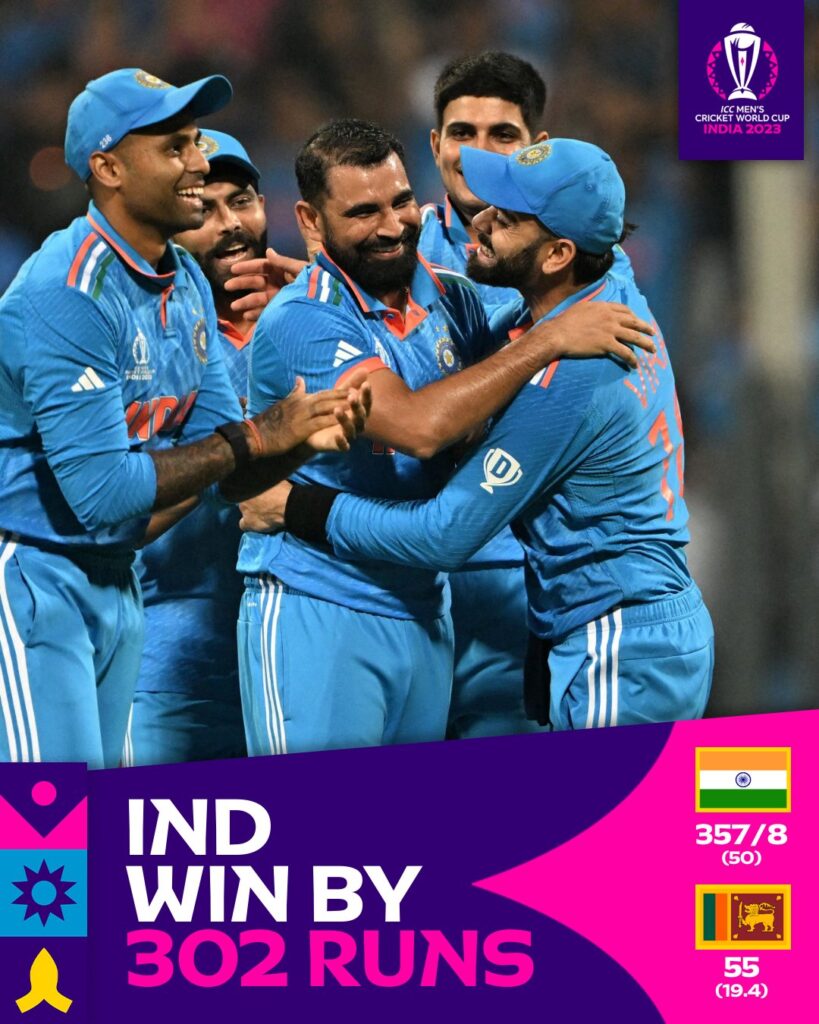 Unveiling the Spectacle: A 302-Run Triumph – India vs Sri Lanka World Cup 2023
India vs Sri Lanka – A Resounding Victory
The clash between India and Sri Lanka in the 2023 World Cup was nothing short of a masterclass. The Wankhede Stadium witnessed an absolute spectacle as India secured a dominant win by a staggering 302 runs. The Men in Blue's performance showcased their unwavering determination and skill, stamping their authority and securing a spot in the semi-finals.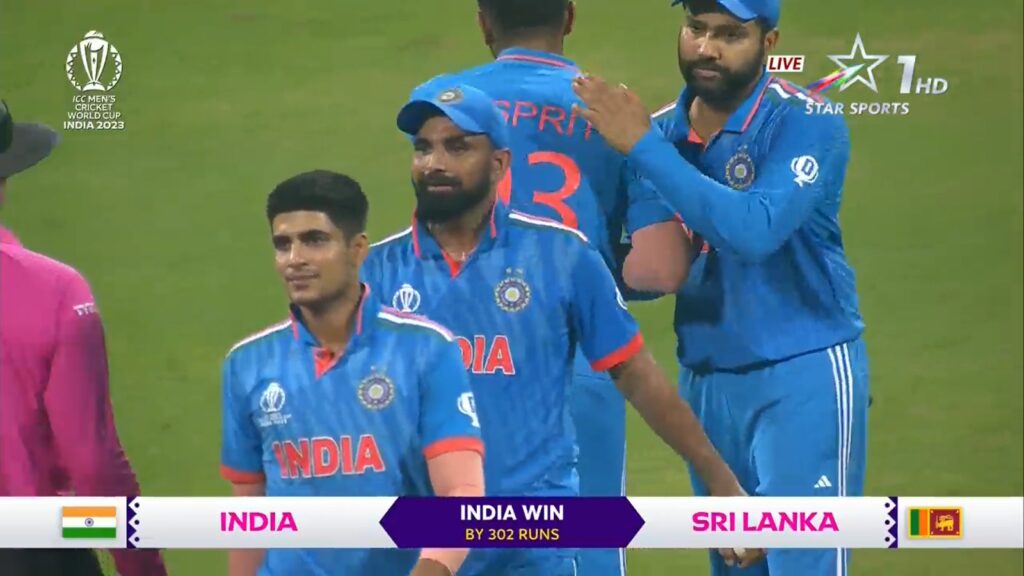 Dominance on the Batting Front
In a high-stakes match, India's batting display was marked by resilience and brilliance. Despite an early setback with Rohit Sharma's dismissal, Shubman Gill and Virat Kohli orchestrated a remarkable recovery, steering the innings with a 189-run partnership. Though missing individual centuries, their contributions laid a strong foundation. Shreyas Iyer's explosive innings further bolstered India's total, followed by a crucial late flourish by Ravindra Jadeja, propelling the team to a formidable 357/8 in 50 overs.
Bowling Brilliance and Lankan Struggles
Sri Lanka faced an uphill battle in their chase, confronted by India's relentless bowling attack. Early wickets and the sheer dominance of India's pace battery led by Mohammed Shami and supported by Jasprit Bumrah and Mohammed Siraj crumbled the Sri Lankan batting lineup. The opposition failed to counter the precision and aggression, resulting in a meager total of 55 runs in 19.4 overs. It became an embarrassing defeat for Sri Lanka, acknowledging India's bowling mastery.
Record-breaking Performances and Player Dominance
Notably, Mohammed Shami's stellar performance of 5/18 and 2 runs in 4 overs earned him the well-deserved 'Player of the Match.' His pivotal role in dismantling the Sri Lankan batting lineup and etching his name as India's leading wicket-taker in World Cup history was exemplary.
Match summary
Player of the Match
Mohammed Shami (IND) 5/18 (5) & 2 (4)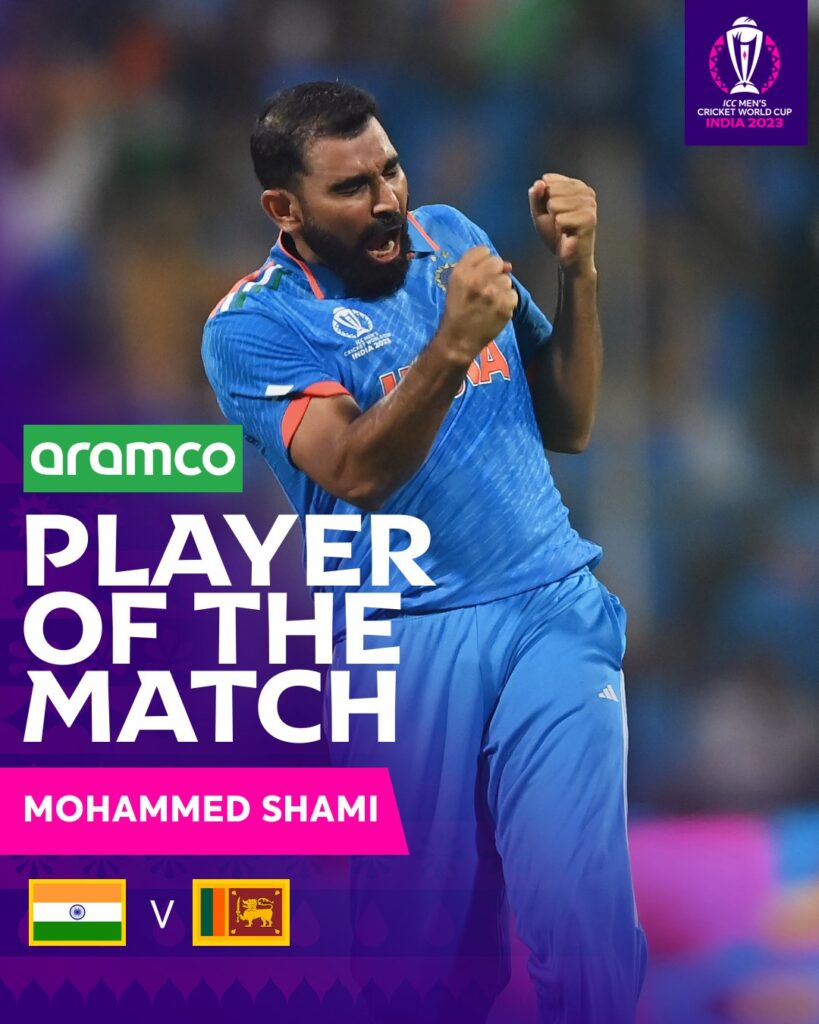 India · 357/8 (50)
| | |
| --- | --- |
| Shubman Gill 92 (92) | Dilshan Madushanka 5/80 (10) |
| Virat Kohli 88 (94) | Dushmantha Chameera 1/71 (10) |
| Shreyas Iyer 82 (56) | Angelo Mathews 0/11 (3) |
Sri Lanka · 55 (19.4)
| | |
| --- | --- |
| Kasun Rajitha 14 (17) | Mohammed Shami 5/18 (5) |
| Maheesh Theekshana 12* (23) | Mohammed Siraj 3/16 (7) |
| Angelo Mathews 12 (25) | Ravindra Jadeja 1/4 (0.4) |
https://gamingpur.com/world-cup-2023-ind-vs-sl-showdown-semi-final-clash/
India's Unmatched Dominance: Past and Present
The encounter highlighted India's undeniable supremacy in their recent clashes against Sri Lanka. With a streak of 5 consecutive victories, India's consistent dominance was on display, showcasing their evolving prowess and unmatched performance in the cricketing arena.
Head-to-head record
Last 5 matches
India- 5 wins | Draws- 0 | Sri Lanka- 0 wins
The Road to Victory: Tactical Analysis
India's meticulous planning and execution shone brightly in this match. The strategic brilliance in batting partnerships, aggressive bowling tactics, and disciplined fielding contributed to this overwhelming victory. The use of powerplay overs and calculated attacks bore testament to India's well-rounded approach.
Points Table
World Cup 2023
Rank
#Team
MMatches
WWon
LLost
NRRNet run rate
PtsPoints
1
IND
7
7
0
+2.102
14
7
SL
7
2
5
-1.162
4
Celebrating India's Commanding Win
The India vs Sri Lanka clash in the 2023 World Cup was a defining moment, symbolizing India's cricketing supremacy. Their cohesive team effort, exceptional individual performances, and strategic acumen culminated in a remarkable victory. The monumental win not only secured their place in the semi-finals but also reiterated their status as a cricketing powerhouse, leaving an indelible mark in the cricketing saga.