Triumph: Dominant Performance by Afghanistan in AFG vs NED Encounter at World Cup 2023
The AFG vs NED clash in the World Cup 2023 marked a pivotal showdown, witnessing Afghanistan's dominant display against the Netherlands. This match highlighted Afghanistan's strategic brilliance, propelled by exceptional performances from their bowlers and the resilient partnership between Rahmat Shah and Hashmatullah Shahidi. The strategic whiteboard tactics employed by Afghanistan have underscored their three consecutive victories, shaping their compelling journey in the tournament and setting the stage for a potential semi-final berth.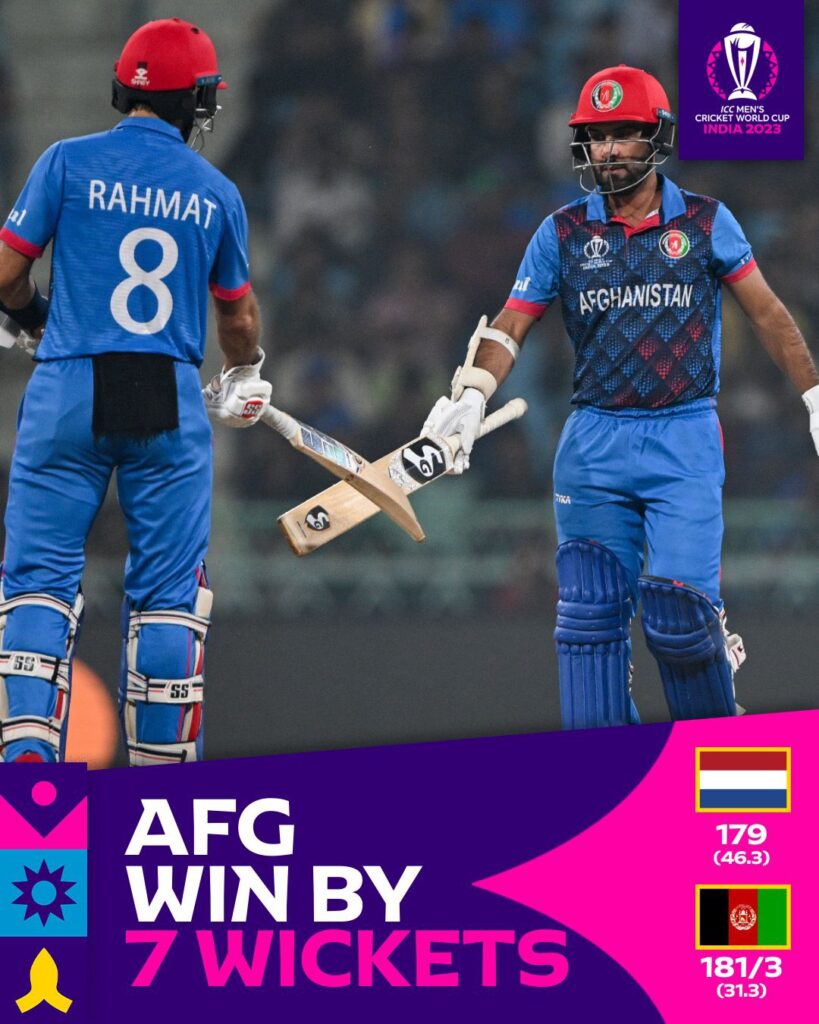 1. AFG vs NED: World Cup 2023 Match Overview
The AFG vs NED clash in the ongoing World Cup 2023 showcased an intense battle between Afghanistan and the Netherlands.
2. Afghan Bowlers' Stellar Display in AFG vs NED Showdown
Afghanistan's bowlers exhibited sheer brilliance, clinching a significant victory against the Netherlands.
3. Rahmat Shah and Hashmatullah Shahidi: Afghanistan's Key Players
Rahmat Shah and Hashmatullah Shahidi's solid partnership secured Afghanistan's triumph in the match against the Netherlands.
4. Afghanistan's Unwavering Determination for Victory
Afghanistan's consistent victories underscore their unwavering determination and strategic approach in the World Cup 2023.
5. A Strategic Whiteboard Tactic for Afghanistan
Afghanistan's success in three consecutive victories unveils the impact of their strategic whiteboard tactics.
6. Afghanistan's Road to Semi-Finals: Progress and Prospects
Analyzing Afghanistan's promising position and their road to the World Cup 2023 semi-finals after their remarkable win over the Netherlands.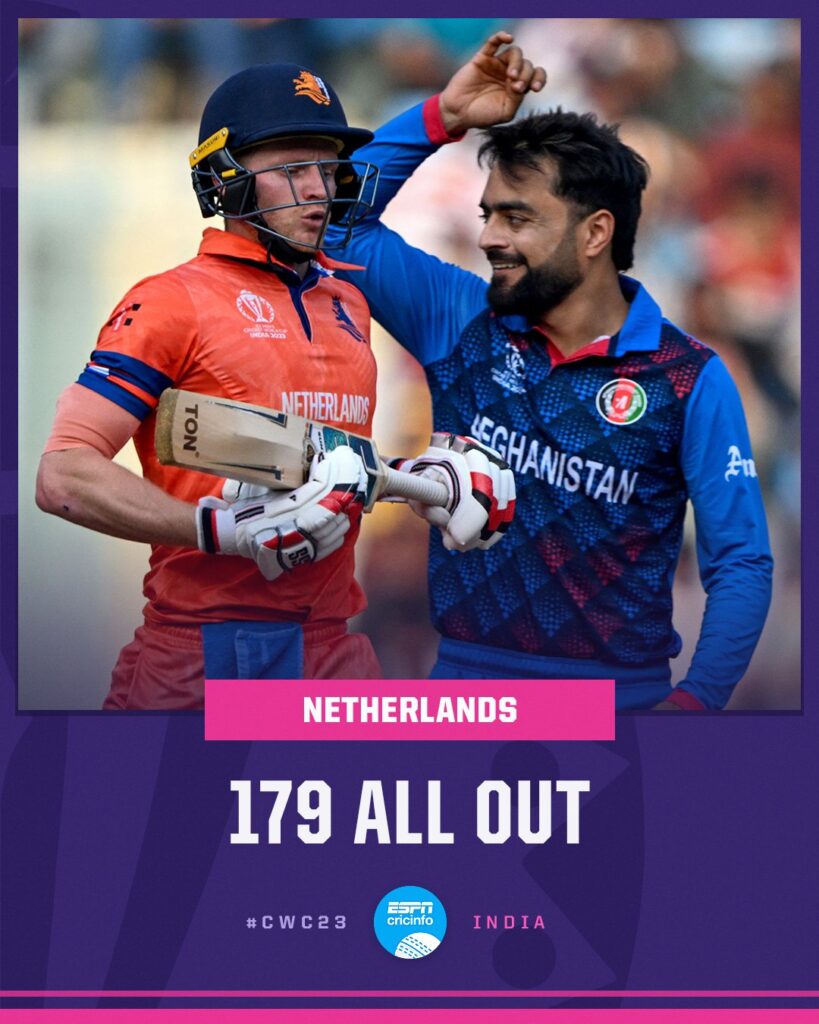 In this very important match against Netherlands at World Cup 2023 was a testament to the dominance displayed by the Afghan team. The clash witnessed a compelling battle, emphasizing the strengths and strategies of both sides. The Afghan bowlers, in particular, stole the show with their exceptional performance, leading to a significant win against the Netherlands.
Match summary
Player of the Match
Mohammad Nabi (AFG) 3/28 (9.3)

Netherlands · 179 (46.3)
| | |
| --- | --- |
| Sybrand Engelbrecht 58 (86) | Mohammad Nabi 3/28 (9.3) |
| Max O'Dowd 42 (40) | Noor Ahmad 2/31 (9) |
| Colin Ackerman 29 (35) | Mujeeb Ur Rahman 1/40 (10) |
Afghanistan · 181/3 (31.3)
| | |
| --- | --- |
| Hashmatullah Shahidi 56* (64) | Saqib Zulfiqar 1/25 (3) |
| Rahmat Shah 52 (54) | Roelof van der Merwe 1/27 (5) |
| Azmatullah Omarzai 31* (28) | Logan van Beek 1/30 (7) |
Afghanistan's bowling unit, led by Mohammad Nabi's outstanding spell, set the tone for their victory. The team's strategic use of four spinners created immense pressure on the Dutch batting lineup. Nabi's three-wicket haul and Noor Ahmad's crucial late breakthroughs showcased Afghanistan's bowling prowess. Their clinical performance not only restricted the Dutch to a below-par total of 179 but also highlighted Afghanistan's fielding excellence, resulting in four crucial run-outs.
The Afghan batting, spearheaded by Rahmat Shah and Hashmatullah Shahidi, once again proved pivotal in securing victory. Their resilient partnership and composed batting laid the foundation for Afghanistan's successful chase. Despite a few hiccups early in their innings, the duo's steadiness and determination ensured a smooth run chase, ultimately leading to victory.
The success of Afghanistan in the Today's match further emphasized their unwavering determination and strategic approach in the World Cup. With three consecutive victories, the Afghan team's whiteboard tactics have proven to be instrumental in their winning streak, solidifying their position and raising hopes for a strong contention in the semi-finals.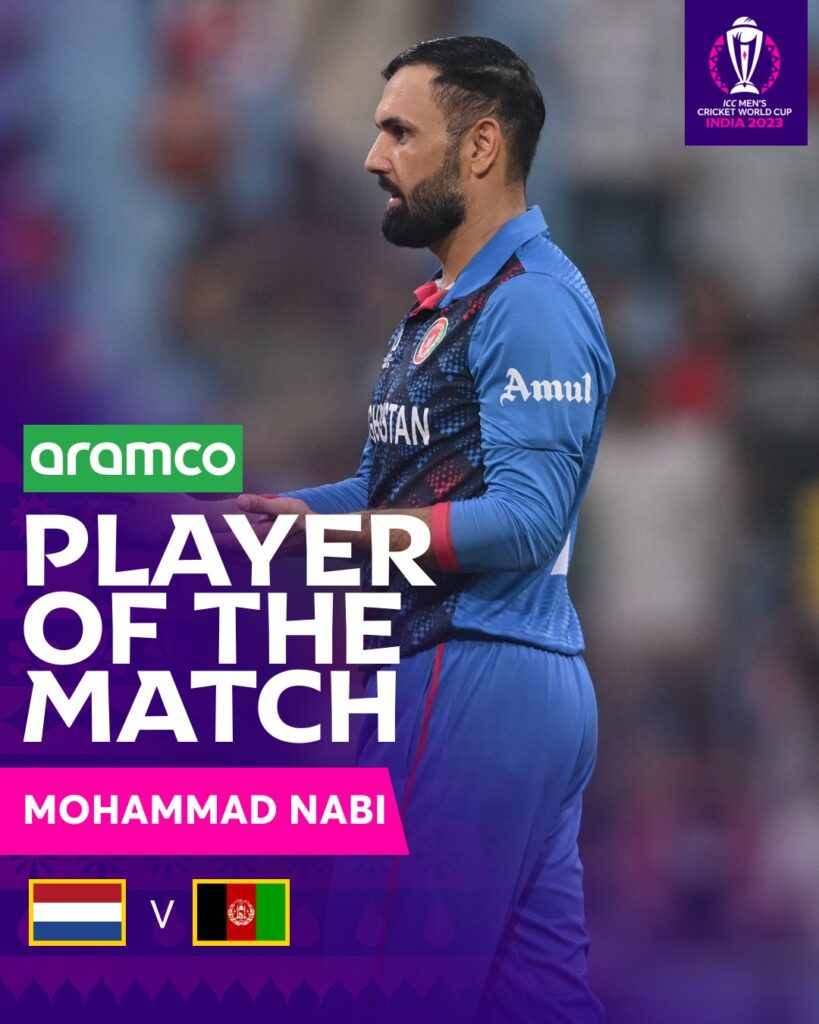 Looking ahead, Afghanistan's prospects in the World Cup 2023 appear promising, considering their strategic gameplay, consistent victories, and the unwavering spirit displayed by key players like Rahmat Shah and Hashmatullah Shahidi. The team's progress and potential road to the semi-finals depict a compelling narrative, showcasing their resilience and formidable presence in the tournament.