Thrilling Showdown: Barcelona Triumphs 4-3 over Villarreal in a La Liga Rollercoaster
Thrilling Showdown: In an electrifying clash that will go down in the annals of Spanish football history, Barcelona emerged victorious with a heart-pounding 4-3 win over Villarreal at Estadio de la Cerámica. The battle unfolded on Sunday afternoon, treating fans to a rollercoaster of emotions as Barça weathered a rollercoaster ride of their own. This contest, packed with four goals in the first half alone, showcased attacking brilliance, defensive frailty, and an awe-inspiring comeback, cementing its status as one of the most captivating matches of the 2023-24 La Liga season.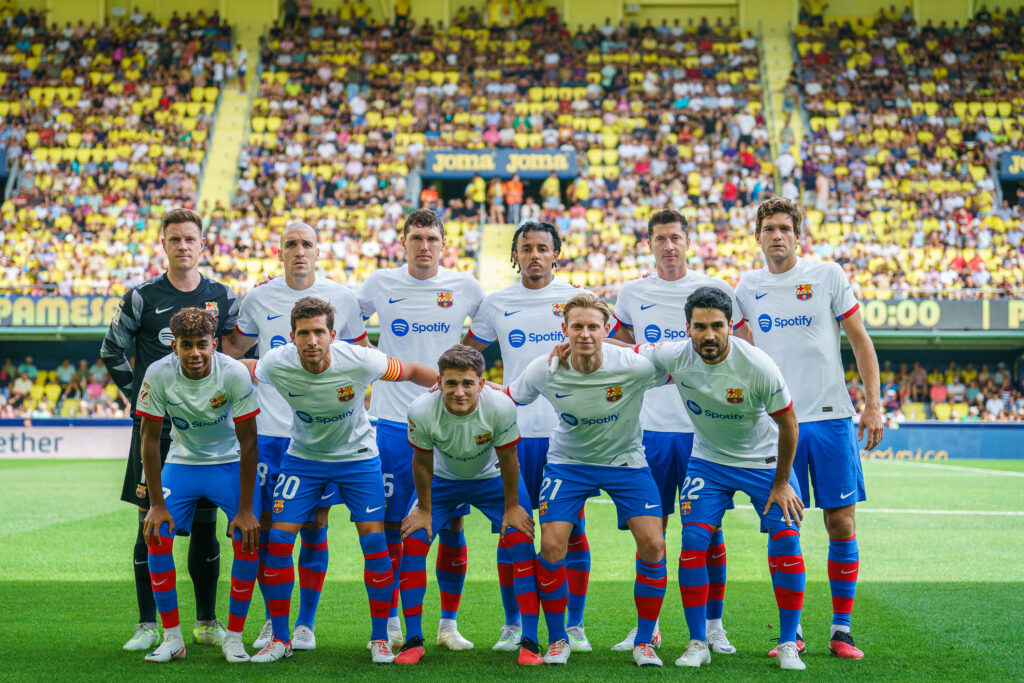 A Tale of Two Halves
The first half delivered an attacking spectacle as both teams threw caution to the wind, treating neutral viewers to a goal-laden extravaganza. Barça, though, had hearts pounding as their defense appeared porous in the opening moments. A series of near-misses and Marc-André ter Stegen's masterful saves kept the visitors afloat. Suddenly, in a mere three minutes, Barça turned the tide with goals from Gavi and Frenkie de Jong. Despite their impressive play, defensive lapses saw Villarreal claw back, with Juan Foyth and Alexander Sorloth capitalizing to level the score by halftime.
Barça's Resurgence
As the second half kicked off, Barça's defensive woes persisted, allowing Villarreal's Álex Baena to capitalize and complete an astonishing comeback within five minutes. However, Barça's resilience shone through as Ferran Torres entered the fray, reshaping the momentum. The Blaugrana kept the pressure on, threading together fluid passes to penetrate Villarreal's defense. Lamine Yamal struck the post, and Marcos Alonso tested the keeper, foreshadowing a remarkable resurgence.https://twitter.com/FCBarcelona?s=09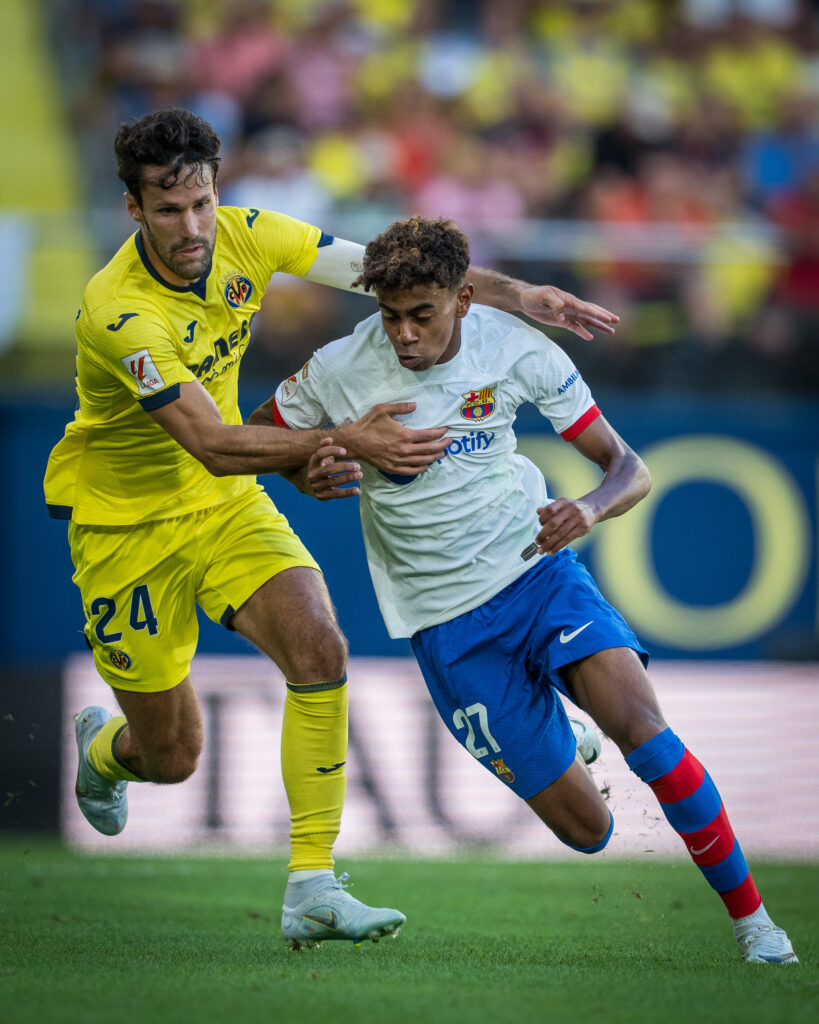 The Unforgettable Finish
A spirited fightback saw Ferran Torres equalize with a sensational left-footed strike, followed by Robert Lewandowski's clinical tap-in just moments later. Though opportunities for a fifth goal were missed, Barça managed to secure their defense and stave off Villarreal's late surge, sealing a stunning victory in the dying minutes. The final whistle marked the end of a 96-minute spectacle that left fans in awe.
https://twitter.com/VillarrealCF?s=09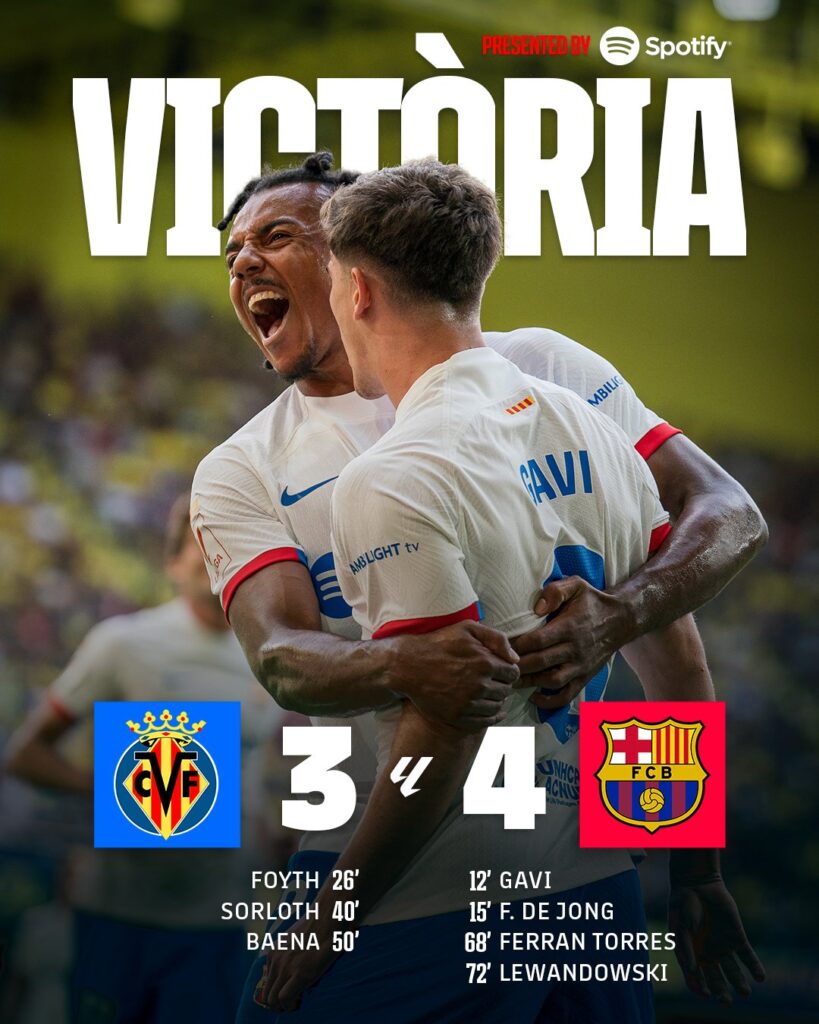 Lessons and Triumphs
This enthralling encounter showcased both the best and worst of Barça's game. Despite sixty minutes of defensive vulnerability, their comeback from a 3-2 deficit on the road highlighted their unwavering character. The midfield's exceptional passing, even in the absence of Pedri, and the emergence of Lamine Yamal as a prodigious talent provided silver linings. This victory against a formidable opponent that shared their attacking intent injects excitement into the season and underscores the joy of football when both sides aim for the back of the net.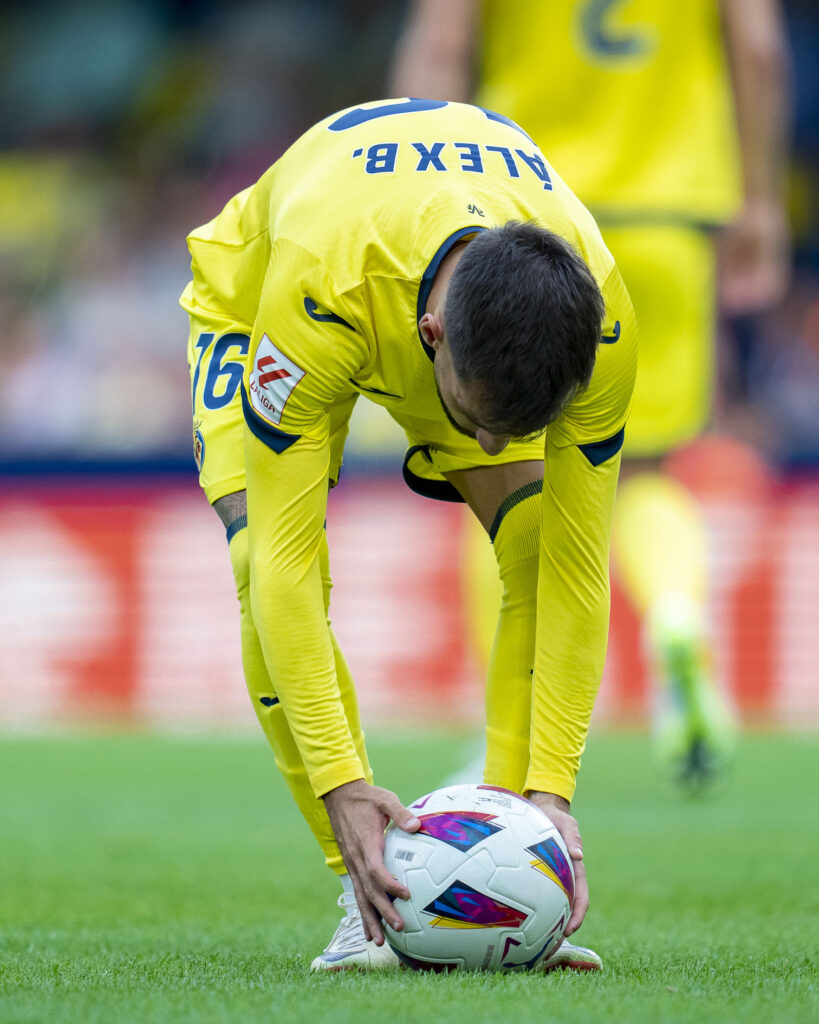 Lineups and Scorers
Villarreal: Jörgensen; Foyth, Gabbia, Cuenca, Pedraza; Capoue (Denis 70'), Parejo (Brereton 86'), Terrats (Comesaña 70'); Gerard (Akhomach 70'), Sorloth, Baena (Morales 77')
Goals: Foyth (26'), Sorloth (40'), Baena (50')
Barcelona: Ter Stegen; Roberto, Kounde, Christensen (Eric 46'), Alonso; Romeu (Ferran 63'), De Jong; Yamal (Fati 76'), Gündogan (Fermín 86'), Gavi; Lewandowski
Goals: Gavi (12'), De Jong (15'), Ferran (68'), Lewandowski (71')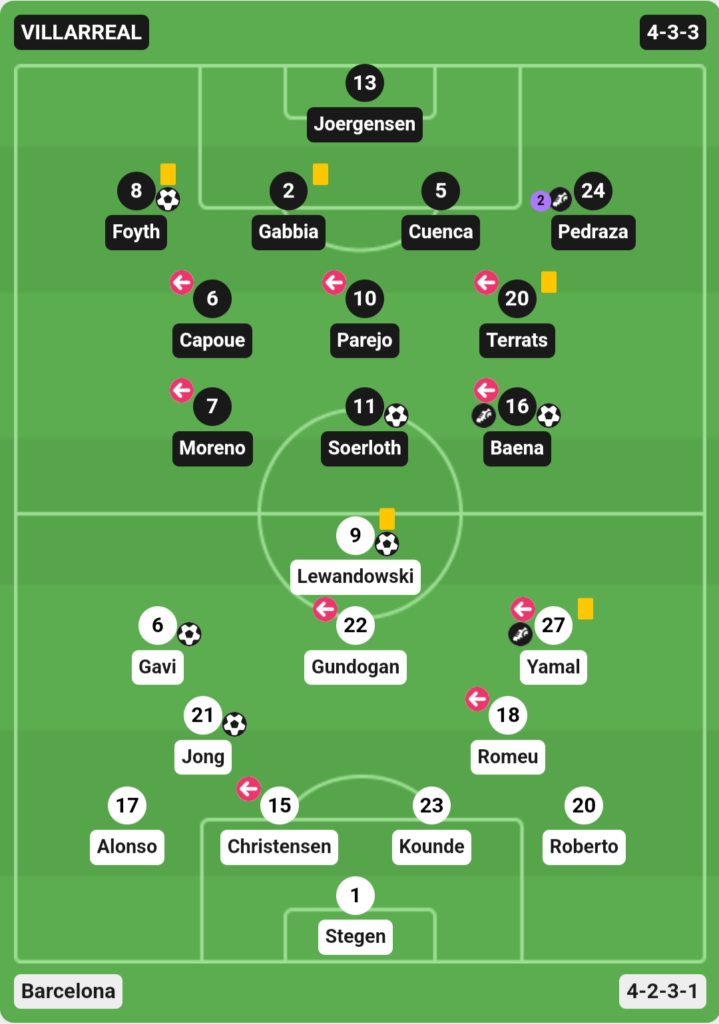 In this breathtaking showdown, Barcelona showcased the thrilling unpredictability that makes football a universal passion. The captivating victory, marked by remarkable comebacks and heart-stopping action, will undoubtedly resonate as one of the standout moments in the 2023-24 La Liga season. https://gamingpur.com/ultimate-fusion-of-esgg-and-aew-excellence/