SA vs Ban: A Dominant Victory in the Cricket World Cup 2023
"South Africa's Commanding Performance: SA vs Ban"
"Quinton de Kock's Heroic Century: SA vs Ban"
"Bangladesh's Tough Challenge: SA vs Ban"
"Implications for the World Cup Standings: SA vs Ban"
"South Africa's Path to Glory: SA vs Ban"
In a thrilling match at the Wankhede Stadium during the Cricket World Cup 2023, South Africa demonstrated their dominance as they crushed Bangladesh by an astounding 149-run victory. This article takes you through the key moments of this one-sided contest where South Africa's brilliance shone through.
South Africa's Commanding Performance: SA vs Ban
In the 23rd ODI match of the tournament, South African skipper Aiden Markram's strategic decision to win the toss and bat first set the tone for a power-packed encounter. The Proteas' .aggressive intent was evident from the start, aiming to establish their dominance.
Quinton de Kock's Heroic Century: SA vs Ban
The standout performer of this match was Quinton de Kock, who left everyone in awe with an exceptional century. De Kock's remarkable 174 runs from just 140 balls earned him the "Player of the Match" title. His partnership with Heinrich Klaasen, who contributed an explosive 90 runs from 49 balls, and Aiden Markram's 60 runs solidified South Africa's commanding total of 382/5 in their allotted 50 overs.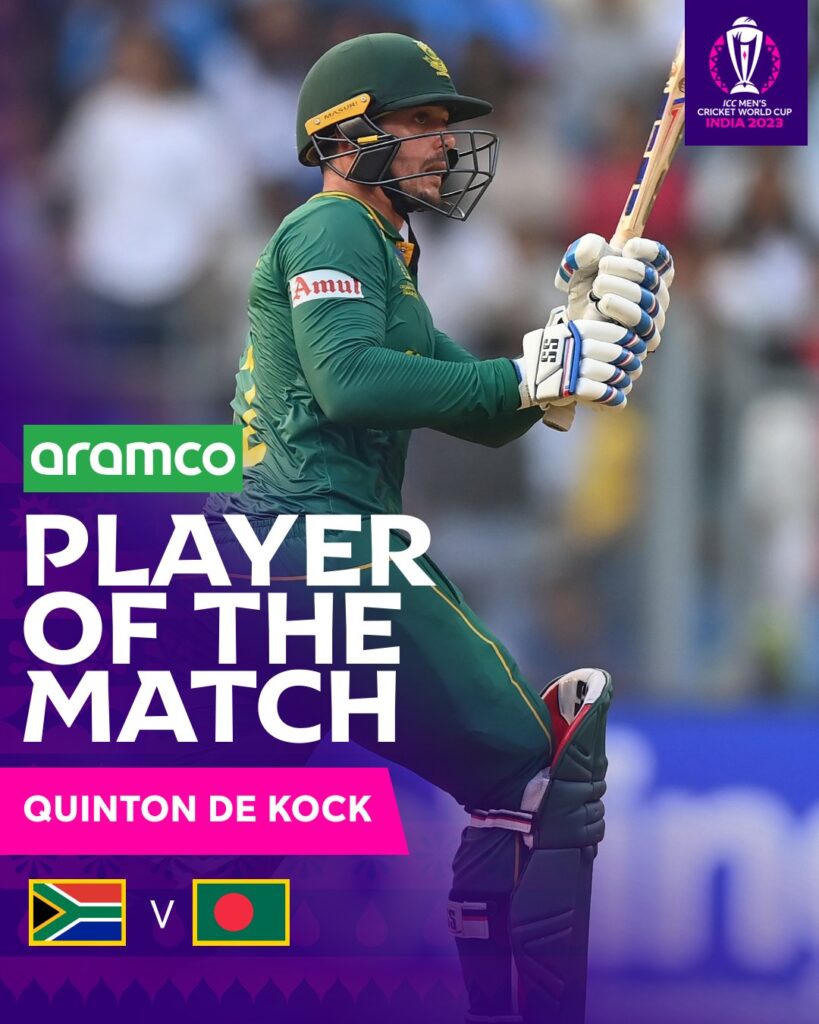 Bangladesh's Tough Challenge: SA vs Ban
Chasing the imposing target of 383 runs, Bangladesh faced a formidable task from the very beginning. The South African bowling attack, led by Gerald Coetzee (3/62) and Kagiso Rabada (2/42), swiftly dismantled Bangladesh's top order. In the initial six overs, Bangladesh found themselves in dire straits, losing three wickets.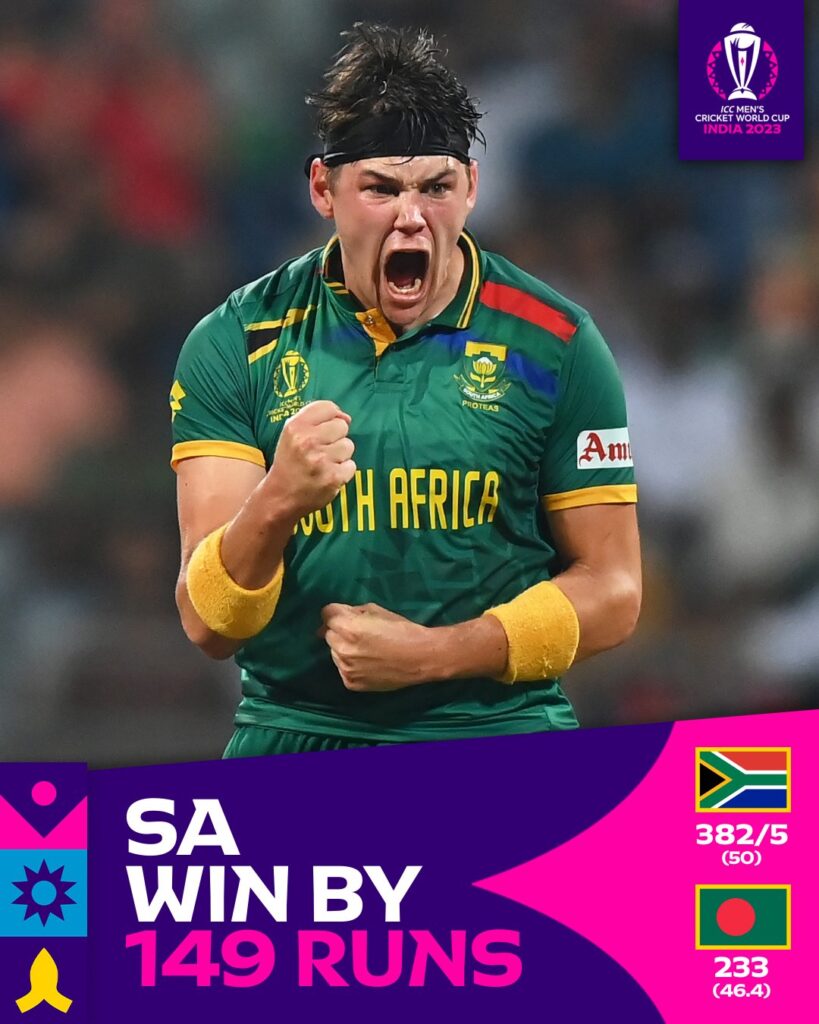 As the powerplay ended, the scoreboard displayed only 34 runs, with four wickets down. Despite Mahmudullah's valiant effort and a brilliant century (111 runs off 111 balls), the rest of the batting lineup couldn't offer significant resistance. Liton Das managed only 22 runs, and Nasum Ahmed contributed 19. Mehidy Hasan and Shakib Al Hasan tried to stem the tide with the ball for Bangladesh, but the early damage proved insurmountable. This loss not only tilted Bangladesh's head-to-head record against South Africa in World Cups to 3-2 but also placed them in a precarious position on the points table.
Implications for the cricket World Cup 2023 Standings: SA vs Ban
In this one-sided encounter, South Africa not only showcased their dominance but also made a significant impact on the World Cup standings. This commanding victory improved their net run rate and boosted their position on the points table. Every match is crucial in the round-robin stage, and the Proteas sent a clear message to their competitors.
Match summary
Player of the Match
Quinton de Kock(SA)174 (140)

South Africa · 382/5 (50)
| | |
| --- | --- |
| Quinton de Kock 174 (140) | Hasan Mahmud 2/67 (6) |
| Heinrich Klaasen 90 (49) | Mehidy Hasan 1/44 (9) |
| Aiden Markram 60 (69) | Shakib Al Hasan 1/69 (9) |

Bangladesh · 233 (46.4)
Mahmudullah 111 (111)
Gerald Coetzee 3/62 (10)
Liton Das 22 (44)
Marco Jansen 2/39 (8)
Nasum Ahmed 19 (19)
Kagiso Rabada
2/42 (10
South Africa's Path to Glory: SA vs Ban
With this victory, South Africa continues to assert themselves as formidable contenders in the Cricket World Cup 2023. The aggressive batting display led by Quinton de Kock sets the bar high for their upcoming matches. South Africa's journey in the World Cup looks promising, and they will aim to maintain their winning momentum as they seek a spot in the knockout stages of the tournament.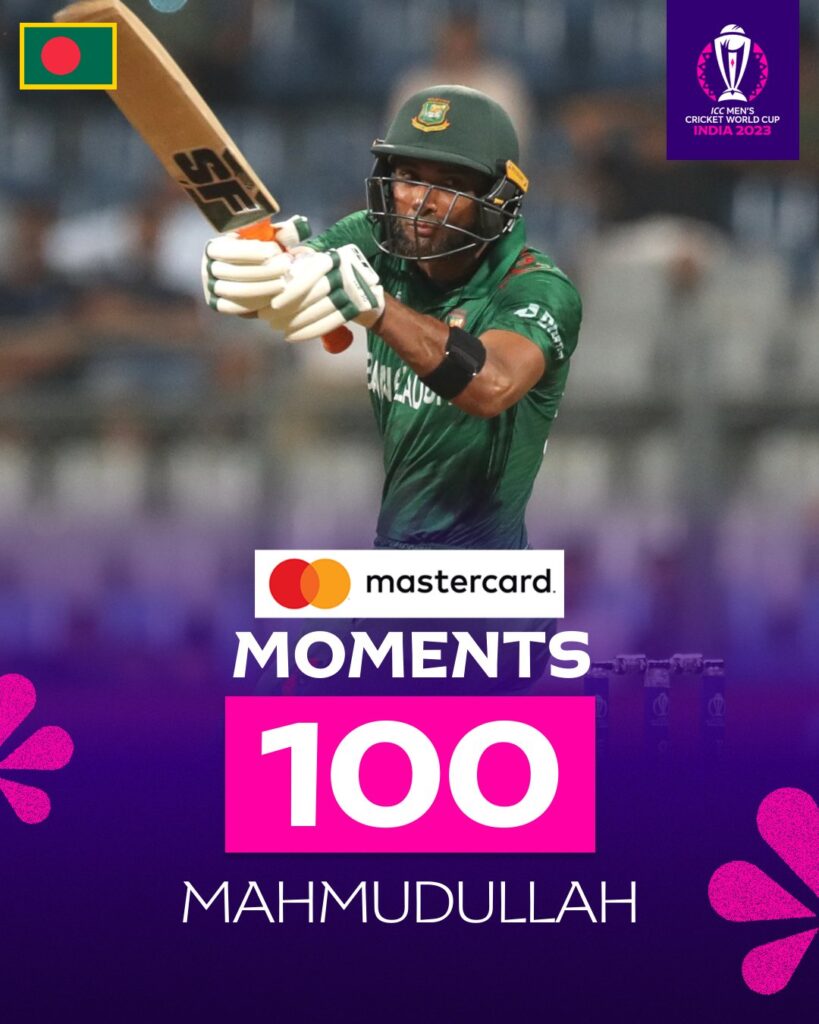 In conclusion, the Cricket World Cup 2023 witnessed South Africa's crushing victory over Bangladesh in a match defined by power, skill, and determination. This dominant performance has cemented South Africa's status as a team to watch in this prestigious tournament. As the competition unfolds, expect more thrilling encounters and the possibility of South Africa making their mark on the World Cup stage.