Electrifying Showdown in NZ VS PAK Encounter Shakes World Cup 2023: Rain Suspense & Exceptional Performances
The high-stakes encounter in the NZ vs Pak World Cup 2023 match witnessed a thrilling clash at the M. Chinnaswamy Stadium. The encounter was nothing short of nail-biting, with twists and turns that kept fans at the edge of their seats.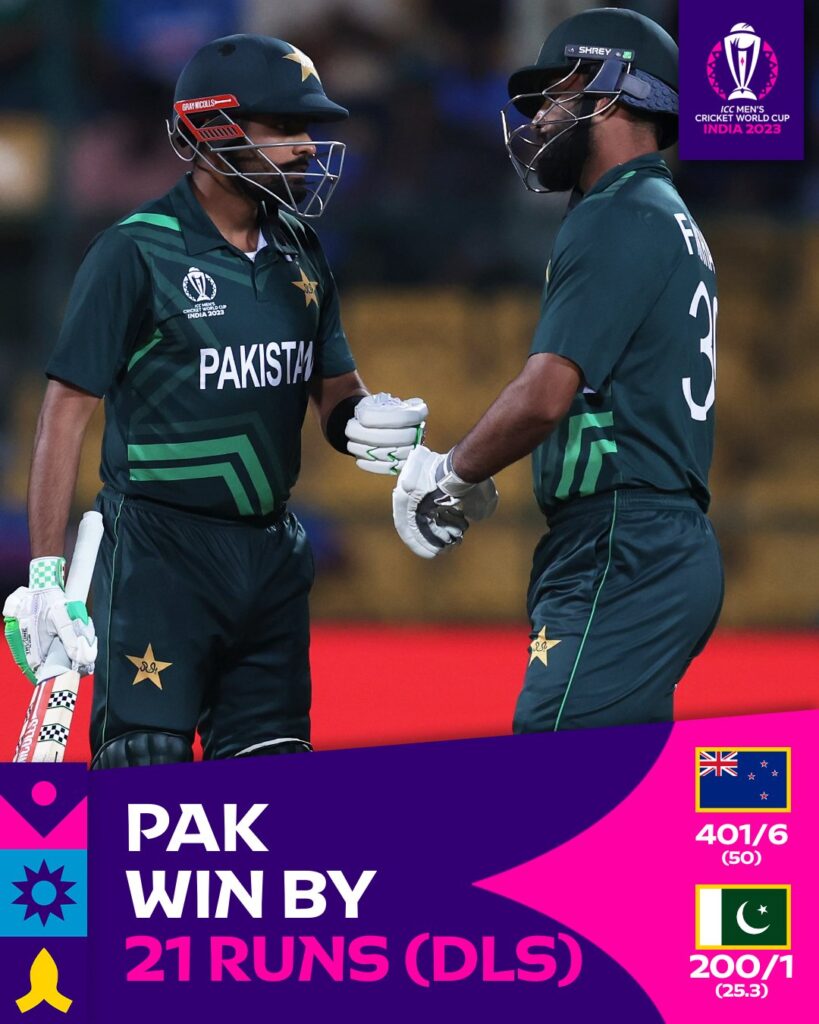 In a thrilling toss decision, Pakistan opted to bowl first, anticipating favorable conditions. New Zealand took to the pitch and posted an impressive 401/6 in their 50 overs, setting a daunting target for Pakistan.
However, Pakistan's chase was nothing short of extraordinary, largely propelled by Fakhar Zaman's phenomenal batting display. His explosive century, achieved at an unparalleled pace, shifted the momentum in Pakistan's favor. Together with Babar Azam, their partnership of 194 runs reshaped the game.
The match encountered rain interruptions, affecting the flow of play. DLS calculations eventually favored Pakistan, granting them a 21-run victory in a rain-curtailed match, keeping their World Cup hopes alive.
Despite New Zealand's efforts and an early breakthrough, they struggled to contain the fiery Pakistani batting onslaught. The Kiwi bowlers found no respite against the relentless assault from Fakhar Zaman, who set a record for the fastest century by a Pakistani in World Cup history.
Match summary
Player of the Match
Fakhar Zaman (PAK) 126* (81)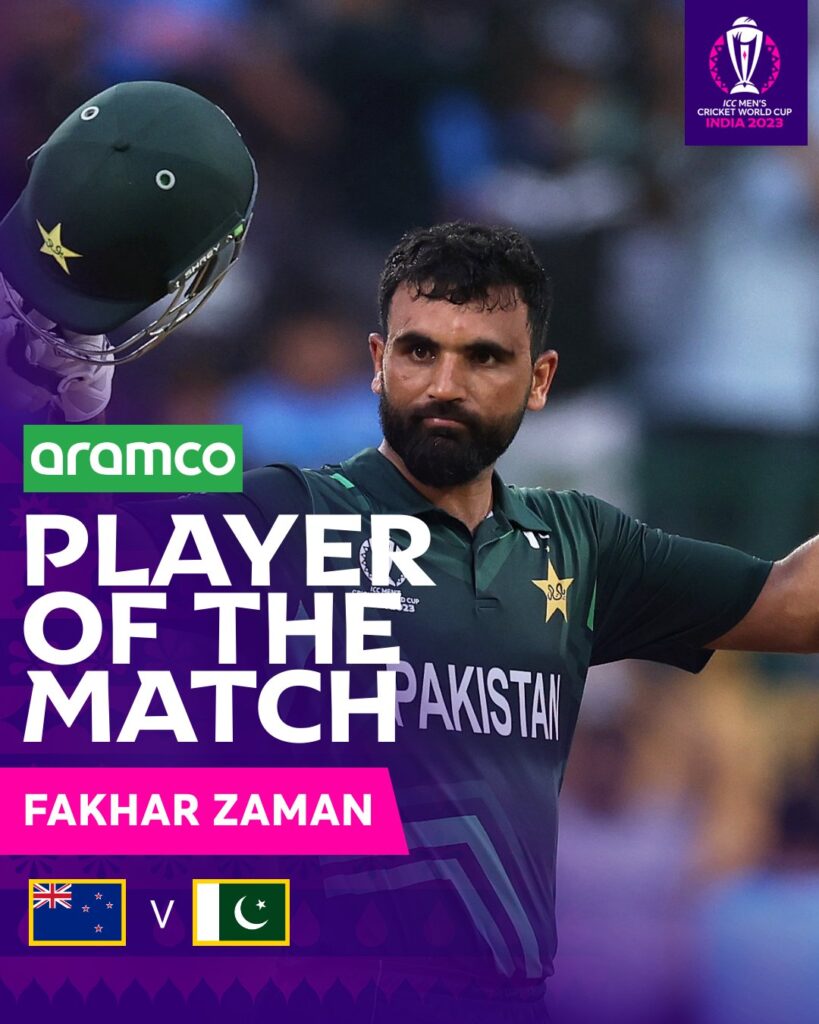 New Zealand · 401/6 (50)
| | |
| --- | --- |
| Rachin Ravindra 108 (94) | Mohammad Wasim Jr. 3/60 (10) |
| Kane Williamson 95 (79) | Iftikhar Ahmed 1/55 (8) |
| Glenn Phillips 41 (25) | Hasan Ali 1/82 (10) |
Pakistan · 200/1 (25.3)
| | |
| --- | --- |
| Fakhar Zaman 126* (81) | Tim Southee 1/27 (5) |
| Babar Azam 66* (63) | Daryl Mitchell 0/1 (0.3) |
| Abdullah Shafique 4 (9) | Mitchell Santner 0/35 (5) |
This intense encounter highlighted Pakistan's resilience and Fakhar Zaman's exceptional performance, ensuring an electrifying contest. The rain interruptions, however, proved pivotal, significantly impacting the DLS calculations in Pakistan's favor.
The match's climactic finish, marred by persistent rain, ultimately led to Pakistan's victory by the DLS method. Although weather played a significant role, it was the sensational batting and partnership between Zaman and Azam that ultimately shaped the result.
The resounding victory ensures Pakistan's continued contention in the World Cup, as they display an unwavering determination to advance in the tournament.
The clash between New Zealand and Pakistan in the World Cup 2023 was nothing short of electrifying. Despite rain interruptions and the implementation of the DLS method, the game showcased exceptional performances that left an indelible mark on this cricketing extravaganza.
Unraveling the Battle: NZ VS PAK
In a dramatic face-off at the M. Chinnaswamy Stadium, the toss favored Pakistan, who opted to bowl. The stage was set for an intense showdown, and New Zealand's batsmen embraced the challenge with vigor.
Fakhar Zaman's Blazing Batting Prowess
Fakhar Zaman's monumental innings was the highlight of the match, catapulting Pakistan towards victory. His relentless striking left New Zealand's bowling attack reeling, propelling him to a record-breaking century and igniting the pitch with his fiery strokes.
Rain, Resumption, and the DLS Drama
Rain interruptions played a pivotal role, adding a suspenseful twist to the game. New Zealand's hopes surged when rain halted play, but the resumption, especially the 25th over, favored Pakistan, tilting the balance in their favor.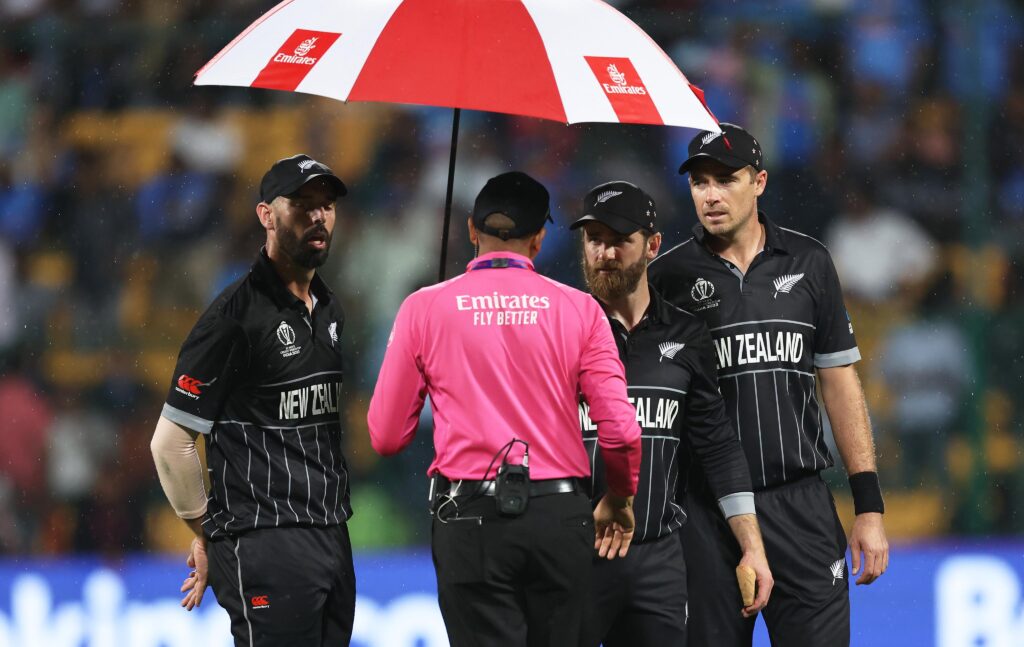 Record-Breaking Partnerships Steer Pakistan's Triumph
Babar Azam's partnership with Fakhar Zaman set a new benchmark in World Cup history. Their 194-run collaboration stands as a testament to their exceptional teamwork, enabling Pakistan to seize the moment.
The Ultimate Outcome
Ultimately, despite the rain gods intervening, Pakistan's exceptional batting, primarily led by Fakhar Zaman, secured their triumph by 21 runs through the DLS method. Their win breathes life into their World Cup campaign, keeping their hopes alive for further advancement.
In a nail-biting encounter that saw magnificent batting displays and unexpected turns due to rain, Pakistan emerged triumphant, marking a significant chapter in the NZ VS Pak clash in the World Cup 2023.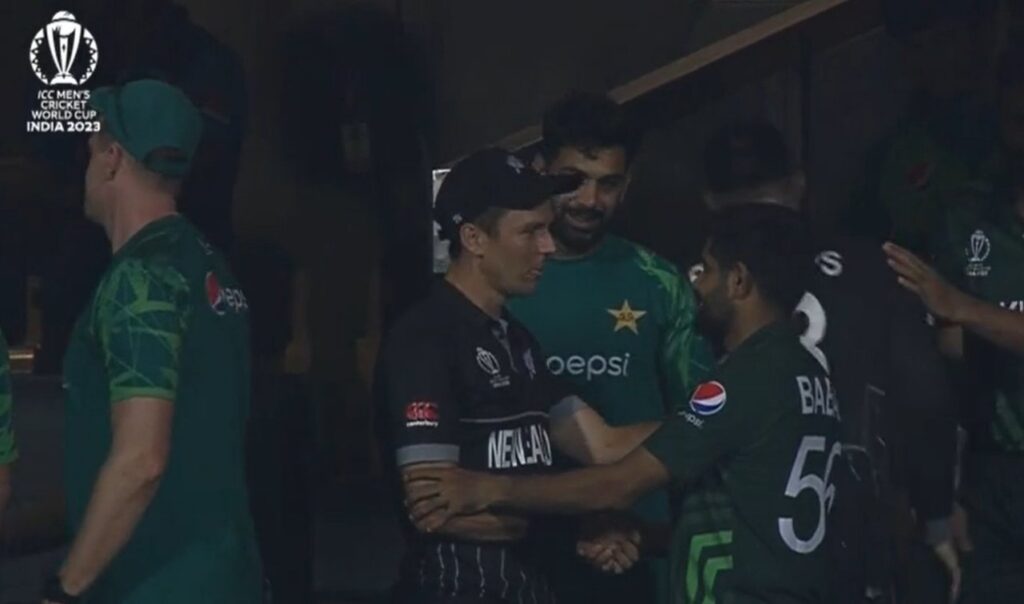 In a sport where uncertainties often reign, this encounter will be remembered for its thrilling gameplay, resilience, and the rain-interrupted drama that kept fans on the edge of their seats. Pakistan's triumph in the NZ vs Pak clash is a testament to their tenacity and skill, ensuring an electrifying chapter in the World Cup 2023. https://x.com/cricketworldcup?s=09