Sensational Start to World Cup 2023: New Zealand Crushes England in Opener Match
"World Cup 2023 Opener in Gujarat: New Zealand's Dominance"
"New Zealand's Remarkable Victory by 9 Wickets: England Left Stunned"
In a stunning opener match of the Cricket World Cup 2023 held at the Narendra Modi Stadium in Gujarat, New Zealand delivered a crushing blow to England, winning by a commanding 9 wickets. This unexpected outcome left fans on the edge of their seats and set the tone for an exhilarating tournament.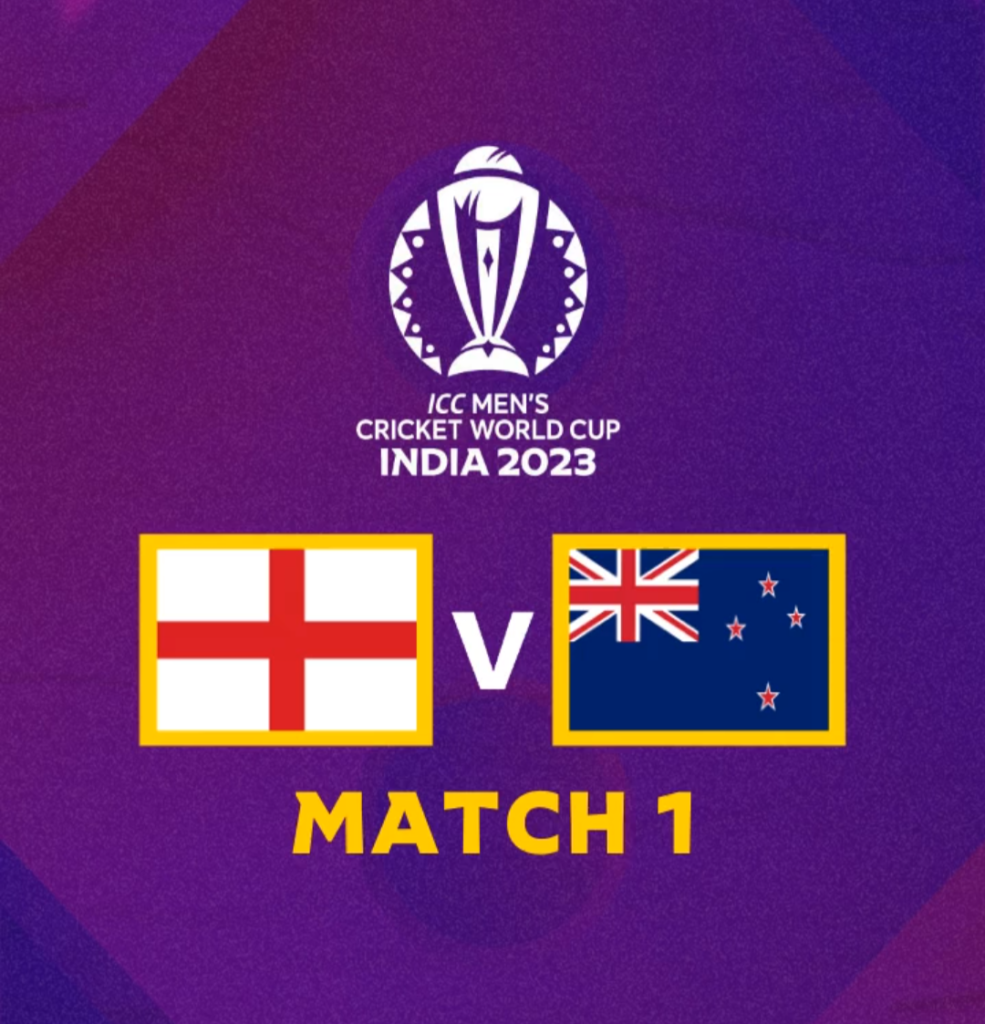 New Zealand's Bowlers Shine:

New Zealand's decision to bowl first after winning the toss proved to be a strategic advantage. Their bowlers, led by Trent Boult and Matt Henry, effectively limited England's batting prowess. Boult secured a crucial wicket, while Henry's exceptional performance saw him claim three wickets. The spin duo of Mitchell Santner and Rachin Ravindra put further pressure on the English side, collectively taking two wickets. https://gamingpur.com/odi-world-cup-2023-england-vs-new-zealand-clash-of/
England's Early Struggles:

England's batting lineup struggled to find its rhythm. Despite glimpses of brilliance from players like Joe Root, who scored an impressive 77, and Jos Buttler, who contributed with 43 runs, England's total was limited to 282 runs for the loss of 9 wickets. The fall of wickets at crucial moments hindered their progress, and they faced a daunting task of defending their total.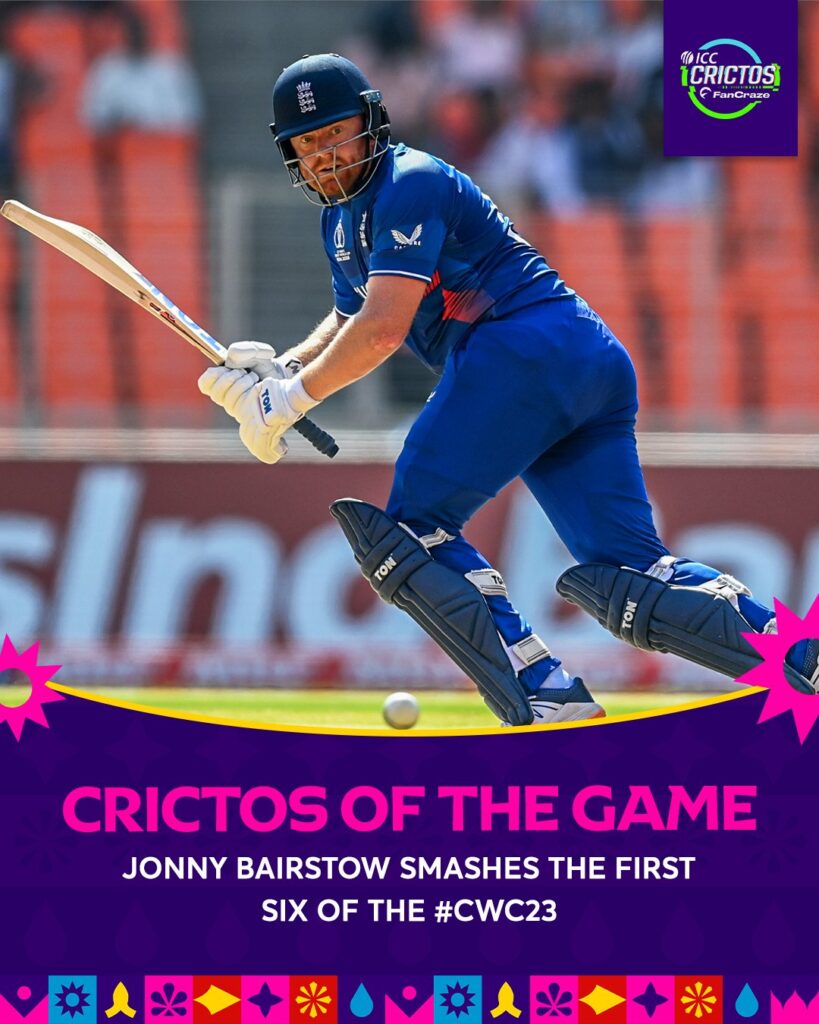 New Zealand's Stellar Batting Display:

Chasing a target of 282, New Zealand faced an early setback when opener Will Young was dismissed for a golden duck. However, what followed was nothing short of a masterclass in chasing, orchestrated by Rachin Ravindra and Devon Conway. Their fearless approach and calculated aggression propelled New Zealand to a resounding victory.
Conway, who had previously showcased his batting prowess in the Indian T20 League, played a pivotal role, scoring a magnificent 152 not out. Ravindra, the young sensation, displayed no fear as he took on the English pacers from the outset and remained unbeaten with an impressive 123 runs. Together, they forged an unbeaten partnership of 273 runs, shattering the previous World Cup record by over 100 runs.
New Zealand's Statement Win:

The victory for New Zealand was nothing short of a statement. Even without key players like Kane Williamson, Tim Southee, and Lockie Ferguson, they exhibited their ability to perform on the grand stage. This win held special significance for them, given the heartbreak of the 2019 World Cup final. It showcased their resilience and determination to succeed in high-pressure situations.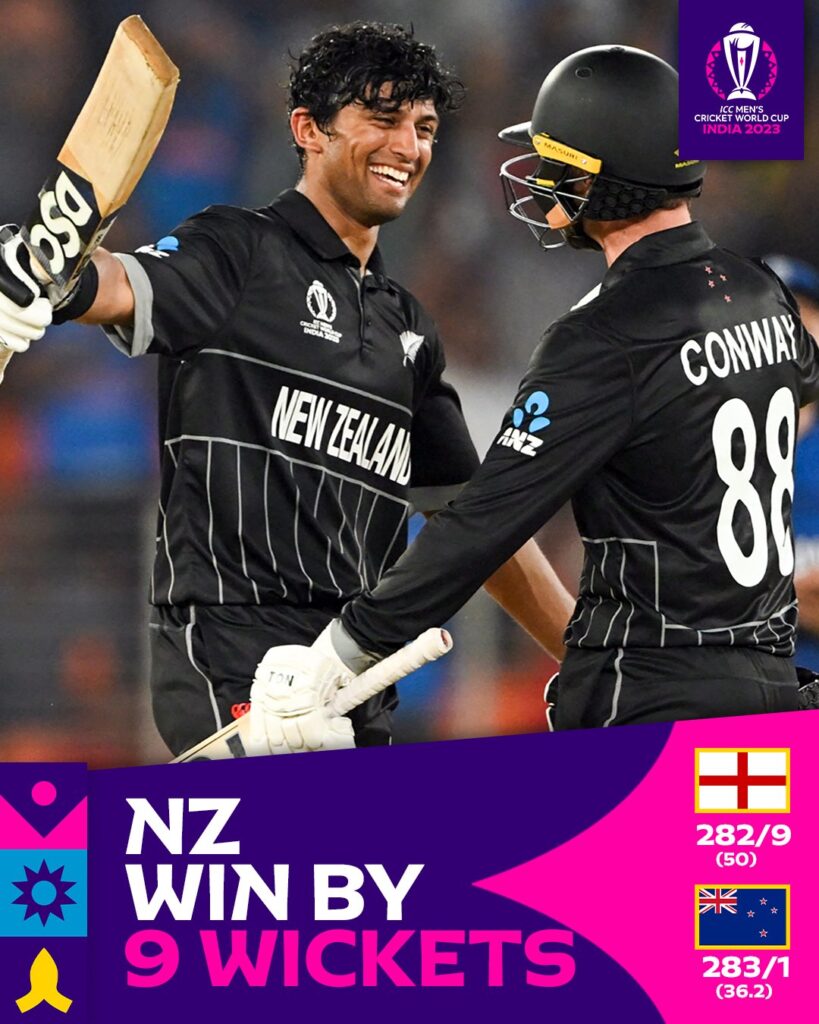 England's Tough Road Ahead:

For England, this defeat raised several concerns. While Ben Stokes' absence was felt, their overall performance left much to be desired. Chris Woakes and Mark Wood struggled with the ball, failing to provide support to the promising start provided by Sam Curran. Adil Rashid's inability to replicate his previous form in India added to their woes. England now faces the challenge of regrouping and bouncing back quickly in the upcoming matches.
SCORE CARD: England
J. Bairstow 33
D. Malan 14
J. Root 77
H. Brook 25
M. Ali 11
J. Buttler 43
L. Livingstone 20
S. Curran 14
C. Woakes 11
A. Rashid 15
M. Wood 13
Extras 6 (W 6)
Total runs 282 (9 wkts, 50 ov)
Fall of wickets:
40/1 (D. Malan, 7.4 ov) · 64/2 (J. Bairstow, 12.5 ov) · 94/3 (H. Brook, 16.6 ov) · 118/4 (M. Ali, 21.2 ov) · 188/5 (J. Buttler, 33.2 ov) · 221/6 (L. Livingstone, 38.5 ov) · 229/7 (J. Root, 41.1 ov) · 250/8 (C. Woakes, 44.6 ov) · 252/9 (S. Curran, 45.4 ov)
NZ BOWLING:
T. Boult 10ovr 48/1
M. Henry 10ovr 48/3
M. Santner 10ovr 37/2
R. Ravindra 10ovr 76/1
G. Phillips 3ovr 17/2
New Zealand
283/1 (36.2)
Devon Conway
152* (121)
Rachin Ravindra
123* (96)
Eng bowling:
Sam Curran
1/47 (6)
Liam Livingstone
0/24 (3)
Chris Woakes
0/45 (6)
Fall of wickets:
10/1 (W. Young, 1.1 ov)
Extras 8 (W 3, B 4, LB 1)
Total runs 283 (1 wkts, 36.2 ov)
Player of the Match:
Rachin Ravindra(NZ)
1/76 (10) & 123* (96)
Toss:NZ won the toss and decided to bowl
Stadium:Narendra Modi Stadium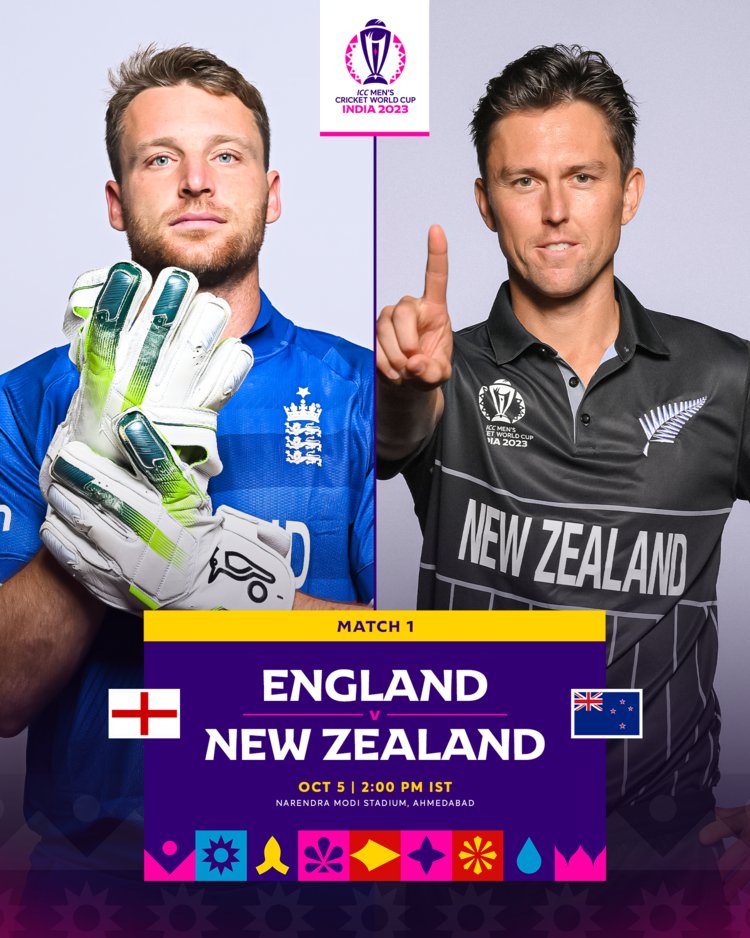 Conclusion,
the 2023 Cricket World Cup opener in Gujarat witnessed a surprising turn of events as New Zealand, with a brilliant display of batting and bowling, defeated England by 9 wickets. This victory marked a strong start for New Zealand in the tournament and sent a powerful message to their competitors. On the other hand, England must address their shortcomings and work on their performance to stay competitive in this highly anticipated World Cup. The stage is set for an exciting tournament filled with thrilling cricketing action.