Power-Packed India vs Australia T20 Series : Squad announcement: Exciting Additions and Key Players Revealed
The India vs Australia T20 series squad announcement has sparked enthusiasm among cricket fans. With a mix of seasoned campaigners and emerging talents, Team India is set to make a resounding statement against the Australian side. Stay tuned for an exhilarating series packed with power-packed performances and intense cricketing action.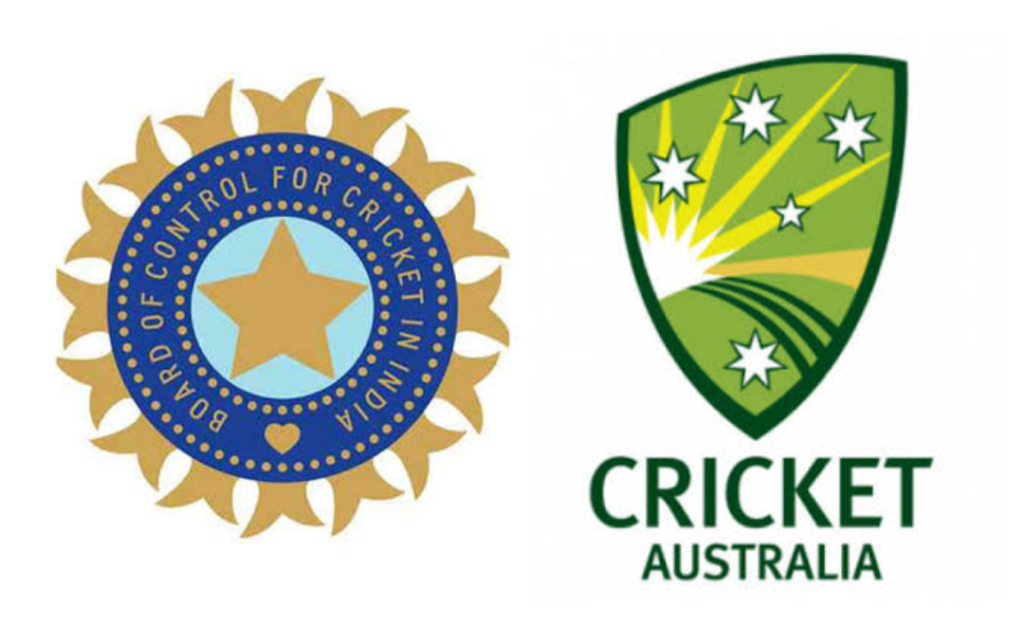 "Breaking News: Suryakumar Yadav or Ruturaj Captained to India vs Australia T20 Series"
In a major announcement, Team India has revealed its 15-member squad for the highly anticipated T20 series against Australia, following their World Cup campaign. The series, consisting of five matches, holds immense significance as it provides the management with the opportunity to showcase young talents who have displayed exceptional skills in recent domestic and IPL performances.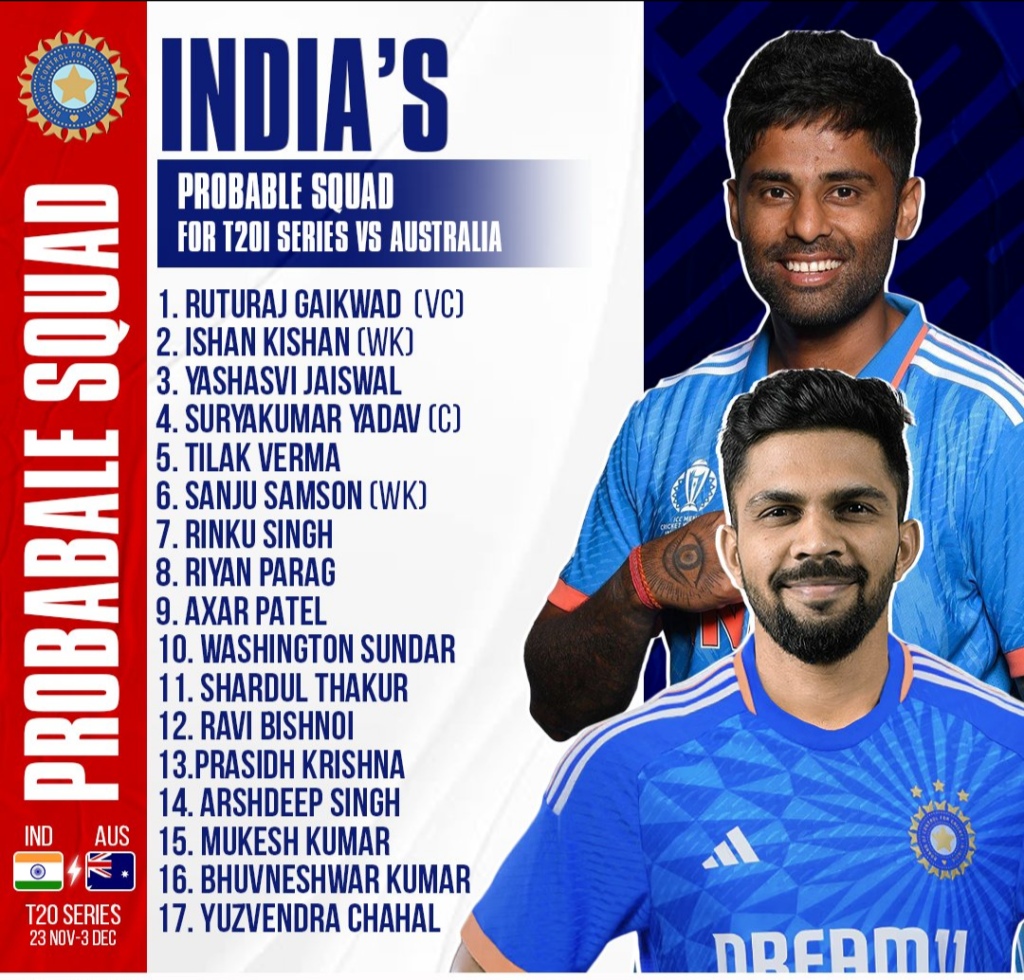 "Suryakumar Yadav: The Stylish Leader India Needs for Australia Clash"
Suryakumar Yadav, known for his stylish and aggressive batting, and Asian games Gold Medlist Captain Ruturaj is set to lead Team India in the T20 series against Australia. With notable performances in the IPL and domestic tournaments, Yadav's captaincy brings a fresh perspective, aiming to lead the team to victory.
"Sanju Samson's Comeback: Boosting India's Wicketkeeping Strength"
The experienced wicketkeeper-batsman, Sanju Samson is making a comeback to the squad, adding strength to India's wicketkeeping department. His inclusion brings dynamism and power-hitting capabilities to the middle order, making him a vital asset against the Australian challenge.
"Young Guns and Rising Stars: The Probable Playing XI for India vs Australia T20 Series"
The management is keen on providing opportunities to young talents like Shubman Gill, Yashasvi Jaiswal, Tilak Varma, and Rinku Singh, recognizing their exceptional batting skills. Additionally, Ishan Kishan and Sanju Samson are expected to feature as wicketkeeper-batsmen, adding depth to the batting lineup.
"All-Round Brilliance: Washington Sundar and Axar Patel's Crucial Roles"
Washington Sundar and Axar Patel, identified as key all-rounders, are likely to play pivotal roles in the series. Their ability to contribute with both bat and ball provides a valuable balance to the team, enhancing India's chances of success against the formidable Australian side.
"Australia's Squad Revealed: Wade to Lead, Key Players Rested"
Australia has also announced its T20 squad for the series, with Matthew Wade named as the captain. The squad includes seasoned players like David Warner, Steve Smith, Glenn Maxwell, and Travis Head, while Mitchell Starc, Josh Hazlewood, and others are rested.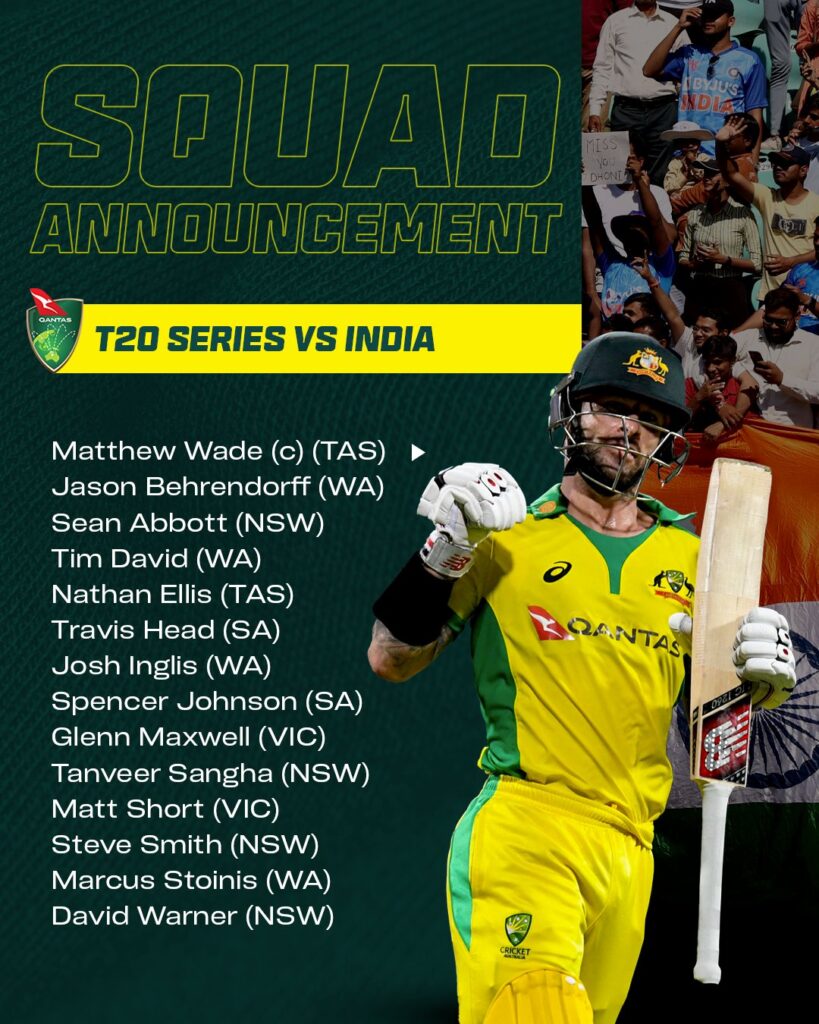 "Mark Your Calendars: India vs Australia T20 Series Schedule"
The T20 series between India and Australia is set to kick off on November 23 in Visakhapatnam, just days after the ODI World Cup final. The series promises thrilling encounters in Thiruvananthapuram, Guwahati, Nagpur, and Hyderabad, providing cricket enthusiasts with an action-packed spectacle.
"Strategic Insights: The Probable India Playing XI and Impact Players"
As we anticipate the India vs Australia T20 series, the focus shifts to the probable playing XI and impact players who could shape the outcomes of the matches. Suryakumar Yadav's captaincy, Rishabh Pant's explosive batting, and the dynamic duo of Washington Sundar and Axar Patel are key factors to watch out for.
"Crucial Matchups and Rivalry Renewed: India vs Australia T20 Series Preview"
As cricket enthusiasts eagerly await the India vs Australia T20 series, let's delve into the anticipated matchups and the renewed rivalry between these cricketing powerhouses. From Suryakumar Yadav's captaincy tactics to the battle of the all-rounders, every aspect promises high-intensity cricketing action.
"Unlocking Potential: Suryakumar Yadav's Leadership Qualities"
Suryakumar Yadav's appointment as captain not only brings flair to the team but also highlights his leadership qualities. Explore how Yadav's strategic mindset and aggressive approach could be the key to unlocking India's full potential against the formidable Australian squad.
"Dynamic Duo: Sanju Samson and Ishan Kishan's Wicketkeeping Prowess"
With Sanju Samson and Ishan Kishan donning the wicketkeeping gloves, India boasts a dynamic duo behind the stumps. Their agility, quick reflexes, and explosive batting make them a lethal combination, adding an extra dimension to India's lineup.
"Youth Brigade: Shubman Gill, Yashasvi Jaiswal, and the Future of Indian Cricket"
Shubman Gill and Yashasvi Jaiswal, among other young talents, represent the future of Indian cricket. As they gear up to face Australia's formidable bowling attack, their performances could shape India's cricketing landscape and set the stage for a new era.
"Strategic Rest: Australia's Squad announcement for T20 Series"
Australia's decision to rest senior pacers Mitchell Starc and Josh Hazlewood indicates strategic squad management. Explore how this move aims to keep key players fresh while providing opportunities for emerging talents to step up against Team India.
"The Countdown Begins: India vs Australia T20 Series – 5 Matches, 1 Winner"
As the countdown begins for the India vs Australia T20 series, cricket fans worldwide brace themselves for an exhilarating cricketing spectacle. With five matches and one ultimate winner, the series promises to be a rollercoaster ride of emotions, skill, and pure cricketing excitement. https://gamingpur.com/india-vs-netherlands-world-cup-2023-showdown-dominan/
In this comprehensive preview, we've covered everything from squad announcements to key player insights, setting the stage for a thrilling showdown between India and Australia in the T20 arena. Get ready to witness cricketing excellence and unforgettable moments in this epic clash of cricket titans. https://x.com/cricketworldcup?s=09 https://gamingpur.com/india-vs-netherlands-world-cup-2023-showdown-dominan/