Cricket Spectacle Unveiled: India vs Australia Final Thriller at World Cup 2023 Delights Fans
Welcome to the epic showdown that captivated cricket enthusiasts around the globe – the India vs Australia final at the World Cup 2023. In a heart-stopping clash at Narendra Modi Stadium, two cricketing powerhouses collided in a battle for supremacy. Dives deep into the intense moments, standout performances, and the euphoria that unfolded on the field, marking Australia's record-extending sixth World Cup triumph. Join us as we dissect this cricketing spectacle, exploring key players, strategic moves, and the jubilant celebrations that defined the pinnacle of the 2023 cricket season.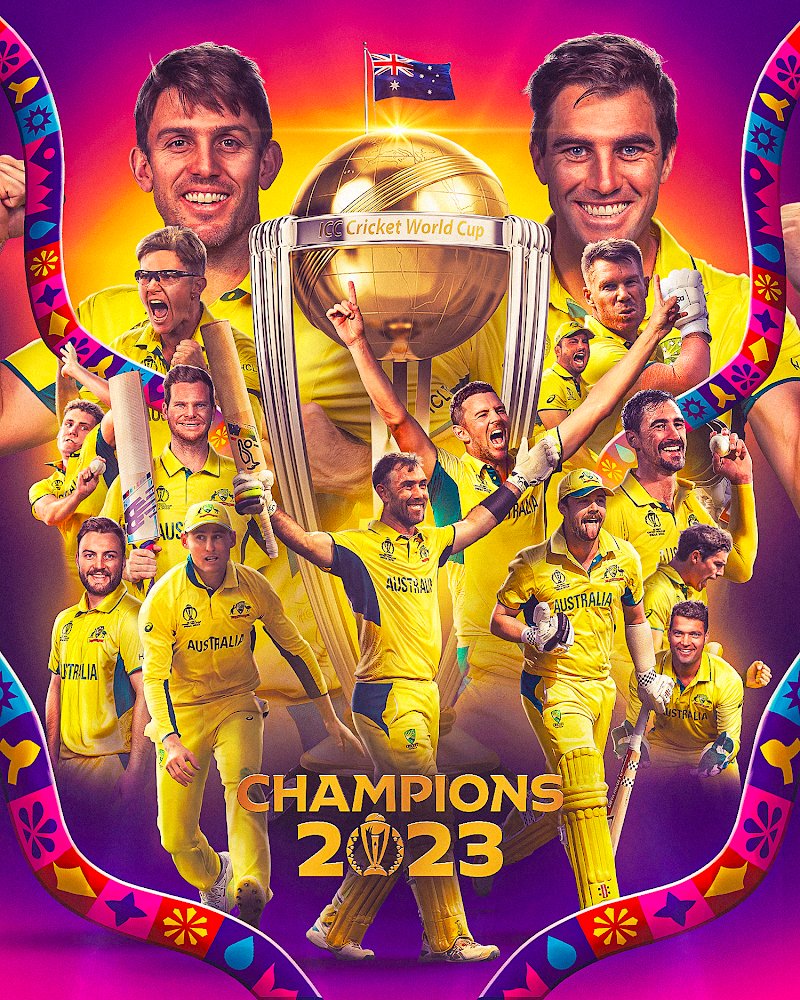 "Unforgettable Clash: India vs Australia Final Overview"
In a nail-biting encounter at Narendra Modi Stadium, Australia emerged victorious against India in the World Cup 2023 final. The match, marked by intense competition and stellar performances, saw Australia chasing down India's target of 240 with 42 balls to spare, securing their record-extending sixth World Cup title.
"Key Players Shine in High-Stakes Match"
Australia's Travis Head stole the spotlight, earning the well-deserved Player of the Match title for his exceptional all-round performance, contributing with both bat and ball. Head's remarkable 137 runs in 120 balls played a pivotal role in steering Australia to victory, supported by Marnus Labuschagne's gritty unbeaten 58.
"Australia's Bowling Dominance"
Australia's bowling unit showcased their prowess, with Mitchell Starc leading the attack, claiming 3 crucial wickets for 55 runs in his 10 overs. Pat Cummins and Josh Hazlewood also made significant contributions, taking 2 wickets each and restricting India to a modest total.
"India's Strong Start and Australia's Comeback"
Despite a promising start from Rohit Sharma, who scored 47 in 31 balls, Australia's bowlers made a strong comeback. The experienced duo of Virat Kohli (54 in 63) and KL Rahul (66 in 107) steadied the ship for India, but Glenn Maxwell's dismissal of Rohit Sharma shifted the momentum in Australia's favor.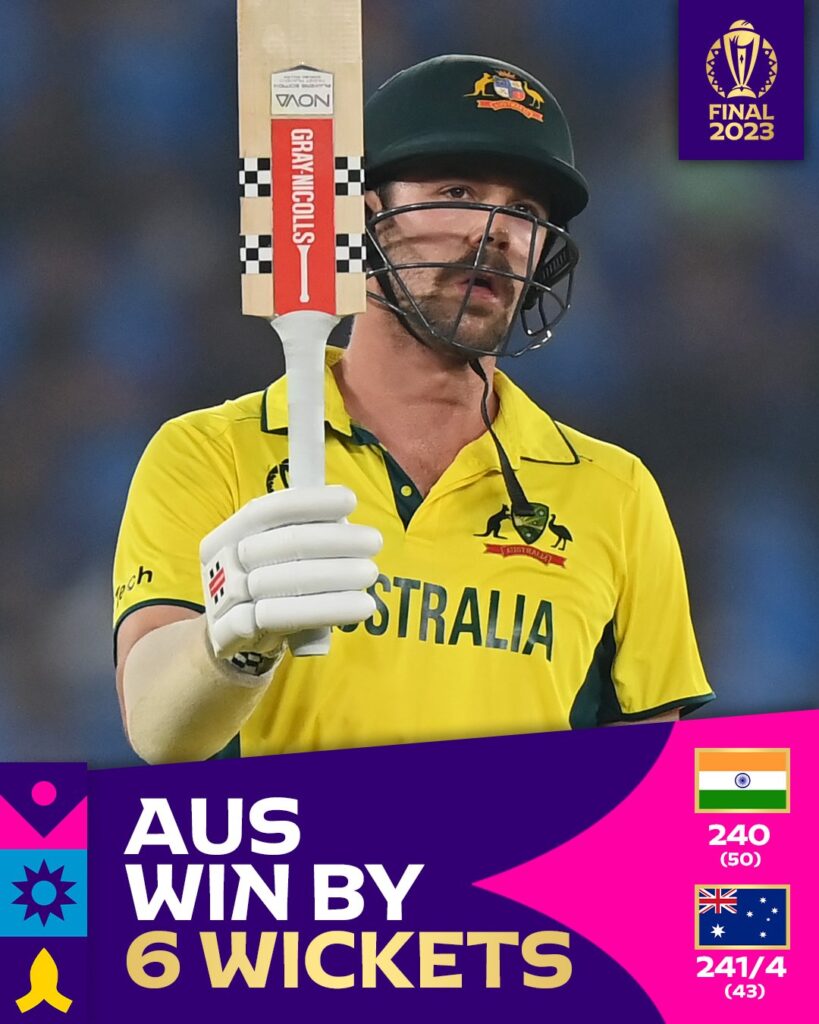 "Pat Cummins' Toss Decision Pays Off"
Australia's captain, Pat Cummins, won the toss and opted to field, defying pundits' opinions. His decision proved strategic as Australia successfully executed their plans, maintaining composure against a vocal Indian crowd.
"Australia's Remarkable Comeback Journey"
Josh Hazlewood expressed the significance of their victory, highlighting the challenges they faced in the last two months. The triumph held special meaning for the team, with Hazlewood praising the belief and perfect performance that led them to clinch the World Cup.
"Labuschagne's Unbelievable Contribution"
Marnus Labuschagne reflected on the team's achievement, emphasizing the effort required to beat an unbeaten Indian side on their home soil. Labuschagne's crucial partnership with Head played a pivotal role in securing Australia's victory, showcasing the team's resilience.
Match summary
Player of the Tournament
Virat Kohli (IND)
Player of the Match
Travis Head (AUS) 0/4 (2) & 137 (120)
India · 240 (50)
| | |
| --- | --- |
| KL Rahul 66 (107) | Mitchell Starc 3/55 (10) |
| Virat Kohli 54 (63) | Pat Cummins 2/34 (10) |
| Rohit Sharma 47 (31) | Josh Hazlewood 2/60 (10) |
Australia · 241/4 (43)
| | |
| --- | --- |
| Travis Head 137 (120) | Jasprit Bumrah 2/43 (9) |
| Marnus Labuschagne 58* (110) | Mohammed Siraj 1/45 (7) |
| Mitchell Marsh 15 (15) | Mohammed Shami 1/47 (7) |
"Post-Match Reactions and Celebrations"
After the match, the dressing room erupted in celebration as Glenn Maxwell hit the winning runs, securing Australia's sixth World Cup title. The team's ecstatic reaction echoed the sentiment that dreams were made of such victories, emphasizing the indomitable spirit of Australian cricket.
"India's Unblemished Campaign Ends in Heartbreak"
Despite a stellar campaign, India fell short in the final, ending their unbeaten streak in tears. The pace duo of Bumrah and Shami showed their class early on, but Australia's Head and Labuschagne capitalized on the ineffectiveness of the spinners and secured a convincing win.
"Australian Bowlers Restrict India's Batting Powerhouse"
The Australian bowlers, led by skipper Pat Cummins, effectively restricted India's formidable batting lineup to under 250 runs. Cummins' leadership was evident as he picked up three crucial wickets, setting the stage for Australia's successful run chase.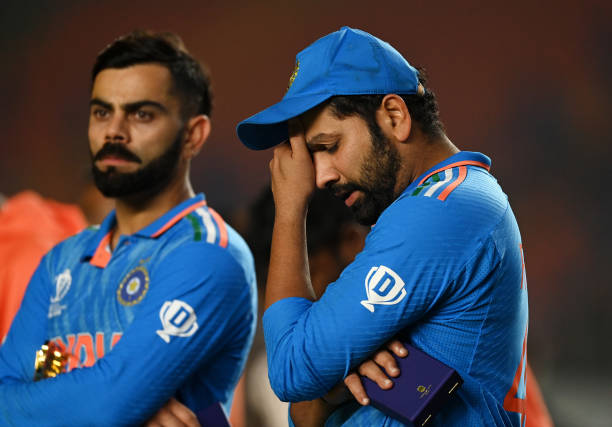 "Thrilling Start Turns into Dominant Victory"
Australia's shaky start with the bat turned into a dominant performance, thanks to Head's century and Labuschagne's gritty fifty. The duo's partnership of 192 runs proved instrumental in Australia's victory, showcasing their ability to thrive under pressure.
"Maxwell Seals the Win in Style"
Glenn Maxwell's finishing touch, hitting the winning runs, highlighted Australia's resilience and determination. The record-extending sixth World Cup title marked a historic moment for Australian cricket, proving that they can never be written off.
"Conclusion: A Spectacular End to World Cup 2023"
In conclusion, the India vs Australia final at World Cup 2023 delivered a thrilling and memorable spectacle. Australia's triumph, overcoming challenges and defying expectations, adds another chapter to their storied cricket history. The match showcased the resilience of both teams, creating a lasting impact on cricket fans worldwide.