Unveiling the Epic Showdown: IND vs AUS Final World Cup 2023 – Cricketing Glory Awaits!
Gear up for the ultimate cricketing showdown! The IND vs AUS Final, World Cup 2023 set to unfold at Ahmedabad's Narendra Modi Stadium on November 19, promises a clash of titans. With unprecedented ticket demand, star-studded lineups, and global dignitaries in attendance, this epic battle will define cricketing glory. Get ready!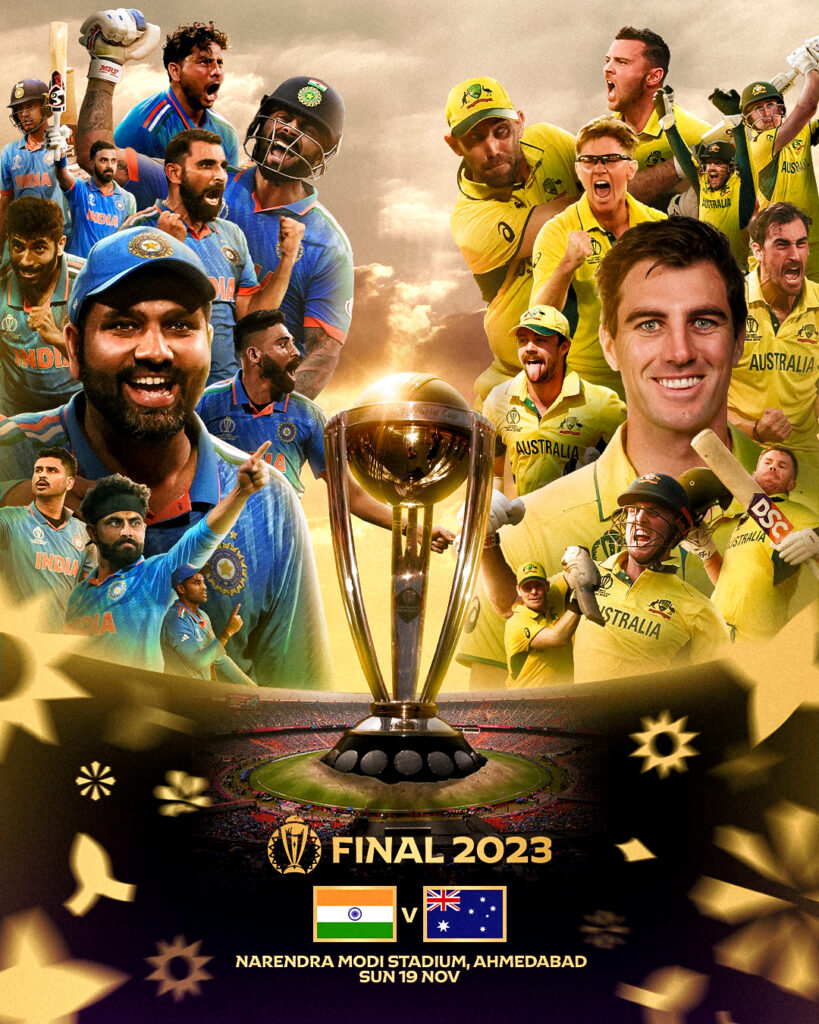 "Cricket Fever Peaks: IND vs AUS Final Set for Thrilling Clash on November 19"
The excitement is palpable as the ICC Cricket World Cup 2023 reaches its pinnacle with the much-anticipated final showdown between cricketing giants India and Australia. On November 19, the Narendra Modi Stadium in Ahmedabad will witness an epic battle for supremacy, and cricket enthusiasts are gearing up for an electrifying clash that promises to etch itself into the annals of cricketing history.
"Ticket Frenzy: Unprecedented Surge as Fans Flock to Witness IND vs AUS Grand Finale"
The fervor surrounding the final is so intense that return ticket fares from major Indian cities to Ahmedabad have soared tenfold on November 19-20. Routes from Delhi, Mumbai, Bengaluru, and Kolkata have witnessed substantial price surges, reflecting the unprecedented demand to witness this historic IND vs AUS encounter live at the stadium.
"Dignitaries and Cricket Icons: PM Modi, Kapil Dev, MS Dhoni to Grace the Occasion"
In a star-studded affair, it is expected that Prime Minister Narendra Modi, along with World-Cup winning Captains Kapil Dev and MS Dhoni, will be in attendance. The grandeur doesn't stop there; Australian Prime Minister Anthony Albanese has also been invited, ensuring a global audience for this cricketing spectacle. Cricket legends such as Sachin Tendulkar, Virender Sehwag, and Yuvraj Singh are set to add to the glamour of the event.
"Watch Live: IND vs AUS Final : World Cup 2023 Exclusively on Disney+ Hotstar"
Cricket enthusiasts who can't make it to the stadium can catch every thrilling moment of the IND vs AUS final live on the Disney+ Hotstar mobile app for free. Don't miss out on the action as the two cricketing powerhouses vie for the coveted World Cup trophy.
"Playing 11 Predictions: Star-Studded Lineups for the Grand Finale"
Australia:
David Warner
Travis Head
Mitchell Marsh
Steven Smith
Marnus Labuschagne
Josh Inglis (wk)
Glenn Maxwell
Pat Cummins (c)
Mitchell Starc
Adam Zampa
Josh Hazlewood
India:
Rohit Sharma (C)
Shreyas Iyer
Shubman Gill
Suryakumar Yadav
Virat Kohli
Ravichandran Ashwin/Ravindra Jadeja
KL Rahul (wk)
Jasprit Bumrah
Kuldeep Yadav
Mohammed Shami
Mohammed Siraj
"Road to the Final: India's Unblemished Record and Australia's Resurgent Journey"
India's flawless journey to the final, marked by ten consecutive victories, sets the stage for a historic 11th win. Led by the dynamic Rohit Sharma, India's dominant performance includes a commanding victory over New Zealand in the semi-finals. Meanwhile, Australia's resurgence, overcoming initial stumbles, highlights their determination with eight successive wins, including a nail-biting clash against Afghanistan.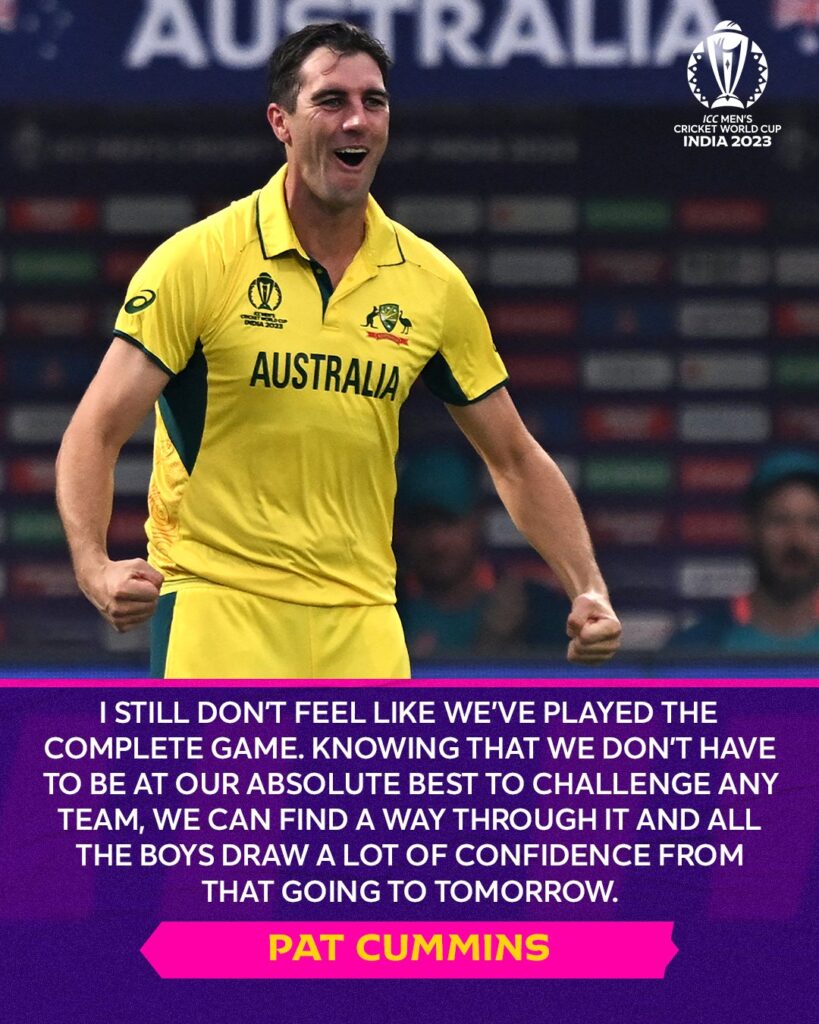 "Kohli's Redemption: The Batting Maestro's Impact on India's World Cup Campaign"
Virat Kohli's sublime form, amassing 711 runs at an astonishing average of 101.57, has been the driving force behind India's success. With three centuries, Kohli has surpassed even the legendary Sachin Tendulkar, positioning himself as the leading run-scorer in the World Cup. His redemption in World Cup knockouts completes a transformative journey, setting the stage for a pivotal role in the grand finale.
"Starc vs. Rohit: A Riveting Contest within the Clash of Titans"
Mitchell Starc's role in stifling India's explosive starts, particularly against the formidable Rohit Sharma, holds the key to Australia's success. Starc, known for delivering in crucial moments, became the fastest bowler to reach 60 wickets in World Cup history. The battle between Starc and Rohit promises to be a highlight within the larger spectacle, shaping the trajectory of the final.
"New Stars Rising: Potential Game-Changers in the IND vs AUS Final"
Beyond the big names, emerging talents like Shubman Gill, Shreyas Iyer, and KL Rahul for India, and the experienced duo of Steven Smith and David Warner for Australia, have the opportunity to script their own narratives. The stage is set for these players to leave an indelible mark on cricketing folklore.
"The Grand Amphitheatre: Narendra Modi Stadium – Setting the Stage for Cricketing Extravaganza"
With an average first innings score of 237 in 37 matches, the Narendra Modi Stadium hints at a fair contest between bat and ball. The imposing structure and electrifying atmosphere make it the perfect arena for the grand finale, where every run and wicket matters more than ever before.
"World Cup 2023 Final: IND vs AUS – A Sun-Soaked Arena Sets the Stage for Cricketing History"
In the eagerly anticipated IND vs AUS World Cup 2023 Final at the Narendra Modi Stadium, the sun-soaked arena, with temperatures soaring to 33 degrees Celsius, adds thrill to the high-stakes encounter. The conditions promise a fair contest, magnifying every aspect of the game in this enthralling battle.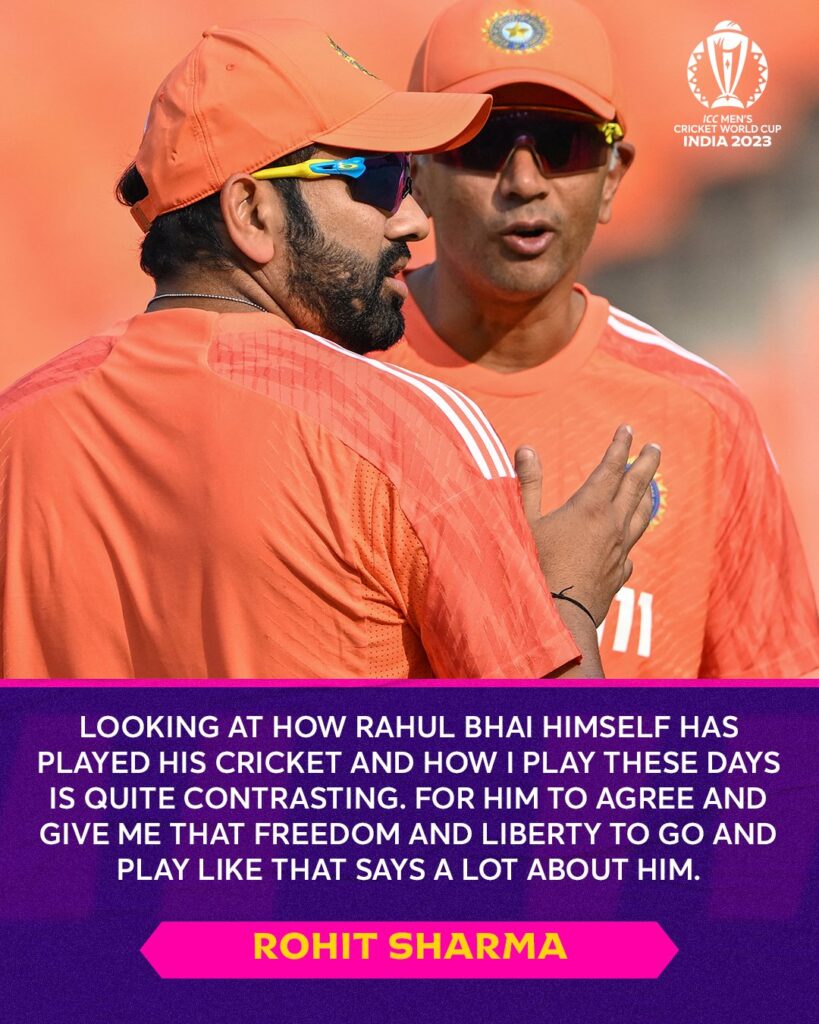 "Australia's Cricketing Trifecta: Pursuit of Historic Triumph in World Cup 2023"
Having clinched the T20 World Cup in 2021 and the ICC World Test Championship in 2023, Australia eyes a historic trifecta in all three formats of international cricket. The grand finale against India is their chance to etch their names in cricketing immortality.
"Countdown to Glory: The IND vs AUS Final : World Cup 2023 – Witnessing History in the Making"
As the world holds its breath, the looming question is who will emerge victorious in the IND vs AUS Final World Cup 2023. With the stage set and players ready, fans worldwide await the culmination of an extraordinary journey, ensuring they don't miss the chance to witness history in the making.
"Farewell for Legends Smith and Warner"
For Australian stalwarts Steven Smith and David Warner, the IND vs AUS Final World Cup 2023 marks a poignant moment, possibly their last World Cup. Determined to leave an indelible mark, their experience adds an extra layer of emotion to this intense clash.
"Indian Pacers' Redemption: Bumrah and Shami Shine on Grand Stage"
India's pace backbone, Jasprit Bumrah and Mohammed Shami, enter the final with a mission to overcome past challenges. Their performance not only crucial for India's success but also an opportunity for redemption on the grand stage, closely watched by cricket enthusiasts worldwide.
"Young Batting Talents Shine: Gill, Iyer, and Rahul's Moment"
India's young batting talents, Shubman Gill, Shreyas Iyer, and KL Rahul, have a chance to redefine the narrative of Indian cricket on the world stage. Their performance adds excitement, showcasing the depth and talent in the Indian cricketing lineup.
"Cricketing Royalty Tendulkar's Legacy and Kohli's Pursuit"
The presence of Sachin Tendulkar and Virat Kohli at the IND vs AUS World Cup 2023 Final adds an unparalleled aura. Tendulkar's legacy inspires, while Kohli's pursuit of greatness reaches a crescendo, creating a sight to behold.
"Beyond Boundaries: Global Impact of IND vs AUS Final in World Cup 2023"
The IND vs AUS World Cup 2023 Final transcends geographical boundaries, capturing the attention of cricket lovers worldwide. The global impact is evident in the diverse fan base, showcasing the unifying power of cricket on an international scale.
"Fan Engagement: Social Media Buzz and Predictions"
In the digital age, fan engagement goes beyond stadium cheers. Social media platforms are abuzz with predictions, analyses, and fervent discussions as fans worldwide share their excitement, making the IND vs AUS final a trending topic.
"Cricketing Extravaganza: IND vs AUS Final World Cup 2023 – A Spectacle for the Ages"
As the clock ticks down to the IND vs AUS World Cup 2023 Final, the anticipation reaches a fever pitch. This clash promises not just a sporting event but a spectacle for the ages, poised to create memories that will resonate for years to come. The comprehensive cricketing extravaganza covers player dynamics, global impact, and fan engagement, setting the stage for an epic battle in this historic cricketing spectacle.