Unforgettable Triumph: India Crushes Australia in ICC Cricket World Cup 2023
A Historic Victory: India vs. Australia in ICC Cricket World Cup 2023
In an electrifying showdown at the legendary MA Chidambaram Stadium, India orchestrated a breathtaking victory against arch-rivals Australia in the much-anticipated ICC Cricket World Cup 2023, cementing their dominance with a commanding win by 6 wickets. This remarkable conquest sent shockwaves of jubilation throughout the global cricket community, illuminating India's unparalleled brilliance on the hallowed cricket pitch.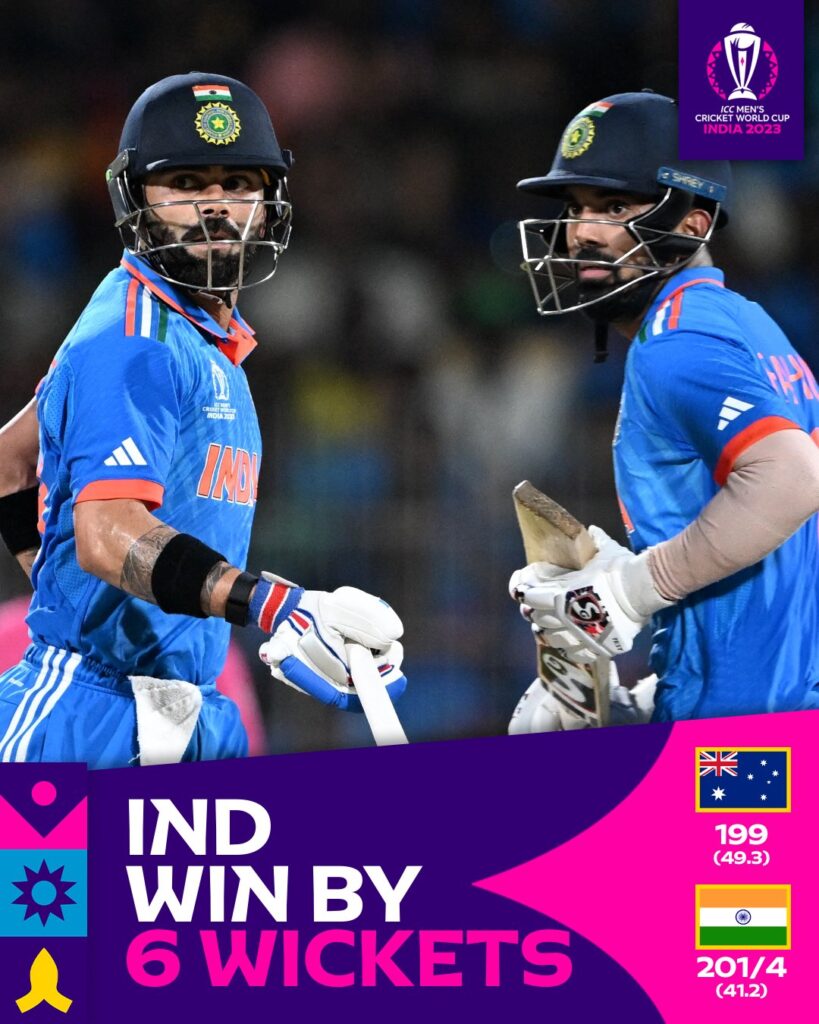 Resilience Amidst Adversity: India's Unwavering Stand
The saga began with Australia's decision to set a challenging target of 199 runs for India. However, the opening moments of their innings were shrouded in uncertainty as India faced early tribulations. The likes of Ishan Kishan, Rohit Sharma, and Shreyas Iyer succumbed to early dismissals, leaving India reeling at an unsettling 2/3 within the first two overs. The tension in the air was palpable, and the odds seemed stacked against them.
The Glorious Redemption: Kohli and KL Rahul's Masterstroke
In the face of this daunting predicament, the indomitable Virat Kohli and KL Rahul emerged as the saviors of the Indian innings. Their partnership, nothing short of heroic, infused new life into the game. Together, they crafted a colossal 165-run alliance off 215 balls for the fourth wicket. Kohli's spectacular 85 off 116 balls served as the linchpin, guiding India through turbulent waters before his departure at the hands of Josh Hazlewood. Hardik Pandya took up the mantle, ensuring that India's momentum remained unwavering.
Australia's Frustrations: A Spirited Bowling Display
For Australia, the match began on a sour note, with Mitchell Marsh falling prey to Jasprit Bumrah's fiery spell in just the third over. Despite the promise of a robust partnership between Steve Smith and David Warner, the latter's dismissal on 41 off 52 balls, courtesy of Kuldeep Yadav, destabilized Australia's resolve. Subsequently, Australia found themselves struggling to regain their composure, ultimately losing eight wickets for a mere 89 runs.
Spin to Win: The Dominance of India's Spinners
Spinners etched their names into the annals of this epic encounter. Ravindra Jadeja emerged as the star of the show, snatching three pivotal wickets for a mere 28 runs. Kuldeep Yadav complemented this brilliance with two crucial wickets. Ravichandran Ashwin, Hardik Pandya, and Mohammed Siraj also made their mark, each contributing with a valuable wicket.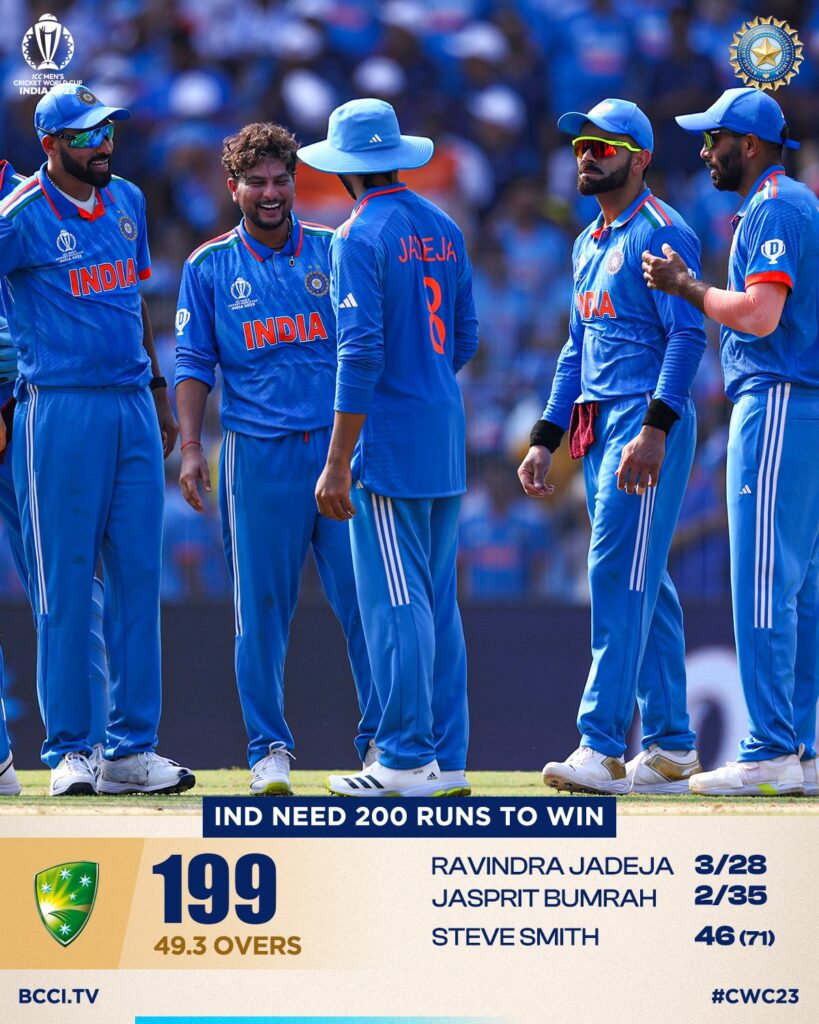 Bowling Brilliance: Bumrah and Siraj Shine
Jasprit Bumrah and Mohammed Siraj's artistry with the ball proved instrumental in India's triumph. Bumrah's spellbinding performance secured two pivotal wickets for a mere 35 runs. Meanwhile, Siraj's precision on the pitch yielded figures of 1/26, disrupting Australia's efforts and propelling India closer to victory.
Unveiling the Victory: Key Takeaways from India vs. Australia Clash
– Australia's final tally rested at 199 runs.
– India faced early setbacks, losing their first three wickets for just two runs, both of which resulted from extras.
– Spin maestros, led by Ravindra Jadeja and Kuldeep Yadav, reigned supreme, boasting figures of 3/28 and 2/42, respectively.
– Ravichandran Ashwin, Hardik Pandya, and Mohammed Siraj each made vital contributions with a wicket.
– Jasprit Bumrah's brilliance shone through with 2/35, while Siraj clinched 1/26.
– The "Player of the Match" honor went to the sensational KL Rahul.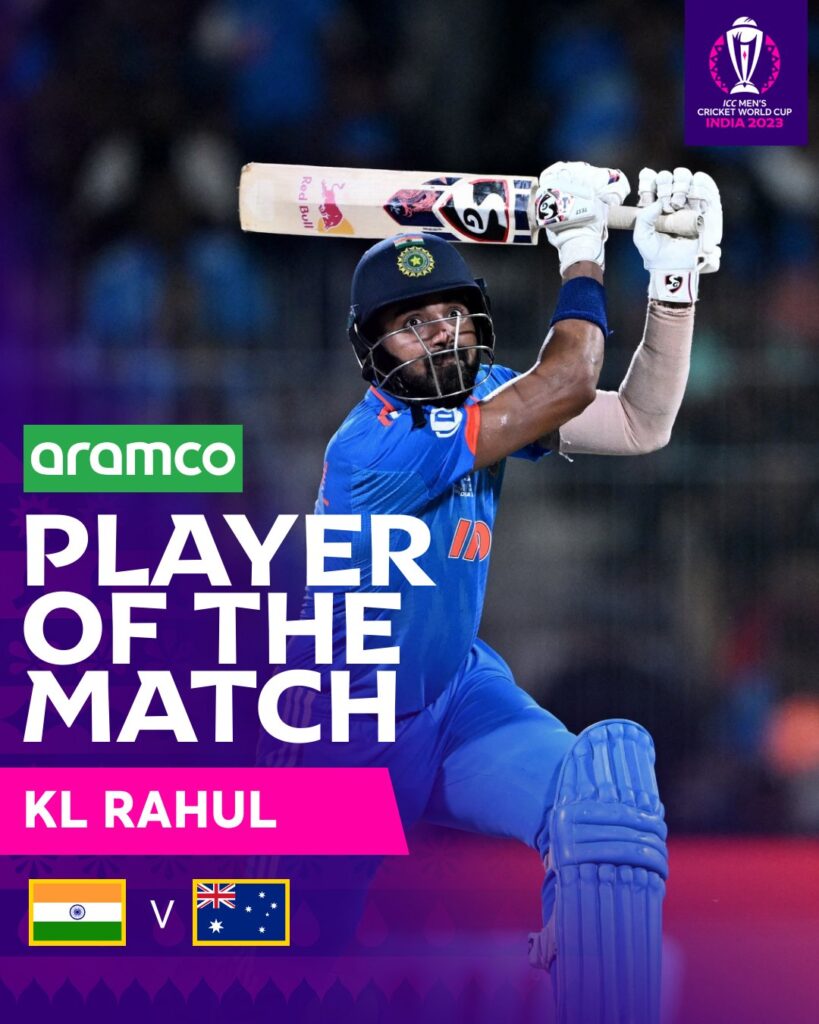 In closing, India's awe-inspiring victory over Australia in the ICC Cricket World Cup 2023 serves as a resounding testament to their unyielding spirit and unparalleled skill. This encounter will unquestionably etch its name in the annals of cricketing history as an unforgettable clash, epitomizing the zenith of cricketing prowess. Cricket aficionados across the globe eagerly anticipate a cascade of exhilarating encounters in this prestigious tournament.