ENG vs PAK Clash – World Cup 2023 : Dominant England Secures Champions Trophy Spot with Convincing Victory over Pakistan
In a cricket showdown that echoed with anticipation, England and Pakistan ( Eng vs Pak ) clashed at Eden Gardens in the ICC Men's Cricket World Cup 2023. A high-stakes encounter unfolded, with England securing a convincing 93-run victory, marking a redemption in their campaign. Let's delve into the electrifying moments of this ENGLAND vs PAKISTAN spectacle.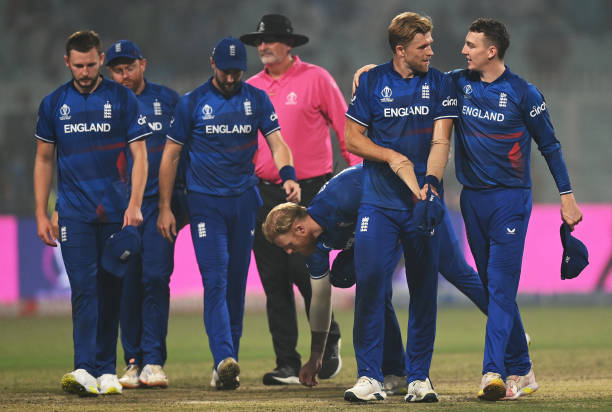 "A Spectacular Showdown: ENG vs PAK in ICC Men's Cricket World Cup 2023"
In a thrilling encounter at Eden Gardens, England exhibited their cricket prowess, triumphing over Pakistan by a resounding 93 runs in the crucial ENGLAND vs PAKISTAN match of the World Cup 2023.
"Batting Brilliance: England's Commanding First Innings"
England's batting display was nothing short of exceptional as they posted a formidable total of 337/9 in their allotted 50 overs. Jonny Bairstow, Joe Root, and the uncertain future of ODI cricket, Ben Stokes, played pivotal roles with half-centuries, propelling their team to a score that proved to be beyond par.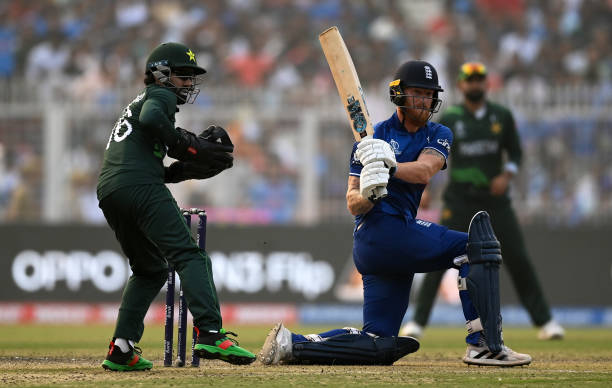 "Bowlers Shine: Willey's Heroics and Team Effort Seal the Deal"
In a complete team effort, England's bowlers complemented the strong batting performance. David Willey, in his final international game, reached a milestone by claiming his 100th ODI wicket, finishing with impressive figures of 3/56. Gus Atkinson and the spinners sustained the momentum, securing a guaranteed top-eight finish and qualification for the next Champions Trophy.
"Pakistan's Struggle: Wickets Tumble as England Dominates"
Pakistan faced an uphill battle from the start, losing both openers early to David Willey's swing-bowling brilliance. Despite brief resistance, Babar Azam's dismissal and Mohammad Rizwan's unfortunate cramp-induced exit shattered Pakistan's hopes. Adil Rashid and Moeen Ali capitalized on scoreboard pressure, leaving Pakistan in disarray.
"Willey's Landmark Moment: 100 ODI Wickets in Style"
David Willey's impact extended beyond the match, reaching a significant milestone of 100 ODI wickets in his farewell game. This landmark achievement not only showcased Willey's individual brilliance but also contributed to England's secured spot in the Champions Trophy.
Match summary
Player of the Match
David Willey (ENG) 3/56 (10) & 15 (5)
England · 337/9 (50)
| | |
| --- | --- |
| Ben Stokes 84 (76) | Haris Rauf 3/64 (10) |
| Joe Root 60 (72) | Shaheen Afridi 2/72 (10) |
| Jonny Bairstow 59 (61) | Mohammad Wasim Jr. 2/74 (10) |
Pakistan · 244 (43.3)
| | |
| --- | --- |
| Salman Ali Agha 51 (45) | David Willey 3/56 (10) |
| Babar Azam 38 (45) | Gus Atkinson 2/45 (8) |
| Mohammad Rizwan 36 (51) | Adil Rashid 2/55 (10) |
"Tournament Standings: England's Triumph and Pakistan's Exit"
England's emphatic victory solidified their place in the Champions Trophy, marking a turnaround in their World Cup 2023 campaign. On the other hand, Pakistan's slim chances of reaching the semi-finals diminished, leading to their exit from the tournament.
"Impactful Moments: Highlights of the Match"
Key moments, such as Ben Stokes' explosive innings, Willey's early breakthroughs, and the collective brilliance of England's team, highlighted the ENG vs PAK clash. These moments not only entertained cricket enthusiasts but also demonstrated the resilience and skill of the players.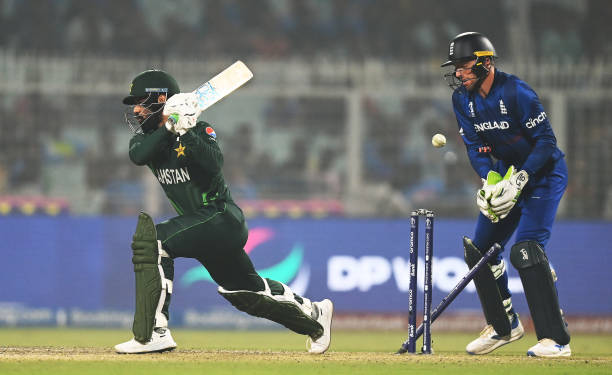 "England's Redemption and Pakistan's Missed Opportunities"
In a gripping encounter that determined Champions Trophy qualifications, England showcased redemption with a dominant performance. Pakistan, despite glimpses of promise, failed to capitalize on opportunities, ultimately bowing out of the World Cup 2023.
"Looking Ahead: England's Momentum for the Champions Trophy"
With their secured spot in the next Champions Trophy, England is poised for a strong showing in the upcoming tournament. The team's resurgence in the ENGLAND vs PAKISTAN match sets a positive tone for future contests.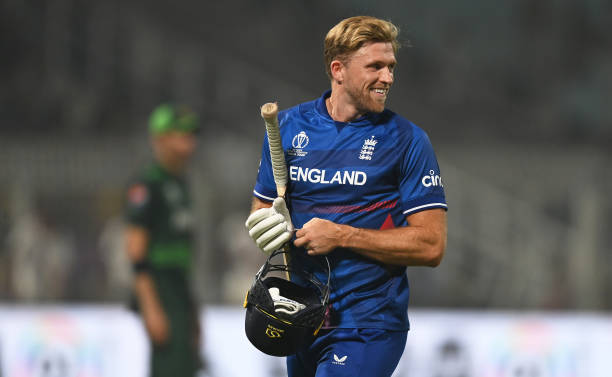 "Cricket Enthusiasts React: Social Media Buzz after ENG vs PAK"
Explore the reactions and buzz on social media as fans and experts share their thoughts on the thrilling encounter between England and Pakistan. The ENGLAND vs PAKISTAN hashtag becomes a trending topic, reflecting the global impact of this World Cup clash.
"Expert Analysis: Key Takeaways from ENG vs PAK Showdown"
Dive into expert analyses dissecting the strategies, standout performances, and crucial turning points in the ENG vs PAK match. Gain insights into how England's comprehensive approach and Pakistan's challenges unfolded during this intense battle.
"Memorable Moments: Clash Enters Cricket's Hall of Fame"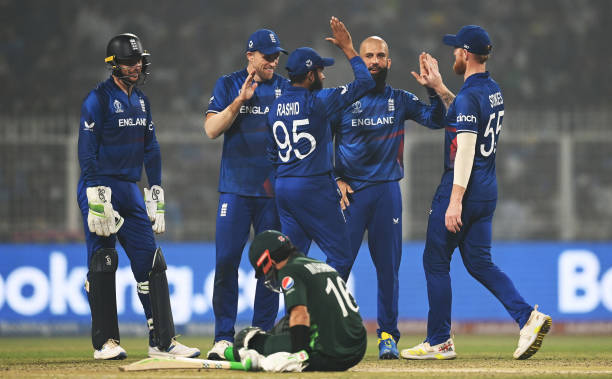 Highlight the memorable moments that etched the ENG vs PAK clash into cricket history. From stunning catches to strategic masterstrokes, relive the brilliance that made this World Cup encounter unforgettable.
"Player Spotlight: David Willey's Farewell and Legacy"

Delve into David Willey's journey, celebrating his farewell game's success and the lasting impact of his contributions to English cricket. Explore how Willey's achievements will be remembered in the context of his illustrious
"Fan Engagement: ENG vs PAK Captivates Global Cricket Fans"
Examine the engagement levels of cricket fans worldwide during the ENG vs PAK clash. From in-stadium cheers to virtual celebrations, witness the passion and excitement that engulfed the cricket community during this high-stakes encounter.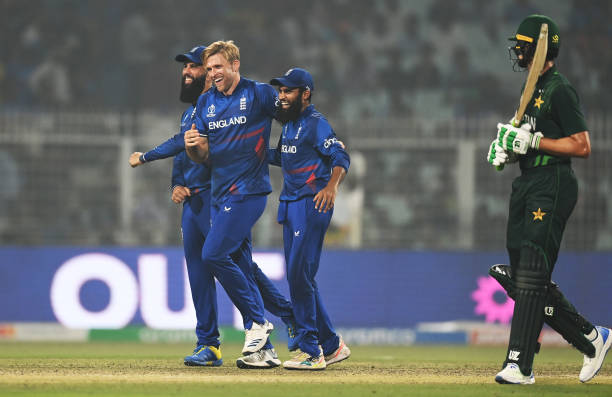 "Final Verdict: ENG vs PAK – A Cricket Spectacle to Remember"
In the annals of cricket history, the ENG vs PAK clash of World Cup 2023 will be remembered as a spectacle of skill, determination, and triumph. England's resurgence and Pakistan's valiant efforts add a compelling chapter to the narrative of this prestigious tournament.