Ban vs Aus World Cup 2023: Mitchell Marsh's Record-Breaking 177* Powers Australia to Semifinals Glory
"Australia's Spectacular Triumph in World Cup 2023 Group Stage"
In a resounding display of cricketing prowess, Australia concluded their World Cup 2023 group stage campaign with a spectacular victory over Bangladesh in Pune. The Ban vs Aus clash not only witnessed a record-breaking chase but also etched Mitchell Marsh's name in the annals of cricket history with his unbeaten 177, propelling Australia into the highly anticipated semifinals.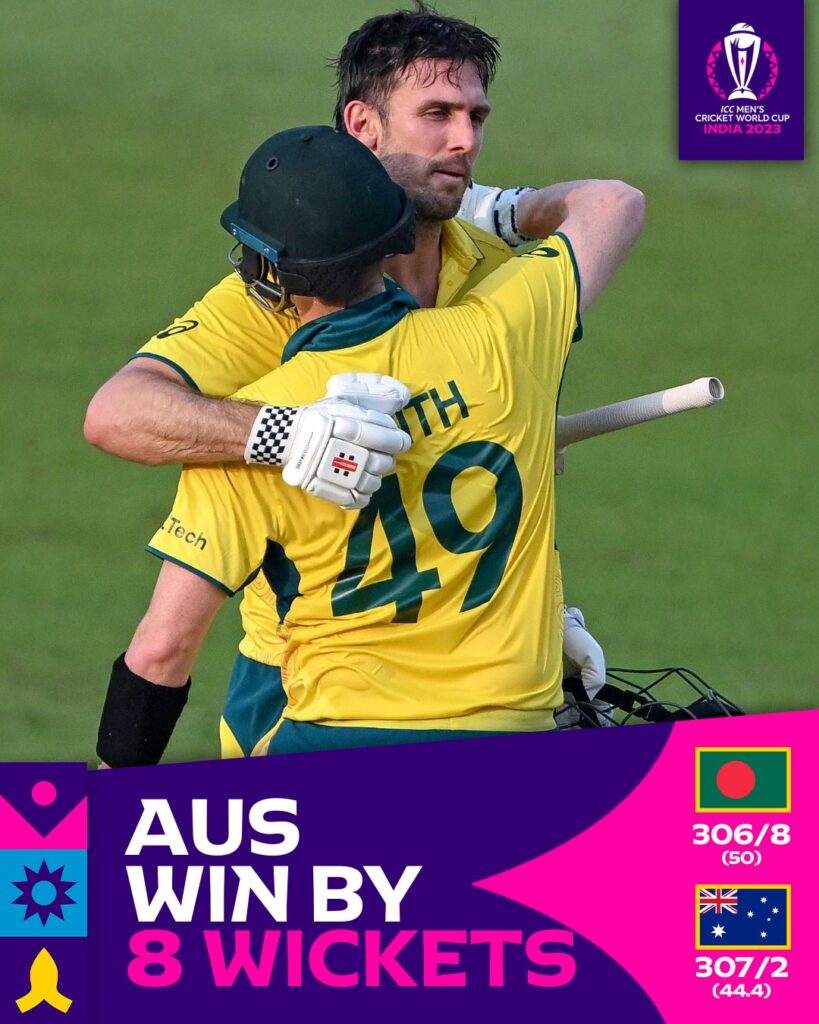 "Mitchell Marsh's Dominance: A 9-Six, 14-Four Blitz"
Taking the crease at number three following the early dismissal of Travis Head, Mitchell Marsh orchestrated a batting masterclass, punctuating his innings with a staggering 9 sixes and 14 fours. His aggressive yet calculated assault not only dismantled the Bangladesh bowling attack but also guided Australia to a historic World Cup chase of 307 runs, securing victory with eight wickets and 32 balls to spare.
"Bangladesh's Competitive Total and Australia's Bowling Excellence"
Having won the toss and elected to bat, Bangladesh posted a commendable total of 306 for 8, anchored by Towhid Hridoy's resilient 74, supported by contributions from Najmul Hossain Shanto (45), Tanzid Hasan (36), and Mehidy Hasan (31*). However, the bowling excellence of Adam Zampa (2 for 32) and Sean Abbott (2 for 61) curtailed Bangladesh's innings, setting the stage for Australia's remarkable chase.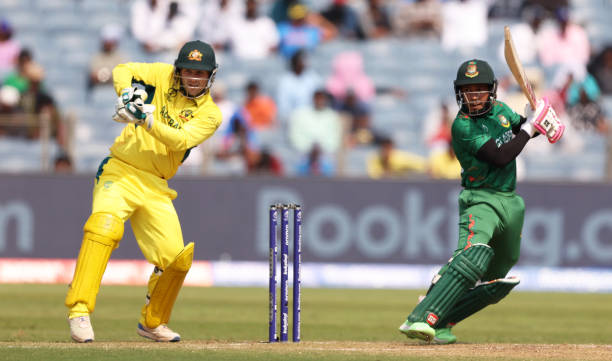 "Marsh's Heroics Overshadow Bangladesh's Efforts"
Despite Bangladesh's commendable effort with the bat, Mitchell Marsh's innings emerged as the defining narrative of the match. The Bangladesh bowlers found themselves powerless against Marsh's relentless onslaught, with Taskin Ahmed and Mustafizur Rahman managing a solitary wicket each but conceding 61 and 76 runs, respectively. Marsh's brilliance underscored his pivotal role in Australia's emphatic victory.
"Australia's Semifinal Qualification and Bangladesh's Champions Trophy Spot"
This pivotal win secures Australia's second-place finish in Group A, earning them a coveted spot in the World Cup 2023 semifinals against South Africa. In contrast, Bangladesh exits the tournament with seven losses out of eight games. However, their commendable net run rate ensures their participation in the Champions Trophy 2025, a silver lining in an otherwise challenging campaign.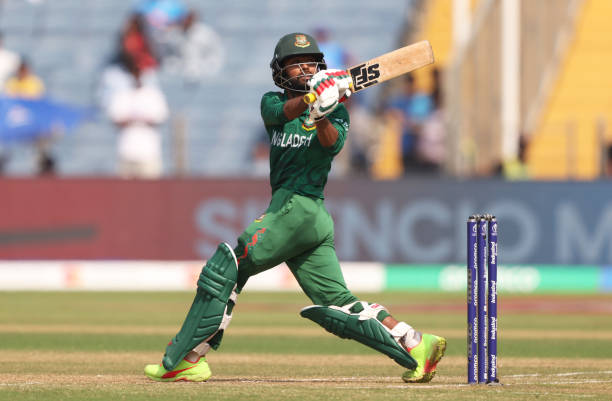 "Mitchell Marsh: Player of the Match Dedicates Triumph to Late Father"
In a poignant post-match interview, Mitchell Marsh, rightfully awarded the Player of the Match, dedicated his sensational innings to his late father Geoff Marsh, who passed away earlier in the week. Marsh expressed his joy at delivering a stellar performance under pressure, highlighting the emotional significance of the victory. Looking ahead to the semifinal clash against South Africa, Marsh is determined to maintain his exceptional form and honor his father's memory on the grand cricketing stage.
Match summary
Player of the Match
Mitchell Marsh (AUS)0/48 (4) & 177* (132)

Bangladesh · 306/8 (50)
| | |
| --- | --- |
| Towhid Hridoy 74 (79) | Adam Zampa 2/32 (10) |
| Najmul Hossain Shanto 45 (57) | Sean Abbott 2/61 (10) |
| Tanzid Hasan 36 (34) | Marcus Stoinis 1/45 (5) |
Australia · 307/2 (44.4)
| | |
| --- | --- |
| Mitchell Marsh 177* (132) | Taskin Ahmed 1/61 (10) |
| Steve Smith 63* (64) | Mustafizur Rahman 1/76 (9.4) |
| David Warner 53 (61) | Mahedi Hasan 0/38 (9) |
"Ban vs Aus World Cup 2023: A Thrilling Cricket Saga Continues"
As the Ban vs Aus saga unfolds in the World Cup 2023, Mitchell Marsh's record-breaking innings adds a thrilling chapter to Australia's campaign. The semifinal clash promises more spectacular moments and intense cricketing drama as two cricketing giants vie for a coveted spot in the World Cup final. The Ban vs Aus World Cup 2023 is evolving into a cricketing spectacle that fans worldwide will remember for years to come, celebrating the sport's unpredictability and the indomitable spirit of players like Mitchell Marsh.
"Australia's Spectacular Triumph in World Cup 2023 Group Stage"
In a sensational display of cricket prowess, Australia concluded their World Cup 2023 group stage journey with a remarkable victory over Bangladesh in Pune. The Ban vs Aus clash witnessed an extraordinary chase, with Mitchell Marsh's unbeaten 177 steering Australia to a historic win.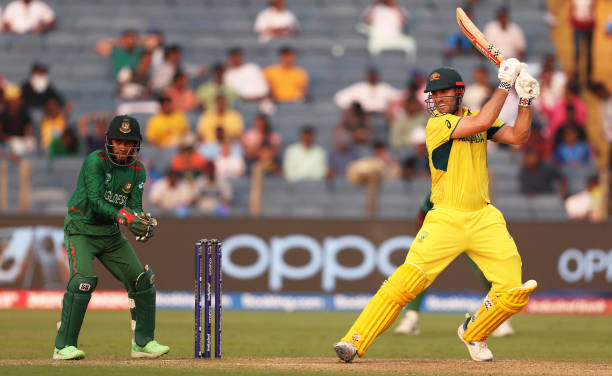 In conclusion, the Ban vs Aus World Cup 2023 clash showcased cricketing brilliance and resilience, with Mitchell Marsh's record-breaking innings etching an unforgettable chapter in Australia's journey. This triumph not only secured their semifinal berth but also became a poignant tribute as Marsh dedicated his stellar performance to his late father. The contrasting fates of Australia and Bangladesh add layers of emotion and anticipation to the tournament's narrative. As the cricketing world eagerly awaits the semifinal showdown, the Ban vs Aus encounter stands as a testament to the sport's ability to weave together thrilling moments, personal triumphs, and the enduring spirit of competition.