Electrifying Showdown: PAK vs BAN – World Cup 2023 Sets Eden Gardens Ablaze
The clash between of Pak vs Ban in the ongoing World Cup 2023 at Eden Gardens has left cricket enthusiasts on the edge of their seats. This riveting encounter saw Pakistan's emphatic victory over Bangladesh, showcasing an incredible display of skill and determination on the field. As the dust settles on this enthralling match, it's imperative to delve deeper into the highlights that define the essence of this high-stakes battle.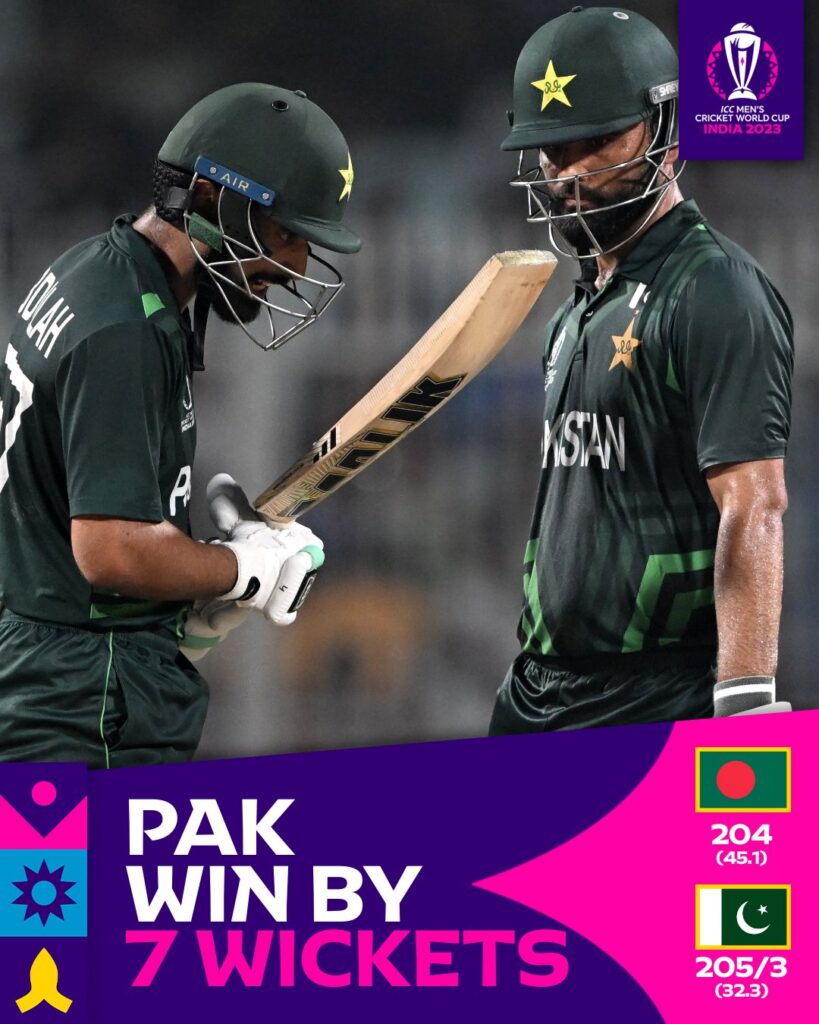 1. PAK vs BAN World Cup 2023 Showdown: Key Highlights
In a heated battle that unfolded at the iconic Eden Gardens, Pakistan secured a comprehensive win over Bangladesh. The match witnessed remarkable performances that defined the essence of competitive cricket at the World Cup 2023:
Pakistan's Stellar Performance: The Pakistan team's all-around display in batting, bowling, and fielding stood as a testament to their unwavering prowess on the field.
Fakhar Zaman's Heroic Knock: Fakhar Zaman's explosive innings of 87 runs off 74 balls, adorned with 7 powerful maximums, steered Pakistan's dominance in the match, earning him the well-deserved 'Player of the Match' title.
2. Post-Match Insights and Reactions
Babar Azam on Pakistan's Triumph
The Pakistani skipper, Babar Azam, attributed their victory to a well-rounded performance in all departments. He commended Fakhar Zaman's pivotal role and expressed the team's commitment to securing victories in the upcoming matches.
Shakib Al Hasan's Views on Bangladesh's Performance
On the other hand, Bangladesh's captain, Shakib Al Hasan, acknowledged the team's failure to amass a competitive total. He emphasized the need for collective team efforts to bounce back in the upcoming games.
Fakhar Zaman's Triumph and Mindset
Fakhar Zaman, hailed as the 'Player of the Match,' expressed his satisfaction after a stellar innings and highlighted the importance of his runs in propelling the team towards victory.
Match summary
Player of the Match
Fakhar Zaman(PAK) 81 (74)


Bangladesh · 204 (45.1)
| | |
| --- | --- |
| Mahmudullah 56 (70) | Shaheen Afridi 3/23 (9) |
| Liton Das 45 (64) | Mohammad Wasim Jr. 3/31 (8.1) |
| Shakib Al Hasan 43 (64) | Haris Rauf 2/36 (8) |
Pakistan · 205/3 (32.3)
| | |
| --- | --- |
| Fakhar Zaman 81 (74) | Mehidy Hasan 3/60 (9) |
| Abdullah Shafique 68 (69) | Najmul Hossain Shanto 0/5 (1) |
| Mohammad Rizwan 26* (21) | Shoriful Islam 0/25 (4) |
https://gamingpur.com/pakistan-sri-lanka-and-afghanistan-semi-finals-2023/
3. Match Analysis: PAK's Dominance, BAN's Struggles
The game showcased a stark contrast in performances between the two teams:
Pakistan's Bowling Brilliance: Pakistan's bowling unit, led by Shaheen Afridi and Mohammad Wasim Jr., exhibited remarkable precision and consistency, restricting Bangladesh to a modest total.
Bangladesh's Lackluster Performance: Bangladesh struggled to find their footing, especially in the batting department. Despite efforts from Mahmudullah, Liton Das, and Shakib Al Hasan, the team couldn't capitalize on partnerships, eventually succumbing to Pakistan's relentless attack.
4. The Road Ahead for Both Teams
Pakistan's Revival
Pakistan's resounding victory breathes new life into their World Cup campaign. With an eye on the upcoming matches, they aim to maintain their winning momentum and strive for a place in the tournament's knockout stage.
Bangladesh's Hurdles and Aspirations
Bangladesh, on the other hand, faces an uphill task after being knocked out of the competition. The team's focus remains on regrouping and delivering stronger performances in the remaining matches to bring joy to their loyal fan base.
5. Impact and Conclusion
The PAK vs BAN match proved to be a defining moment in the World Cup 2023, showcasing the thrill and intensity synonymous with top-tier cricket. While Pakistan celebrates a crucial win, Bangladesh grapples with the reality of their early exit. However, both teams carry the responsibility to learn, adapt, and come back stronger in their subsequent battles.
In conclusion, the clash at Eden Gardens served as a spectacle of sporting excellence, highlighting the unpredictable nature of cricket and the unwavering passion that the World Cup brings to the global cricketing stage.
Table
Cricket World Cup 2023
Rank
#Team
MMatches
WWon
LLost
NRRNet run rate
PtsPoints
5
PAK
7
3
4
-0.024
6
9
BAN
7
1
6
-1.446
2
Final Words
As the tournament progresses, the PAK vs BAN encounter will remain etched in the memories of cricket enthusiasts worldwide. The World Cup 2023 continues to be an enthralling journey of intense battles, unforeseen outcomes, and the sheer joy of witnessing the world's best teams compete on cricket's grandest stage.