In a thrilling Showdown Aus vs Pak match, Aus emerges victorious against Pak in the ICC Men's Cricket World Cup 2023.
"Stunning Triumph: Australia Dominates Pakistan, Winning by 62 Runs"
In a high-voltage clash of Aus vs Pak at the legendary M. Chinnaswamy Stadium, Australia showcased their prowess in the ICC Men's Cricket World Cup 2023, securing a memorable win over Pakistan. This thrilling contest marked ODI number 18 of the 48 matches scheduled for the tournament.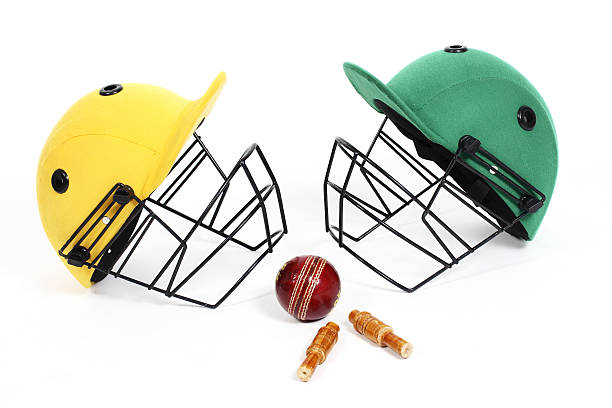 "Toss Drama: Pakistan Opts to Bowl Against Mighty Australia"
In a decision that added extra spice to the encounter, Pakistan won the toss and elected to bowl, setting the stage for a gripping showdown. Both teams were keen to make a statement and gain an upper hand early in this crucial match.
"Majestic Australian Batting Display : Aus vs Pak"
Australia's batting line-up displayed extraordinary skills, amassing a colossal total of 367 runs, losing nine wickets in their allotted 50 overs. Their extraordinary performance set a daunting target for Pakistan, with David Warner emerging as the standout hero by hammering a spectacular 163 runs.
"Shaheen Afridi's Sensational Five-Wicket Haul"
Pakistan's Shaheen Afridi emerged as the star performer for his team, bagging a phenomenal five-wicket haul during his ten-over spell. He consistently troubled the Australian batsmen, highlighting his reputation as one of Pakistan's premier bowlers.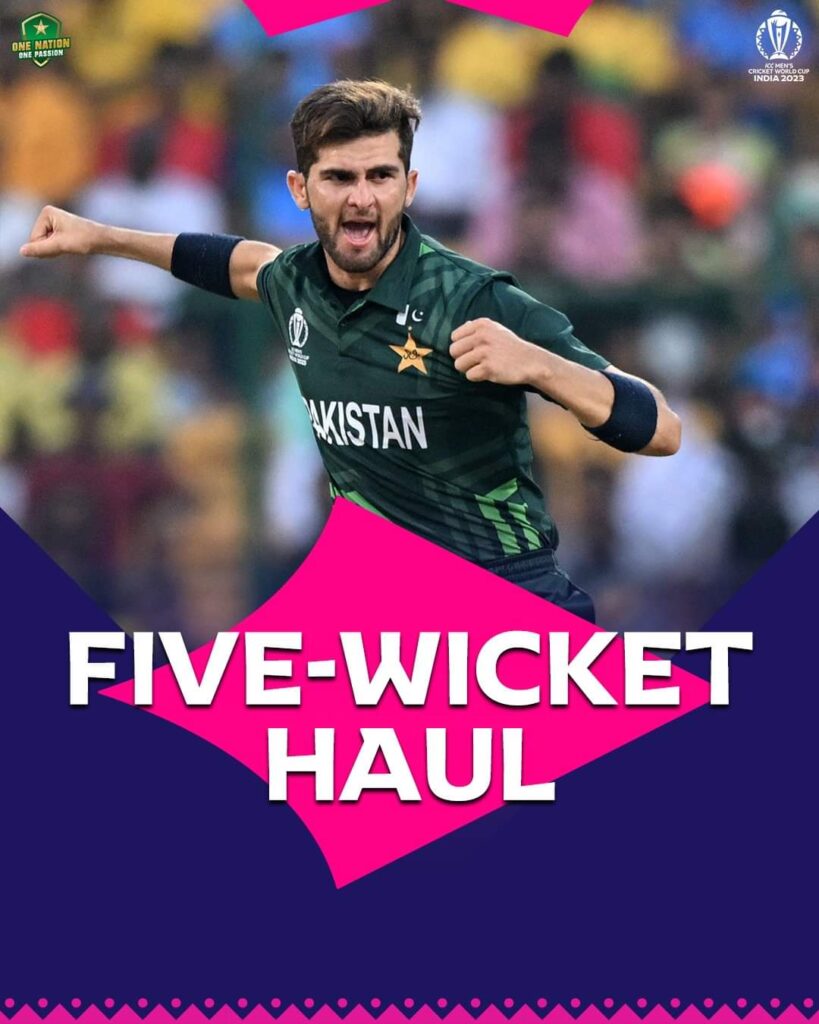 "Australia's Faltering Batting and Brave Middle Order"
Australia's innings was marked by a middle-order resurgence led by Warner and Mitchell Marsh, the latter contributing a colossal 121 runs to the team's total. However, the fall of wickets underlined Pakistan's spirited comeback in the latter stages of the match.
"Pakistan's Tenacity and Remarkable Comeback"
Pakistan's bowlers faced a Herculean task as Australia's openers established a blistering start. Nonetheless, Pakistan's bowlers, especially during the death overs, showcased exceptional skills and unwavering determination. The exceptional performances of Shaheen Afridi and Haris Rauf were pivotal in their remarkable comeback.
"David Warner's Heroics and Record Partnership"
David Warner's sublime innings of 163 runs played a pivotal role in Australia's formidable total. His partnership with Marsh was nothing short of extraordinary, amassing over 200 runs. Warner's remarkable display left the stadium in awe.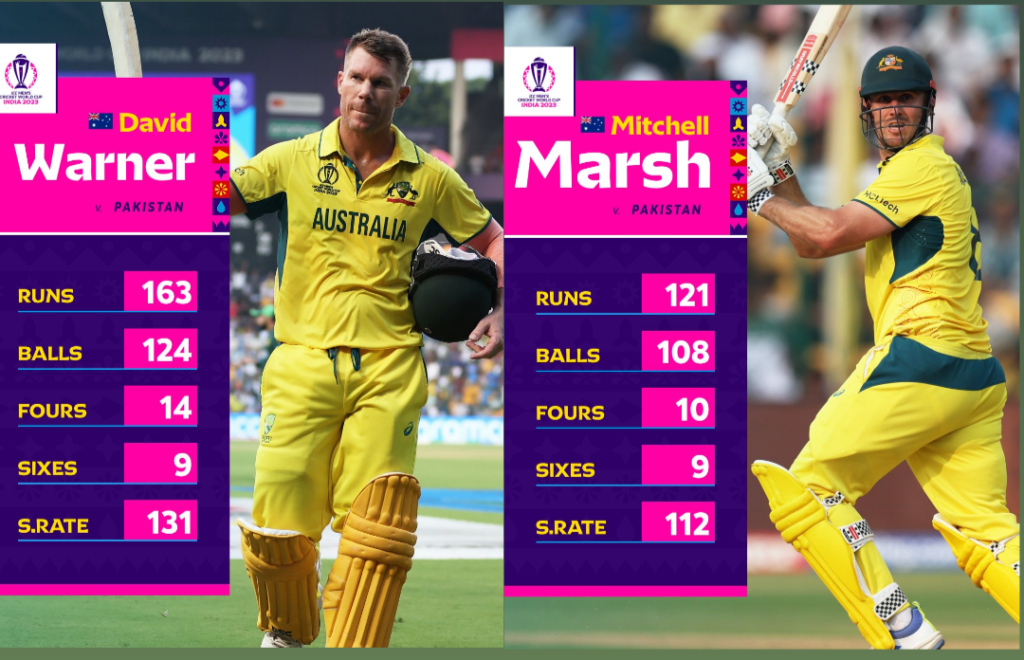 "Crucial Points for Australia in ICC men's cricket World Cup 2023"
Australia's hard-earned victory earned them two crucial points in the ICC Men's Cricket World Cup 2023, setting the tone for their journey in the tournament. This victory will be cherished by Australian fans and players alike.
Match summary
Player of the Match
David Warner(AUS)163 (124)
Australia · 367/9 (50)
| | |
| --- | --- |
| David Warner 163 (124) | Shaheen Afridi 5/54 (10) |
| Mitchell Marsh121 (108) | Haris Rauf 3/83 (8) |
| Marcus Stoinis 21 (24) | Usama Mir 1/82 (9) |
Pakistan · 305 (45.3)
| | |
| --- | --- |
| Imam-ul-Haq 70 (71) | Adam Zampa 4/53 (10) |
| Abdullah Shafique 64 (61) | Marcus Stoinis 2/40 (5) |
| Mohammad Rizwan 46 (40) | Pat Cummins 2/62 (7.3) |
"Pakistan's Determination Against a Formidable Target"
Despite the daunting target, Pakistan exhibited determination and unwavering spirit. Abdullah Shafique and Imam-ul-Haq formed a crucial partnership, with the latter amassing an impressive 70 runs. However, Pakistan faced steady wicket losses in the latter stages of their innings.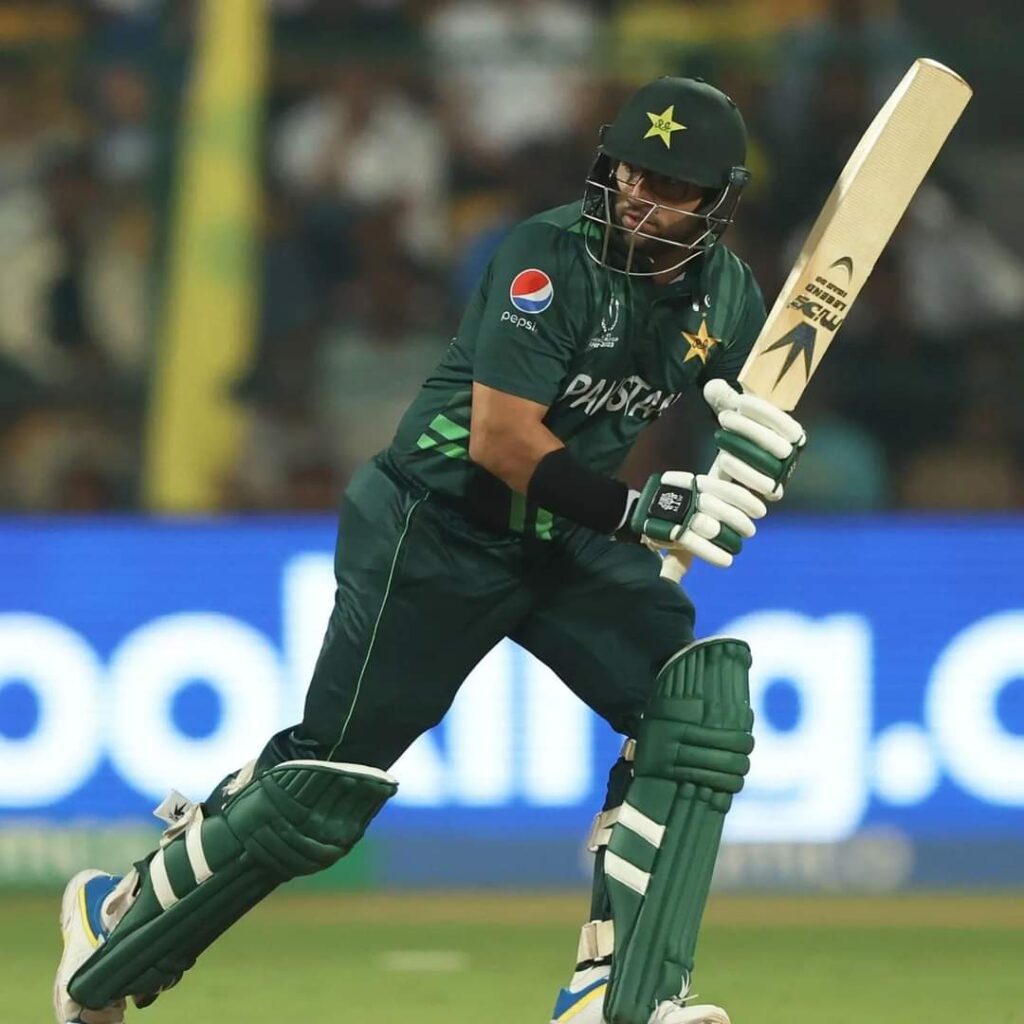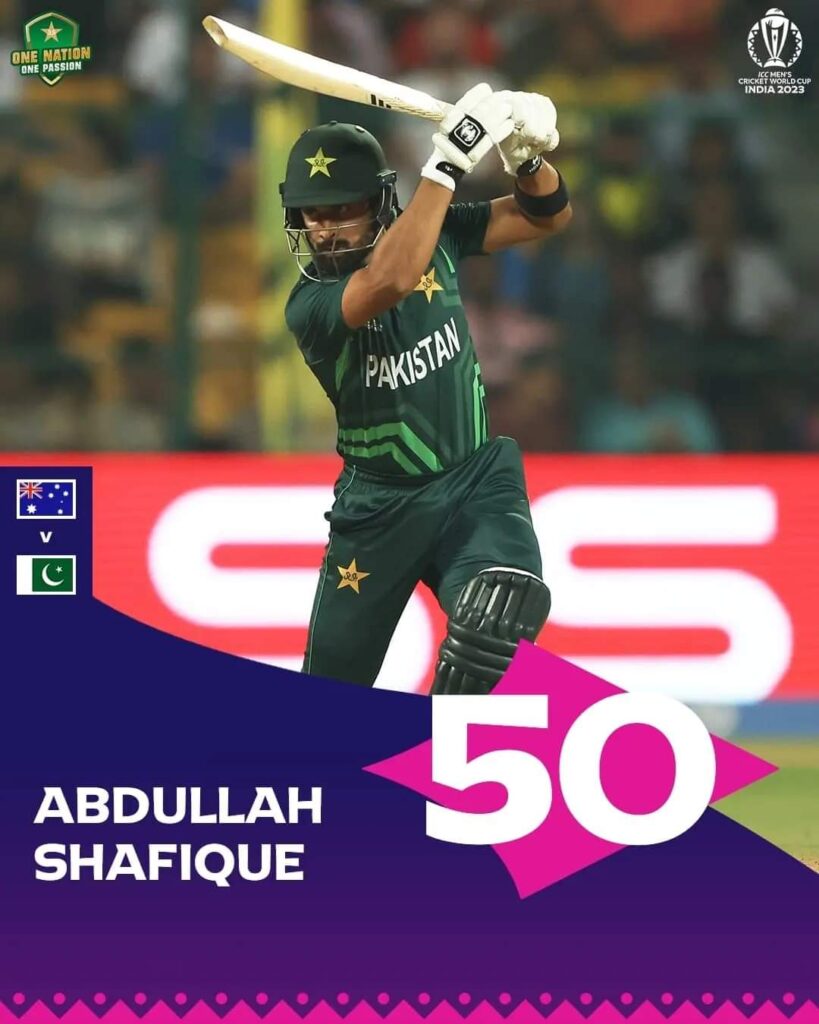 "Shaheen Shah Afridi's Historic Five-Wicket Feat"
Shaheen Shah Afridi's exceptional performance was marked by a historic five-wicket haul in the World Cup. His ability to generate pace and swing the ball posed a constant threat to the Australian batsmen.
"Outstanding Bowling by Australia"
Australia's bowling attack, led by Mitchell Starc, Pat Cummins, and Adam Zampa, complemented the team's strong batting performance. Zampa, in particular, demonstrated his class by securing four pivotal wickets, leaving Pakistan on the back foot.
"Players' Insights on the Match"
Post-match interviews offered a glimpse into the players' perspectives. David Warner, named the Player of the Match, highlighted his partnership with Marsh and his unwavering commitment to hard running between the wickets. Both teams acknowledged areas for improvement in their performance.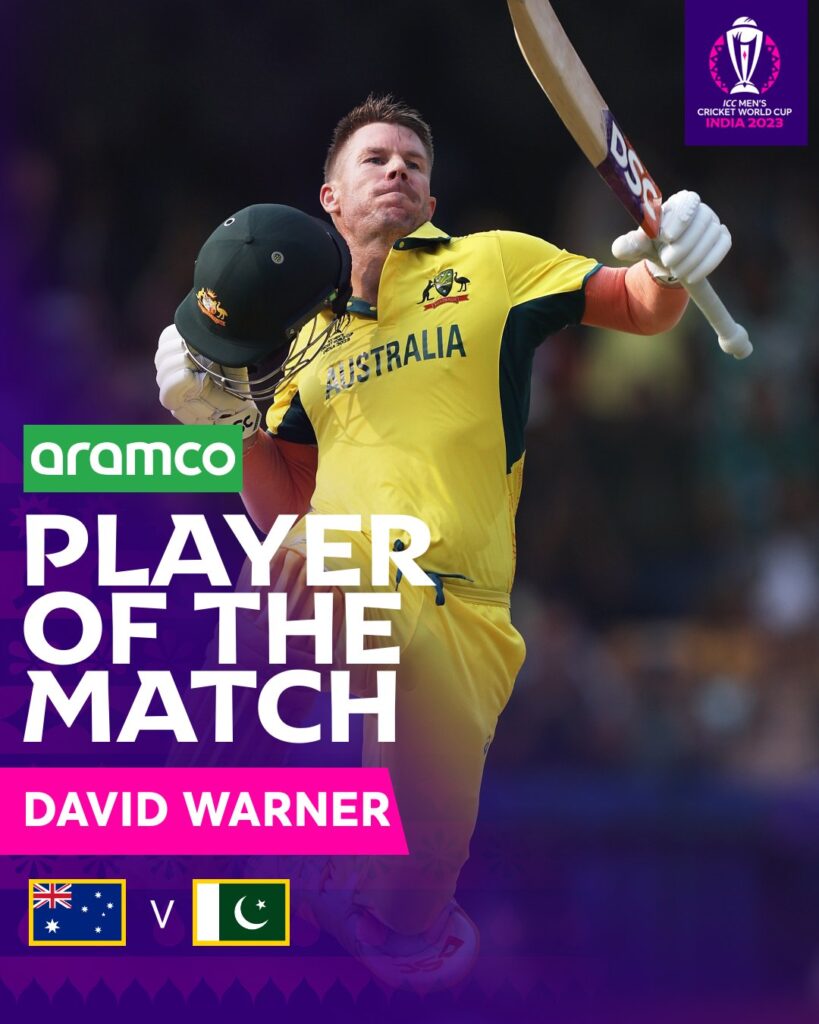 "Exciting Matches on the Horizon"
As the ICC men's cricket World Cup 2023 unfolds, cricket enthusiasts can anticipate a series of thrilling matches. On the 21st of this month, the Netherlands will lock horns with Sri Lanka, while England will face South Africa, promising more electrifying moments in the tournament.
In conclusion, the Australia vs. Pakistan encounter in the ICC Men's Cricket World Cup 2023 was a testament to the spirit and skill of the sport. It was a riveting contest that celebrated the essence of cricket. Stay tuned for more captivating cricketing action as the tournament progresses.