CELTA Vigo vs Real Madrid: Jude Bellingham's goal secures a 1-0 victory for Real Madrid
CELTA Vigo vs Real Madrid: CELTA Vigo proved to be a resilient challenge for Real Madrid in their Friday night encounter, where Los Blancos once again turned to Jude Bellingham, whose goal secured the crucial three points. The game took a disappointing turn for Real as Vinicius Jr sustained an early first-half injury, depriving them of a key creative force. However, Bellingham, playing in an advanced role under Carlo Ancelotti's guidance, capitalized on a late Toni Kroos corner to find the back of the net.
Jude Bellingham's impressive scoring form continued as he netted for Real Madrid, securing a late 1-0 victory against Celta Vigo in a La Liga clash on Friday night. Having already secured two consecutive victories, Los Blancos were eager to extend their winning streak and maintain their position at the top of the La Liga standings, after narrowly missing out to Barcelona in the previous season.
Celta Vigo, on the other hand, aimed to improve upon their solitary point and felt the disappointment of a disallowed goal from Jorgen Strand Larsen due to a perceived foul on new Madrid goalkeeper Kepa Arrizabalaga moments before the shot.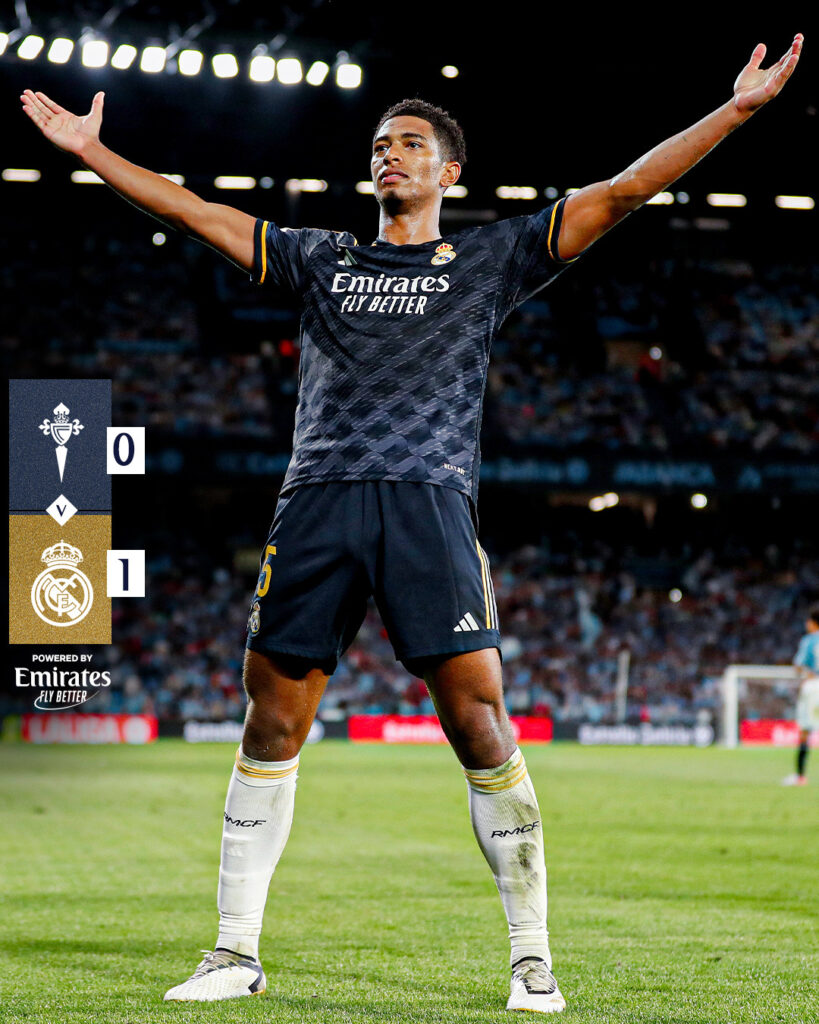 The match took an unfortunate turn for Carlo Ancelotti's squad when Vinicius Jr limped off the field with an injury midway through the first half, disrupting Real's rhythm and strategy. The second half saw the introduction of midfield stalwarts Toni Kroos and Luka Modric just after the hour mark.
The narrative shifted in Real's favor when Rodrygo was fouled by Ivan Villar, earning the team a penalty opportunity. However, the Brazilian's strike was impressively saved by the Celta Vigo goalkeeper.
With under 10 minutes remaining, it was Bellingham's precise header from close range that secured the win for the visitors, sealing his reputation as a pivotal player for Real Madrid.https://twitter.com/LaLiga/status/1695187660376068472?s=19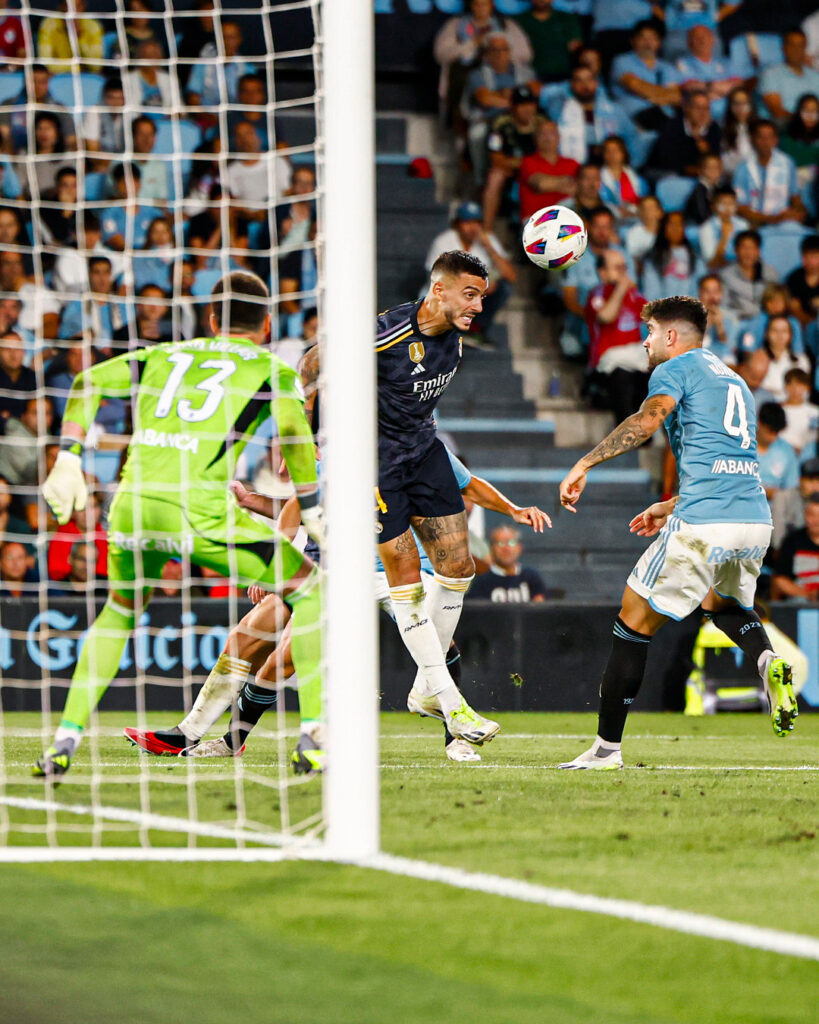 TALKING POINT – Ancelotti's Market Approach:

The Italian coach had previously stated that Real's transfer dealings were concluded, yet the circumstances might compel him to reconsider. Vinicius Jr's injury potentially leaves Ancelotti with limited attacking options, particularly given Joselu's unconvincing performance against Celta. The extent of Vinicius's injury could significantly impact Ancelotti's transfer strategy in the remaining days of the transfer window.
PLAYER OF THE MATCH Jude Bellingham (Real Madrid):
Jude Bellingham's remarkable record of four goals in three games since joining from Borussia Dortmund indicates that the investment in the player could indeed prove invaluable. With Vinicius sidelined, Bellingham's evolution into a goal-scoring midfielder assumes greater importance for Real Madrid's La Liga campaign.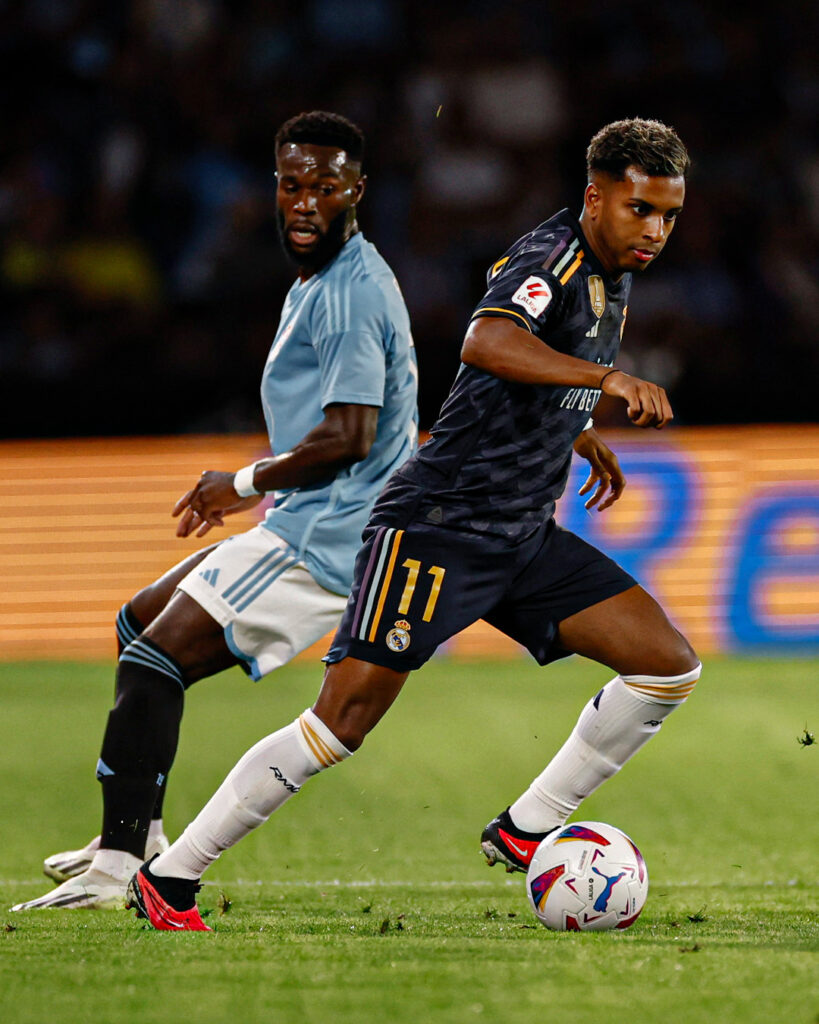 PLAYER RATINGS:
Celta Vigo: Mingueza 6, Aidoo 6, Starfelt 6, Ivan 7, Unai 6, Cervi 6, Luca 6, Aspas 6, Beltran 7, Larsen 7, Bamba 6.
Subs: Tapia 6, Rodriguez 6, Sanchez 6.
Real Madrid: Kepa 6, Carvajal 6, Tchouameni 6, Camavinga 6, Bellingham 7, Alaba 6, Rudiger 6, Fran Garcia 6, Valverde 6, Vinicius Jr. 6, Rodrygo 6.
Subs: Nacho 6, Kroos 6, Modric 6, Joselu 7.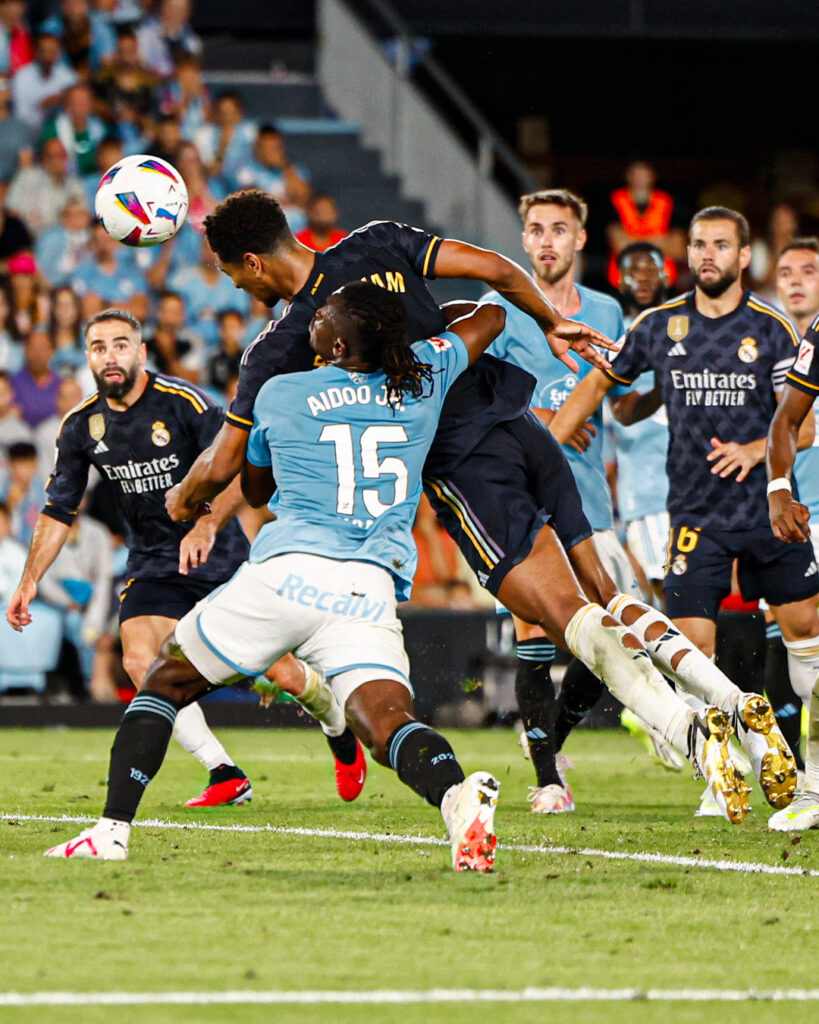 KEY EVENTS:
3' – GOAL! CELTA 1-0 REAL MADRID – Larsen SCORES – Kepa punches the ball away, but Beltran's low shot from the edge of the box deflects past the keeper.
5' – GOAL DISALLOWED – Referee's call negates the goal, resetting the score to 0-0.
11' – VINICIUS DOWN – Vinicius receives treatment after a run and pass to Rodrygo.
66' – PENALTY! – Villar brings down Rodrygo in the box, leading to a penalty.
68' – RODRYGO MISSES – Villar saves Rodrygo's strike, maintaining the goalless score.
81' – GOAL! CELTA 0-1 REAL MADRID – Bellingham SCORES – Bellingham's header from Joselu's flick-on finds the net.
KEY STAT:
Bellingham's tally of four goals in three games underscores his impact for Real Madrid.
In this gripping encounter, Jude Bellingham's crucial goal secured Real Madrid's victory, despite the challenge posed by Celta Vigo. The team's adaptability in the absence of Vinicius Jr and Bellingham's remarkable contributions set the stage for an intriguing La Liga season. https://gamingpur.com/watch-asia-cup-2023-free-streaming-on-mobile-phones/ https://gamingpur.com/chandrayaan-3s-historic-soft-landing-on-moon-indias/