AFG vs SA World Cup 2023: Exciting Clash Ends with South Africa Clinching Victory
—
The AFG vs SA clash in the ICC World Cup 2023 delivered a nail-biting encounter at Narendra Modi Stadium. Afghanistan set a challenging target of 244, but South Africa, led by Rassie van der Dussen's brilliant innings, secured victory with just 15 balls to spare.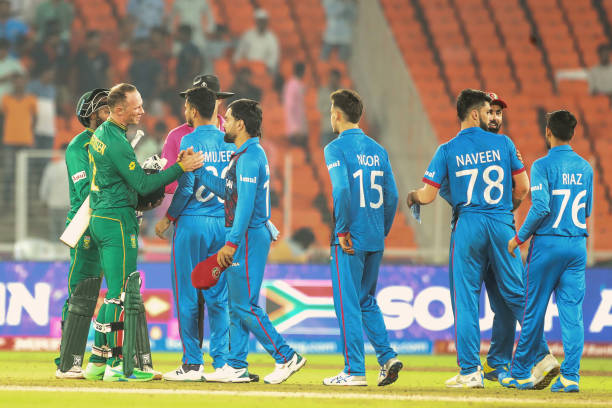 Quick Summary: AFG vs SA World Cup 2023
In a thrilling encounter at Narendra Modi Stadium, Afghanistan set a target of 244, but South Africa, led by Rassie van der Dussen, chased it down with flair. Key moments included Azmatullah Omarzai's standout innings and the spin battle between Afghanistan and South Africa.
Rassie van der Dussen's anchoring role earned him Player of the Match. As South Africa heads to the semifinals, adapting to Kolkata's conditions is vital, especially with Temba Bavuma nursing an injury.
Despite finishing sixth, Afghanistan's spin duo, Nabi and Rashid Khan, showcased promise for the future. The AFG vs SA saga continues, adding more excitement to the World Cup journey.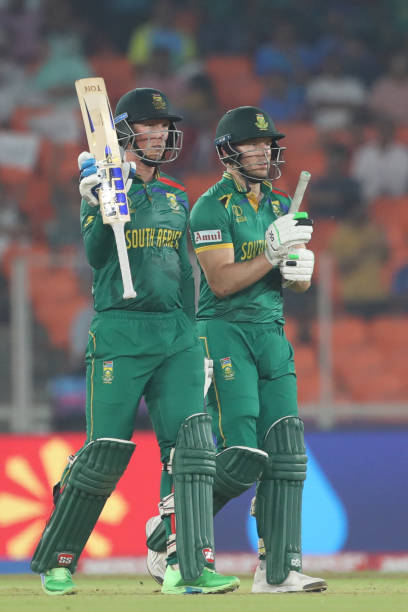 1. Afghanistan's Batting Display:
Afghanistan won the toss and opted to bat, with Azmatullah Omarzai's stellar 97* being the highlight. Despite notable contributions from Noor Ahmad and Rahmat Shah, they finished at 244 in their 50 overs. A notable mention goes to SA's Gerald Coetzee, who claimed 4 crucial wickets for 44 runs.
—
2. South Africa's Bowling Effort:
South Africa's bowling unit, led by Coetzee, showcased skillful performances. Keshav Maharaj and Lungi Ngidi also played vital roles, securing 2 wickets each. Their collective effort restricted Afghanistan but not without a fight.
—
3. South Africa's Successful Chase:
In the chase, South Africa faced a challenging target against Afghanistan's spin attack. Rassie van der Dussen's unbeaten 76* proved pivotal, with Quinton de Kock and Andile Phehlukwayo contributing 41 and 39* respectively. Despite a strong bowling performance from Afghanistan's Mohammad Nabi and Rashid Khan, South Africa secured a 5-wicket win.
—
4. Captain's Perspective – Hashmatullah Shahidi:
Hashmatullah Shahidi expressed satisfaction with Afghanistan's overall tournament performance. He emphasized the team's resilience, especially the improved batting display. Shahidi believes that Afghanistan, with a strengthened batting lineup and an already potent bowling attack, is poised to become a formidable force in future competitions.
—
5. Injury Woes for Temba Bavuma:
South Africa's captain Temba Bavuma battled through a sore leg during the match but remained on the field. He acknowledged the risk but highlighted the team's winning mentality. Bavuma aims to maintain momentum in the upcoming semifinals despite injury concerns.
—
6. Rassie van der Dussen – Player of the Match:
Rassie van der Dussen, awarded Player of the Match, reflected on the team's decision to chase. He praised the Afghan spin attack and acknowledged the importance of an anchoring role in the middle order. Van der Dussen expressed satisfaction with the team's learning experiences from the match and looks forward to replicating their performance in the finals.
—
7. Afghanistan's Missed Opportunities:
Afghanistan, mirroring their previous encounter against Australia, fell short of closing the game on a positive note. Despite a commendable effort from spinners Nabi and Khan, a lapse in concentration allowed South Africa to secure the win. Afghanistan finished sixth in the tournament.
—
8. South Africa's Winning Habit:
South Africa faced challenges in the chase but showcased a winning mentality. Rassie van der Dussen's mature innings and Andile Phehlukwayo's resilience guided them to victory. The team heads into the semifinals with confidence, aiming to continue their winning streak.
—
9. Key Turning Points:
Several crucial moments defined the AFG vs SA encounter. From Azmatullah Omarzai's impressive innings to Rassie van der Dussen's anchoring role, each phase contributed to the match's intensity. The battle between Afghanistan's spinners and South Africa's middle order showcased the game's tactical nuances.
—
10. Pitch Analysis – Kolkata Awaits:
Rassie van der Dussen hinted at the challenges awaiting in Kolkata, emphasizing the drier and lower nature of the pitch. South Africa acknowledges the need for adaptability, having learned from the contrasting conditions at Narendra Modi Stadium. The upcoming semifinal in Kolkata presents a new hurdle, and the team is focused on shifting gears for the next challenge.
—
11. Semifinal Anticipation – South Africa's Perspective:
South Africa's Temba Bavuma, despite his injury concerns, expressed eagerness about the semifinals. The team aims to carry forward the momentum and maintain their winning habit. The anticipation is high, with Kolkata posing a unique test for the squad.
—
12. Afghanistan's Spin Arsenal – Learnings for Future:
Afghanistan's spin duo, Mohammad Nabi and Rashid Khan, once again showcased their prowess. The team's captain, Hashmatullah Shahidi, highlighted the spinners' impact and sees it as a positive aspect for Afghanistan's future. The learnings from facing top teams in the World कर will undoubtedly shape their strategy in upcoming tournaments.
—
13. Rassie van der Dussen – The Anchoring Maestro:
Rassie van der Dussen's consistent anchoring role has become a defining feature for South Africa. The Player of the Match has been pivotal in stabilizing the middle order, and his contribution underscores the importance of a reliable presence in high-pressure situations.
—
14. Afghanistan's World Cup 2023 Journey – A Step Forward:
While Afghanistan finished sixth in the World Cup 2023, Hashmatullah Shahidi sees it as a step forward. The team's spirited performances against formidable opponents send a strong message to the cricketing world. The captain believes that Afghanistan's growth, especially in batting, positions them as a team to watch in future tournaments.
—
15. Kolkata Challenge – South Africa's Focus:
As South Africa prepares for the semifinals, the focus shifts to overcoming the challenges presented by the Kolkata pitch. The team's determination to play there again is evident, with the players acknowledging the need for a strategic approach against the different conditions.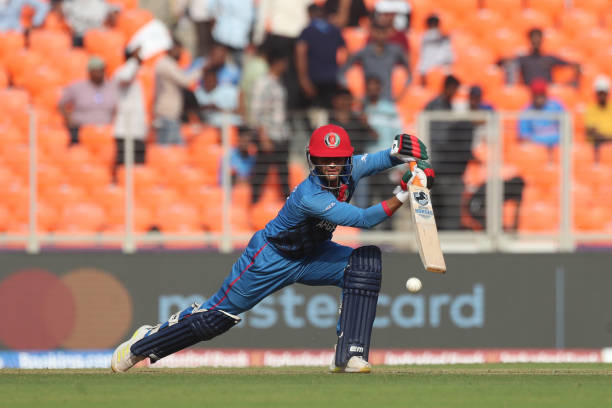 In summary, the AFG vs SA clash not only delivered thrilling cricket but also set the stage for exciting developments in the World Cup 2023.Each player's role, the upcoming challenges in Kolkata, and the broader implications for Afghanistan's cricketing journey add layers of intrigue to this captivating tournament.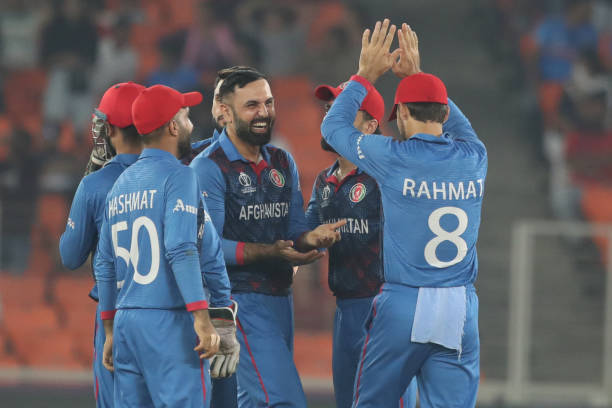 In a match filled with twists and turns, South Africa emerged victorious, showcasing their ability to handle pressure situations. The encounter highlighted Afghanistan's potential but also exposed areas for improvement. As the World Cup progresses, both teams will carry valuable lessons into their future campaigns.
—