Neeraj Chopra Creates History with Record-breaking Javelin Throw at World Athletics Championships 2023
World Athletics Championships 2023: In a triumphant display of skill and determination, Neeraj Chopra, India's illustrious javelin thrower, secured a historic gold medal at the World Athletics Championships held in Budapest. Neeraj's remarkable victory not only marked his maiden World Athletic Championships gold but also positioned him as the first Indian athlete to clinch this prestigious title. His awe-inspiring throw of 88.17 meters during the final event showcased his exceptional talent and established a new milestone in Indian sports history.
A Historic Achievement:
On a memorable Sunday night, Neeraj Chopra scripted his name in golden letters as he emerged victorious in the men's javelin throw final at the World Athletics Championships. His remarkable journey from an Olympic gold medal in Tokyo 2020 to now clinching gold at the global championships speaks volumes about his dedication and unrelenting pursuit of excellence.https://twitter.com/WorldAthletics?s=09
A Remarkable Feat:
Neeraj Chopra's second attempt in the final saw him launch the javelin to an incredible distance of 88.17 meters, securing the highest position on the leaderboard. This exceptional achievement not only marked a significant improvement from his silver medal at the 2022 edition of the World Championships but also demonstrated his ability to excel under pressure on the global stage.
From Setbacks to Triumph:
The path to victory wasn't without its challenges for Neeraj. His initial throw fell short of expectations, reaching a distance of just 79 meters. Determined to overcome this setback, Neeraj took a bold step by intentionally stepping over the line on his first attempt, leading to a foul. Undeterred by the initial disappointment, he saved his best for the second attempt, fueled by the overwhelming support of the crowd. As the javelin soared through the air, Neeraj began his celebratory dance even before the javelin touched the ground, a true testament to his confidence and exhilaration.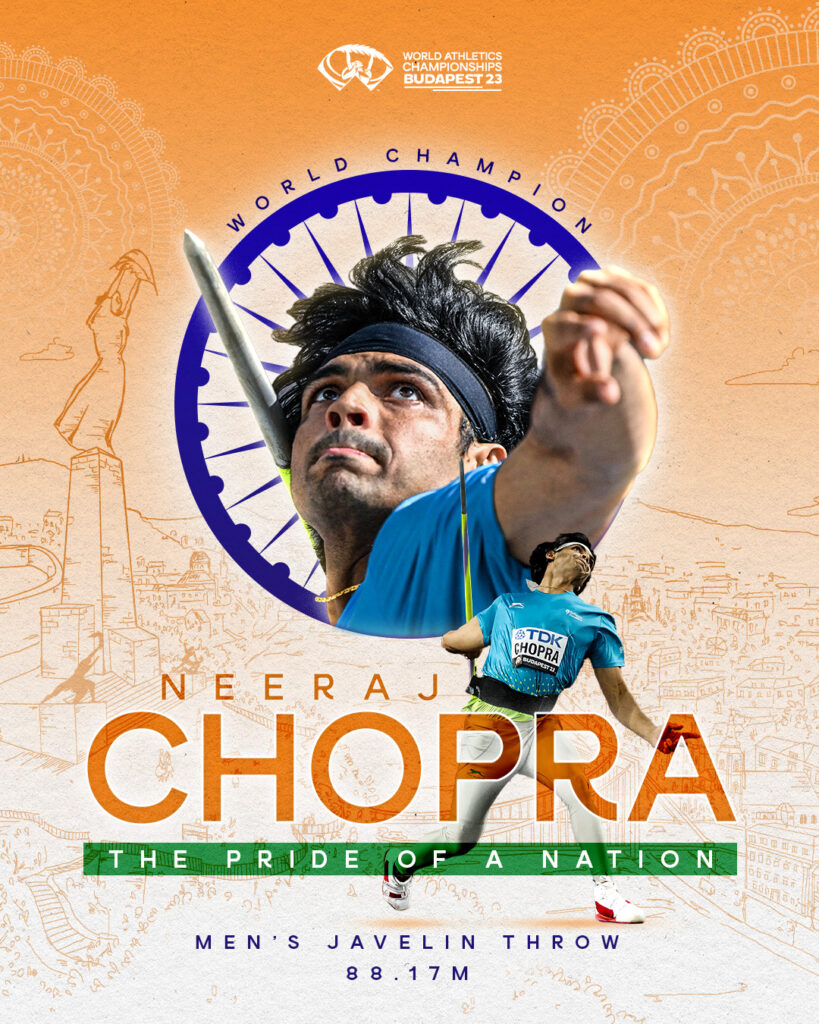 Although Neeraj began with a foul throw, he managed to clinch the gold medal by launching the javelin to a distance of 88.17 meters in his second attempt.
A Close Battle for Glory:
Chopra's journey to gold was not without fierce competition. His compatriot from Pakistan, Arshad Nadeem, showcased his prowess by finishing a close second with a throw of 87.82 meters. The bronze medal was secured by Jakub Vadlejch from the Czech Republic, who managed a distance of 86.67 meters. The intense competition highlighted the remarkable talent and dedication of these athletes.
Indian Contingent's Stellar Performances:
In addition to Neeraj's victory, the Indian javelin throwers showcased their mettle on the global stage. Kishore Jena and DP Manu's impressive performances earned them spots among the top-8 positions, with Jena achieving his personal best with a throw of 84.77 meters, and Manu achieving a commendable 84.14 meters.
A Glorious Sporting Journey:
Neeraj Chopra's journey to becoming a World Athletics Championships gold medalist has been nothing short of spectacular. Having secured the Olympic gold in Tokyo 2020, Neeraj's silver medal at the previous edition of the World Championships served as a stepping stone towards his recent triumph. This victory cements his position as the no.1 javelin thrower in the world.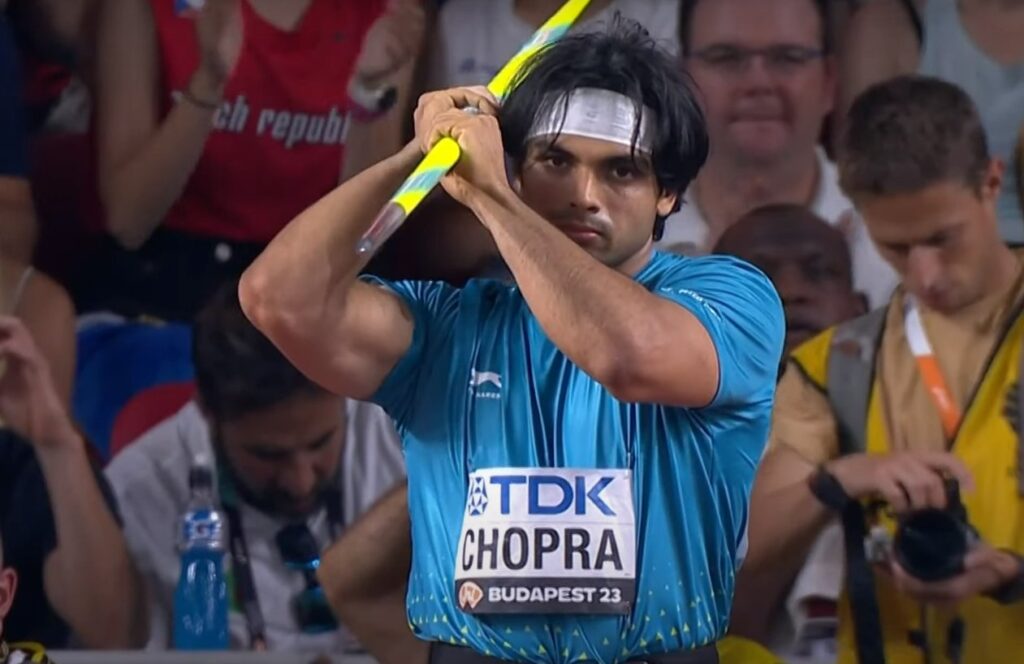 Neeraj Chopra, the reigning Olympic champion in men's javelin, has secured the title of World Champion as well by winning gold in Budapest.
A Moment of Pride for India:
Neeraj's historic achievement adds a new chapter to India's sporting legacy. He joins the elite league of athletes who have simultaneously held both the Olympics and World Championships titles in javelin throw. The only others to achieve this remarkable feat are the legendary Jan Zelezny of the Czech Republic and Andreas Thorkildsen of Norway. Zelezny's gold medal sweeps in multiple Olympics and World Championships, alongside Thorkildsen's victory in the 2008 Olympics and the 2009 World Championships.
Neeraj Chopra's remarkable triumph at the World Athletics Championships has solidified his place as an icon in Indian sports history. His journey, from Olympic gold to World Championships gold, serves as an inspiration to athletes across the nation. His relentless pursuit of excellence, combined with unmatched talent and determination, has propelled him to the pinnacle of javelin throw. Neeraj's story reminds us that with dedication and passion, extraordinary achievements become attainable, and dreams can be transformed into reality.