Dominant Rivalry Unveiled: Pakistan vs Bangladesh – 2023 World Cup Showdown
The forthcoming clash Of Pakistan vs Bangladesh in the 2023 World Cup is not just another fixture; it's an encounter that encapsulates a story of historical dominance, resilience, and the quest for resurgence. With a backdrop of compelling historical statistics, gripping head-to-head encounters, and the intensity of the imminent face-off, this match emerges as a pivotal moment in the tournament.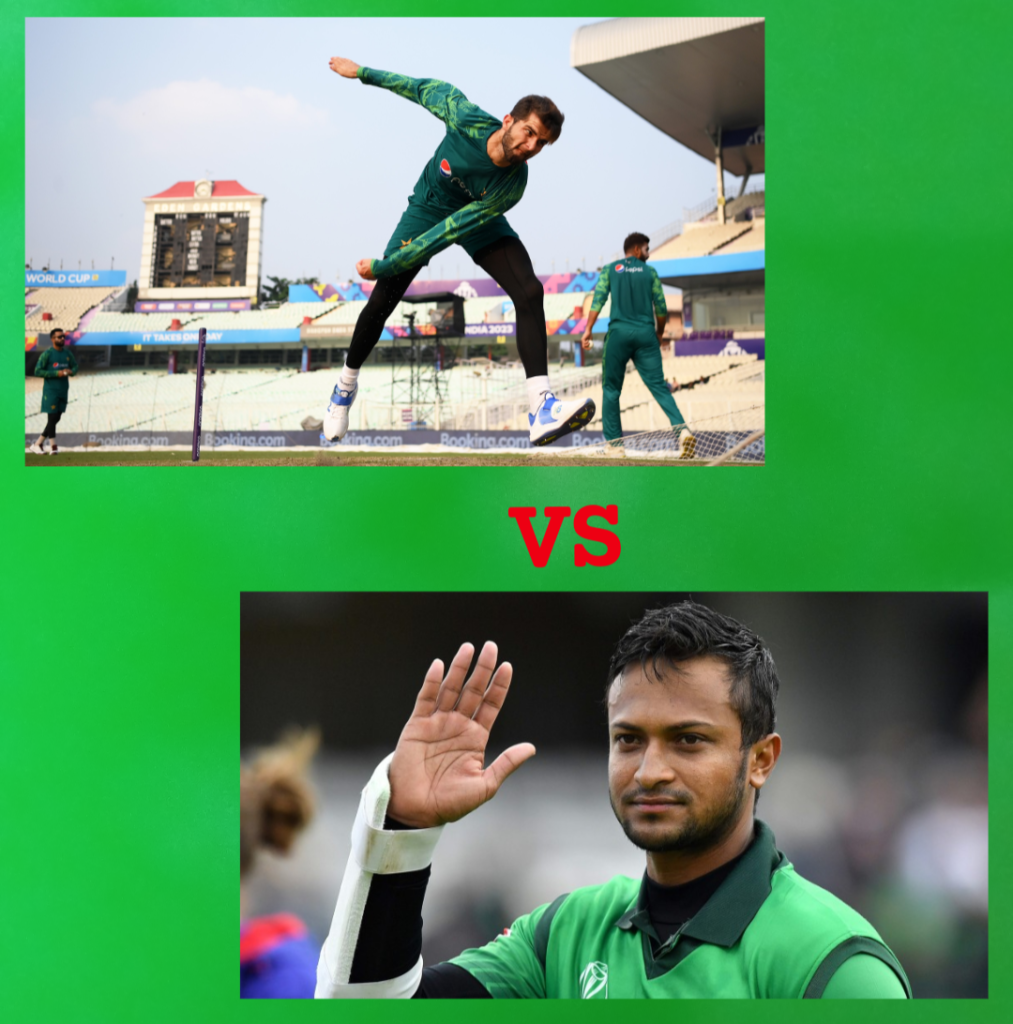 Table
Cricket World Cup
Rank
#Team
MMatches
WWon
LLost
NRRNet run rate
PtsPoints
7
PAK
6
2
4
-0.387
4
9
BAN
6
1
5
-1.338
2
Historical Encounters: Pakistan vs Bangladesh
Unraveling the pages of history, Pakistan boasts an imposing record, triumphing in 33 out of 38 confrontations against Bangladesh. While the numbers depict a certain dominance, Bangladesh's sporadic moments of triumph have added flavor to their rivalry.
ODI World Cup Rivalry
The World Cup encounters between these cricketing powerhouses have witnessed an even split, with both teams clinching a victory apiece. Bangladesh's remarkable upset in 1999 was countered by Pakistan's emphatic win in 2019, adding layers of unpredictability to their battles.
Recap of Last 5 ODI Matches
Recent showdowns between Pakistan and Bangladesh showcase a competitive evolution in their clashes. Bangladesh's victories in three of the last five encounters, including a notable win in the Asia Cup 2023, underline their growing competitiveness and set the stage for an enthralling clash in the current World Cup landscape.
Current Scenario: 2023 World Cup
The present context finds both teams in a critical phase. Pakistan grapples with a four-game losing streak while Bangladesh seeks to revive their campaign after a string of five losses. The impending match between these two sides holds the promise of reshaping their World Cup destiny.
Match Preview: Pakistan vs Bangladesh – 2023 World Cup
The iconic Eden Gardens will host this vital showdown, amplifying the significance of the clash. As both teams vie for a breakthrough, insights into the pitch, weather forecast, and the expected XIs elevate the anticipation and excitement surrounding this pivotal encounter.
Pitch and Weather Conditions
While Eden Gardens historically favors batsmen, recent matches have witnessed a twist, with bowlers, especially fast bowlers, making a significant impact. The promising weather forecast predicts clear skies and optimal playing conditions, setting the stage for an absorbing contest.
Probable XIs
The projected line-ups for both sides offer a glimpse into the strategic choices and the influential players poised to sway the momentum in their team's favor. Key players' performances will undoubtedly play a pivotal role in determining the outcome.
Match Prediction
Despite Pakistan's recent slump, they are anticipated to hold an edge against Bangladesh, drawing from their near-win against South Africa and their historically successful encounters. The prediction leans heavily towards a Pakistan victory in this crucial match, albeit with the potential for a gripping contest.
Live Streaming Details and Channels
Enthusiasts worldwide can tune in to the live action broadcasted across various Star Sports channels or access the streaming via Disney+Hotstar, ensuring a thrilling experience for all cricket enthusiasts.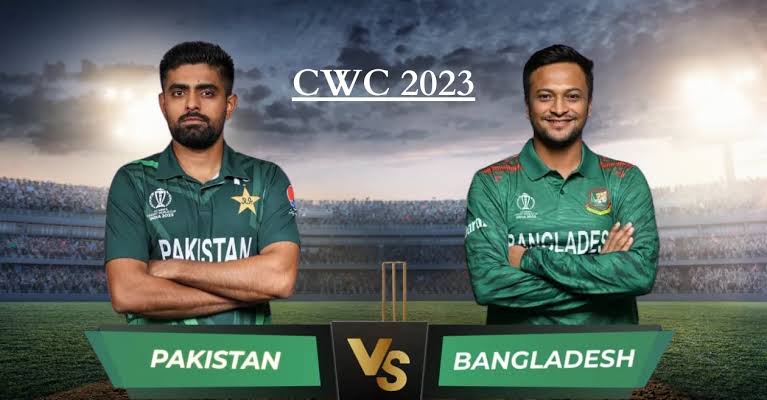 The upcoming clash between Pakistan and Bangladesh in the 2023 World Cup stands as a pivotal moment, teeming with historical narratives, current struggles, and the fervor of redemption. It's not just a cricket match; it's a collision of legacies, strategies, and the relentless pursuit of victory.
Certainly! Here are the probable playing XIs for the Pakistan vs Bangladesh 2023 World Cup match:
Abdullah Shafique Right-handed Batsman
Babar Azam(C) Right-Handed Batsman
Fakhar Zaman Left-handed Batsman
Imam-ul-Haq Left-Handed Batsman
Saud Shakeel Left-handed Batsman
Salman Ali Agha Right-handed Batsman • Right-Arm Off Spin Bowler
Iftikhar Ahmed Right-handed Batsman • Right-Arm Off Spin Bowler
Mohammad Nawaz Left-handed Batsman • Left-Arm Off Spin Bowler
Shadab Kha Right-handed Batsman • Right-Arm Leg Spin Bowler
Mohammad Haris(Wk)Right-Handed Batsman
Mohammad Rizwan(Wk) Right-Handed Batsman
Abrar Ahmed Right-Arm Leg Spin Bowler
Haris Rauf Right-Arm Fast Bowler
Hasan Ali Right-Arm Medium Fast Bowler
Mohammad Wasim Jr.Right-Arm Fast Medium Bowler
Shaheen Afridi Left-arm Fast Bowler
Usama Mir Right-Arm Leg Spin Bowler
Zaman Khan Right-Arm Fast Bowler
Pakistan's Probable Playing XI:
Abdullah Shafique
Imam-ul-Haq
Babar Azam (c)
Mohammad Rizwan (wk)
Saud Shakeel
Shadab Khan
Iftikhar Ahmed
Shaheen Afridi
Usama Mir
Hasan Ali
Haris Rauf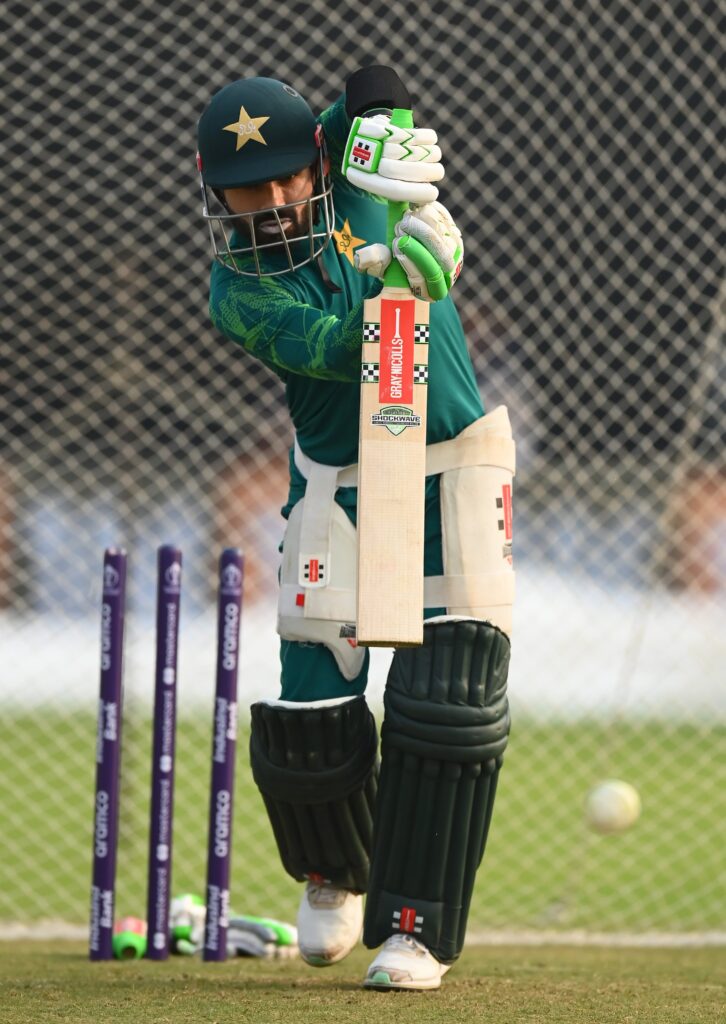 Najmul Hossain Shanto Left-handed Batsman
Tanzid Has Left-handed Batsman
Towhid Hridoy Right-handed Batsman
Mahedi Hasan Right-handed Batsman • Right-Arm Off Spin Bowler
Mahmudullah Right-handed Batsman • Right-Arm Off Spin Bowler
Mehidy Hasan Right-handed Batsman
Shakib Al Hasan(C)Left-Handed Batsman • Left-Arm Off Spin Bowler
Liton Das(Wk)Right-Handed Batsman
Mushfiqur Rahim(Wk) Right-Handed Batsman
Hasan Mahmud Right-Arm Fast Medium Bowler
Mustafizur Rahman Left-arm Fast Medium Bowler
Nasum Ahmed Left-arm Off Spin Bowler
Shoriful Islam Left-arm Medium Fast Bowler
Tanzim Hasan Sakib Right-Arm Medium Bowler
Taskin Ahmed Right-Arm Fast Bowler
Bangladesh's Probable Playing XI:
Tanzid Hasan
Litton Das
Najmul Hossain Shanto
Mehidy Hasan Miraz
Shakib Al Hasan (c)
Mushfiqur Rahim (wk)
Mahmudullah
Nasum Ahmed
Mustafizur Rahman
Shoriful Islam
Hasan Mahmud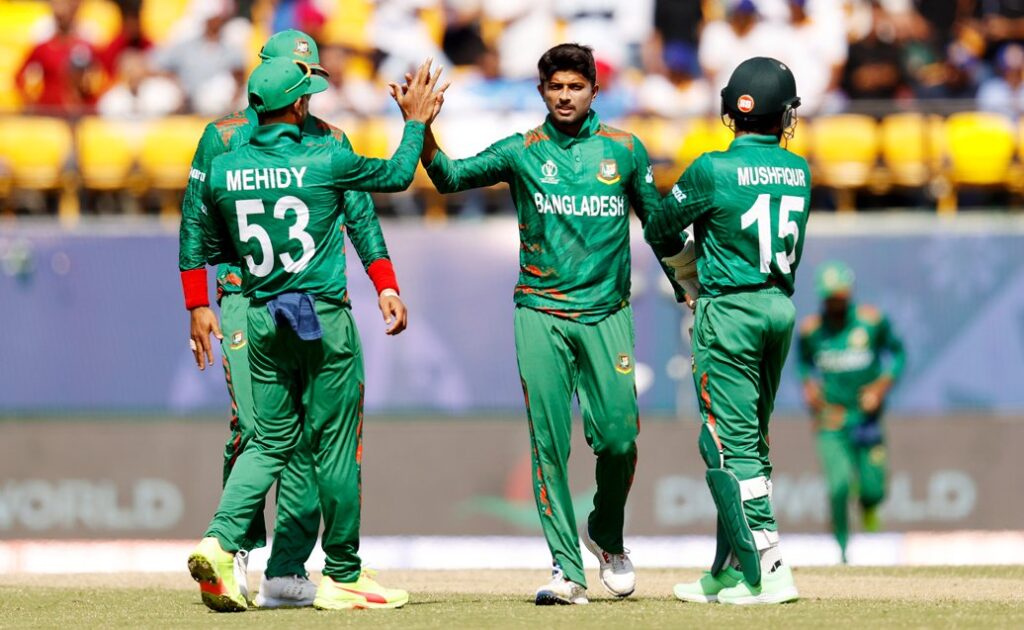 By examining their past encounters, analyzing the current scenario, and projecting the potential outcome, this match promises to deliver an enthralling spectacle within the fervent narrative of the 2023 World Cup. As both teams take center stage, the anticipation is high, promising an intense battle, replete with moments of triumph and struggle for fans and enthusiasts worldwide.