Biden Unleashes $325 Million Military Boost for Ukraine in White House Meeting with Zelenskyy
Ukraine in White House Meeting :
"President Biden's $325 million military aid announcement for Ukraine in a White House meeting with Zelenskyy underscores unwavering support against the Russian threat. Explore the comprehensive aid package, bipartisan diplomacy, and Ukraine's resilience in the face of adversity."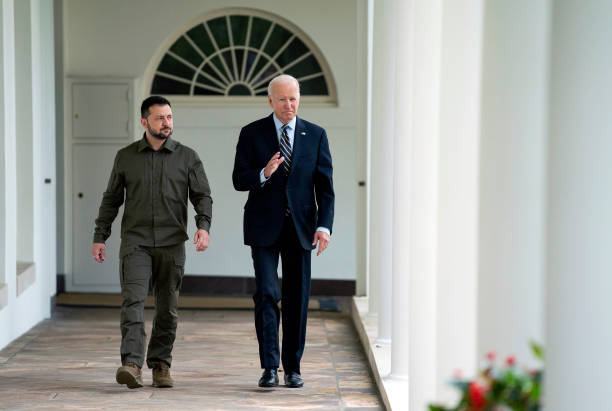 "Biden's Strong Commitment to Ukraine's Defense"
In a significant move, President Joe Biden has pledged an additional $325 million in military aid to Ukraine during a crucial White House meeting with Ukrainian President Volodymyr Zelenskyy. This substantial aid package underscores the unwavering support of the United States for Ukraine's defense against the ongoing threat from Russia.
"A Comprehensive Military Aid Package"
This latest aid package is comprehensive, encompassing vital elements to bolster Ukraine's defense capabilities. It includes air defense systems, cluster munitions, anti-tank weaponry, and other essential equipment. President Biden emphasized, "We also focused on strengthening Ukraine's air defense capabilities to protect the critical infrastructure that provides heat and light during the coldest and darkest days of the year."
"Zelenskyy's Gratitude and Bipartisan Diplomacy"
President Zelenskyy expressed his gratitude for this new aid, highlighting the unity between the American people and Ukraine. He thanked the U.S., saying, "Americans are together with us, with Ukrainians, with ordinary people, all of us." Zelenskyy's visit to Washington included meetings with both House members and senators from both sides of the aisle, showcasing bipartisan support for Ukraine's cause.
"A Focus on Ukraine's Air Defense"
National Security Council senior director for Europe, Amanda Sloat, emphasized the significance of air defense capabilities for Ukraine's security. This aid package prioritizes this crucial aspect, which is essential in safeguarding Ukraine from Russian aggression.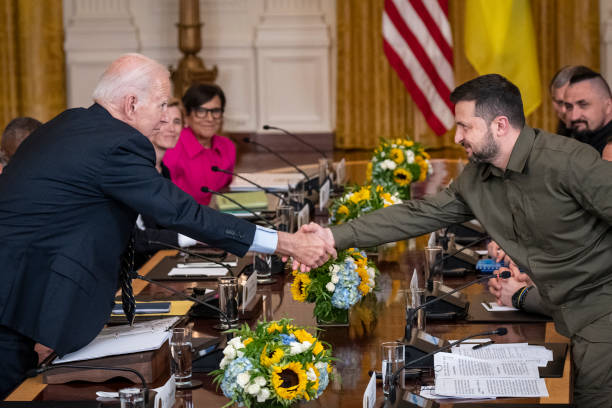 "A Bright Future for Ukraine"
President Biden's meeting with President Zelenskyy reaffirms the United States' commitment to Ukraine's sovereignty. This aid package is a testament to America's dedication to standing with Ukraine against the Russian threat. As Biden rightly pointed out, "If we allow Ukraine to be carved up, is the independence of any nation secure? I'd respectfully suggest the answer is no."
"Continued Support and Diplomacy"
President Zelenskyy's visit to Washington marks his second trip since Russia's invasion of Ukraine in early 2022. It reflects the ongoing diplomatic efforts to address this crisis. Both leaders participated in an expanded bilateral meeting with top administration officials, underlining the importance of collaboration.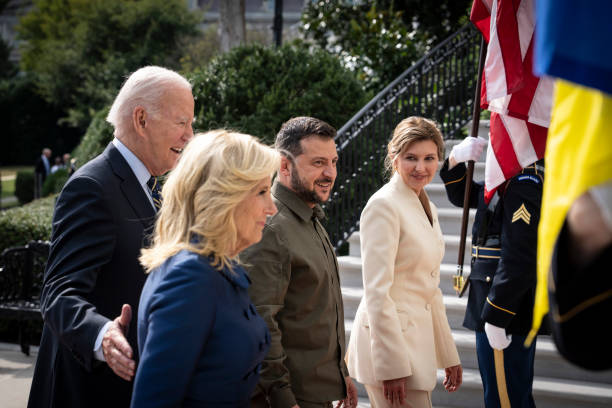 "Congressional Support and Scrutiny"
While there is strong bipartisan support for Ukraine, some Republican lawmakers have expressed skepticism about providing additional aid. A group of congressional Republicans sent a letter expressing concerns about the funding request and the need for transparency in how the aid is used.
"A Strong and Resilient Ukraine"
Ukraine remains resilient in the face of adversity. With consistent support from the United States and international allies, it continues to hold its ground against external threats. President Zelenskyy's commitment to Ukraine's defense is unwavering, as he stated previously, "Ukraine is alive and kicking… Ukraine holds its lines and will never surrender." https://www.bing.com/news/search?q=Biden+Ukraine+Visit&qpvt=biden+ukrain+visit&FORM=EWRE
"A History of U.S. Support"
The U.S. has a history of supporting Ukraine's efforts in the face of the war with Russia. To date, Congress has allocated over $113 billion for the U.S. response to the conflict, underscoring the ongoing commitment to Ukraine's security and sovereignty.
In conclusion, President Biden's announcement of $325 million in military aid for Ukraine sends a powerful message of solidarity and support. It reflects the United States' determination to stand with Ukraine in its struggle against the Russian threat, ensuring a brighter and more secure future for the Ukrainian people.
https://gamingpur.com/justin-trudeau-accuses-indian-government-of-involvem/