SOUTH AFRICA Crushes SRI LANKA in a Record-Breaking ICC World Cup 2023 Showdown
In a thrilling clash at the iconic Arun Jaitley Stadium, ICC World Cup 2023 witnessed an extraordinary battle between South Africa and Sri Lanka. The toss favored Sri Lanka, who chose to bowl first, setting the stage for an explosive encounter that shattered records and showcased the sheer brilliance of cricket. South Africa emerged victorious by a staggering 102-run margin, leaving cricket enthusiasts in awe. Let's dive into the exhilarating details of this monumental match.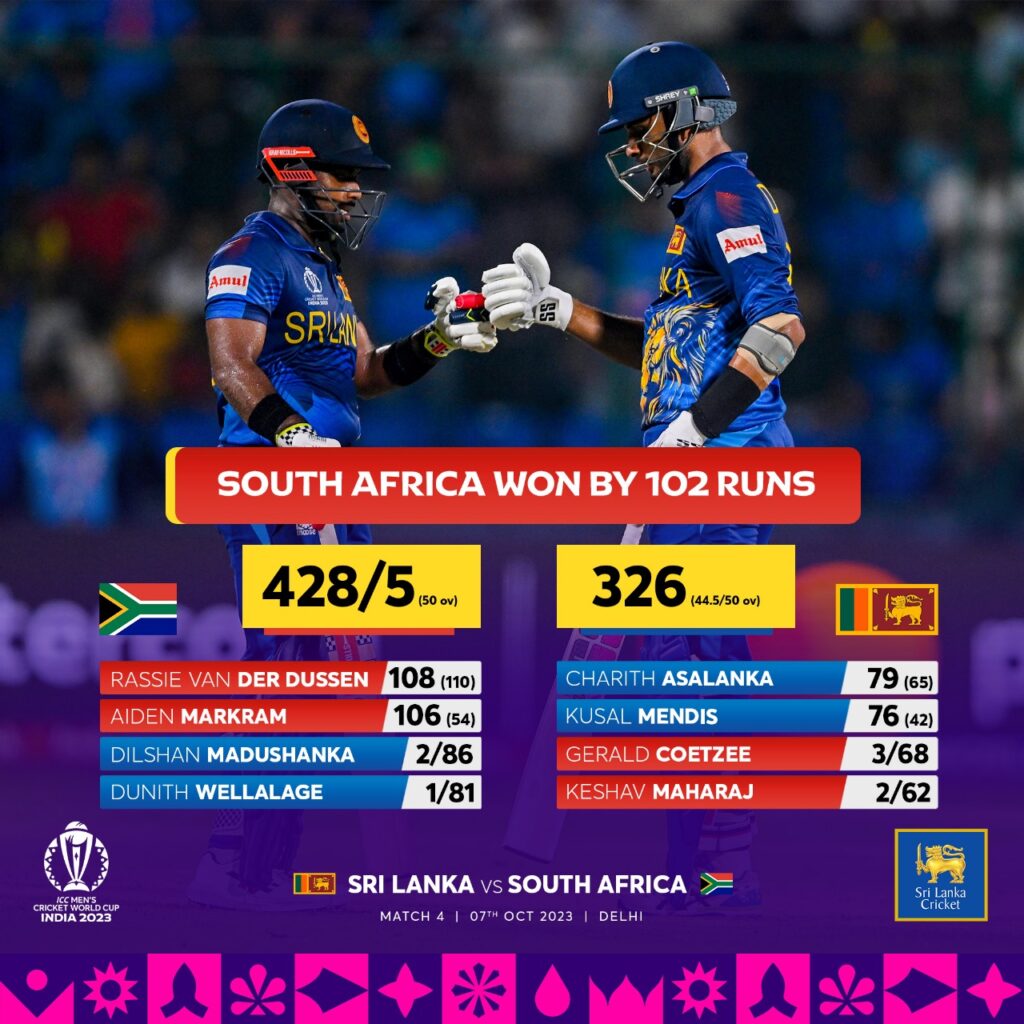 • Record-Breaking Total: South Africa's Historical Run Fest

The very foundation of this epic encounter was laid by South Africa's batting juggernaut. They amassed a monumental total of 428/5 in their allotted 50 overs, setting a new record for the highest team total in ICC World Cup history. This remarkable achievement eclipsed Australia's 417/6 in 2015, underlining South Africa's dominance in this match.
• Century Blitz: Three Batters Reach Three-Figure Marks

This match witnessed history being made as three South African batters achieved centuries in a single World Cup game. The explosive trio of Quinton de Kock, Rassie van der Dussen, and Aiden Markram showcased their prowess, leaving the Sri Lankan bowlers gasping for breath. Aiden Markram, in particular, etched his name in the record books by becoming the fastest batter to score a century in ICC World Cup history, achieving this feat in just 49 balls.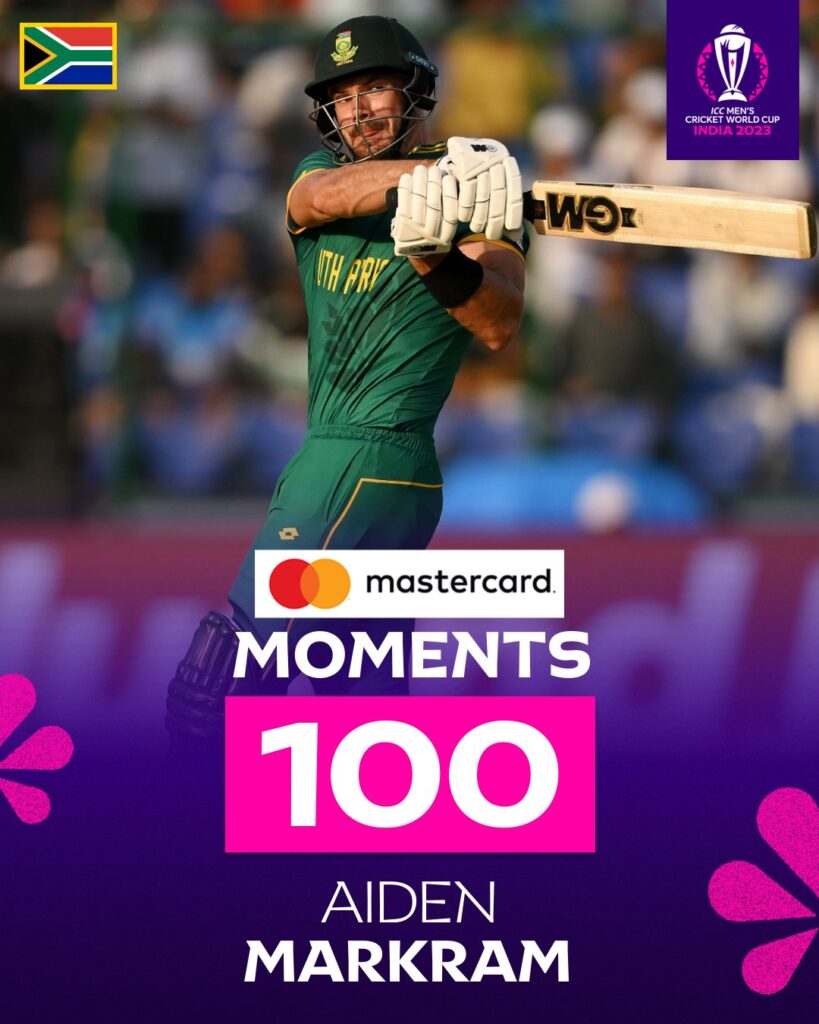 • Quinton de Kock's Heroics:
A Century in Style
Quinton de Kock's century was nothing short of spectacular. He reached the three-figure mark in style, only to be dismissed on the very next ball. Nevertheless, his contribution of 100 runs laid the foundation for South Africa's mammoth total.
• Rassie van der Dussen's Elegance: A Century to Remember
Rassie van der Dussen's elegant century further solidified South Africa's dominance. His 108 runs were a testament to his impeccable timing and strokeplay, and his partnership with Quinton de Kock was crucial in building South Africa's imposing total.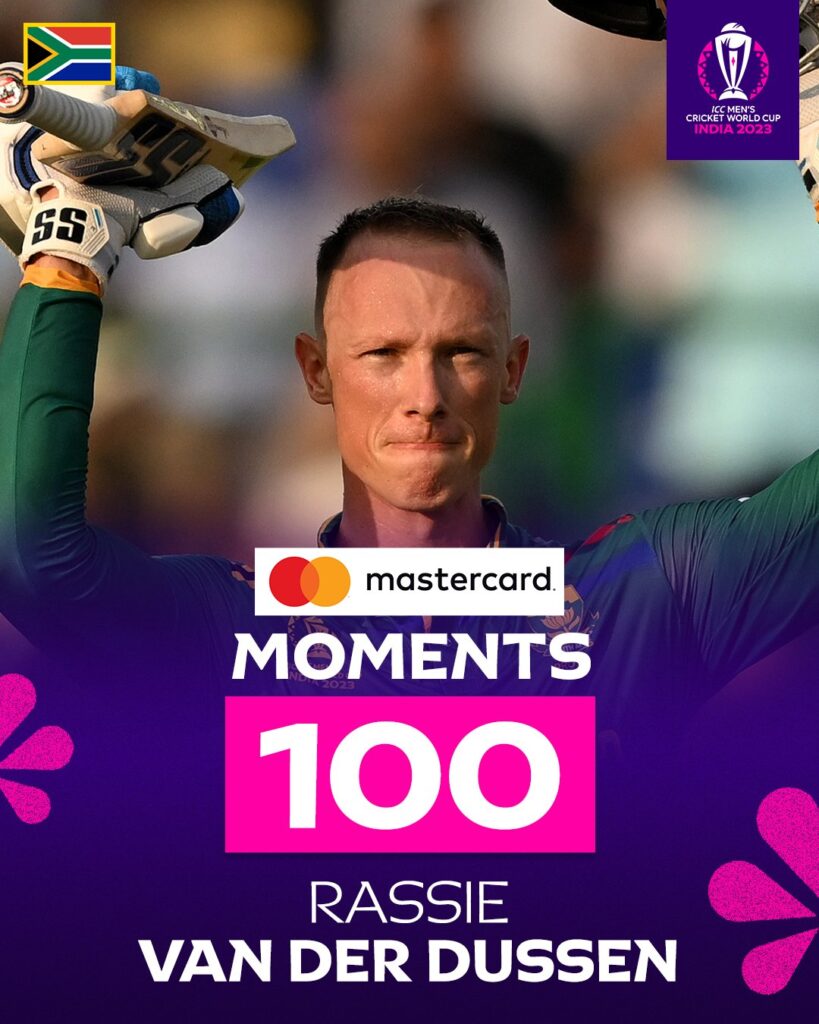 • Aiden Markram's Blitzkrieg: Fastest World Cup Century

Aiden Markram's blitzkrieg with the bat was the highlight of the innings. His breathtaking century in just 49 balls left cricket fans awestruck. Markram's remarkable feat will be remembered as one of the standout moments of ICC World Cup 2023.
• David Miller's Finish: Sealing the Deal

David Miller's explosive cameo towards the end of the innings added the finishing touches to South Africa's record-breaking total. His unbeaten 39 runs ensured that South Africa posted an imposing target of 428 runs.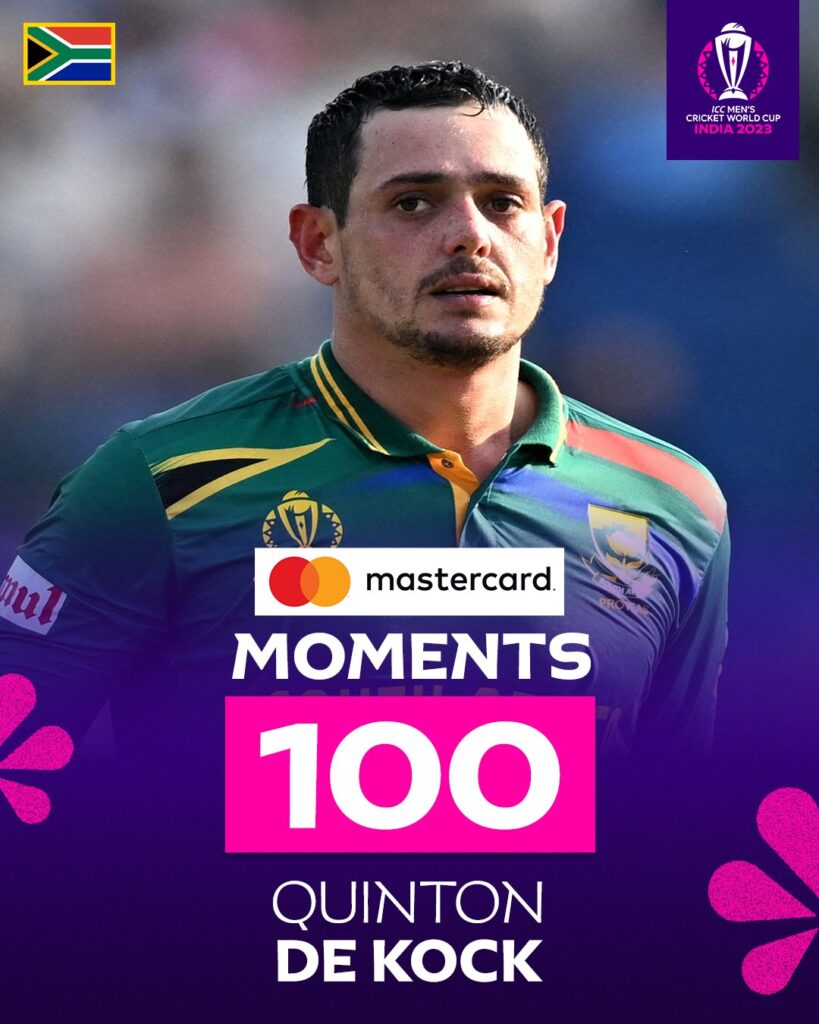 •Sri Lanka's Bowling Efforts: A Struggle in the Face of Fireworks

Sri Lanka's bowlers toiled hard but found it challenging to contain South Africa's explosive batting lineup. Kasun Rajitha, Dilshan Madushanka, Matheesha Pathirana, and Dunith Wellalage each managed to claim a wicket, but they couldn't prevent South Africa from reaching their historic total.
• Sri Lanka's Grit: Fighting Spirit in the Chase

In response to South Africa's daunting total, Sri Lanka's batsmen displayed their fighting spirit. Despite the formidable target, Kusal Mendis, Charith Asalanka, and Dasun Shanaka played noteworthy innings, scoring 76, 79, and 68 runs, respectively. Their efforts, however, fell short in the face of South Africa's record-breaking total.
• South Africa's Dominant Bowling Display

South Africa's bowlers complemented their batting counterparts with a dominant performance. Lungi Ngidi, Marco Jansen, Kagiso Rabada, and Keshav Maharaj picked up crucial wickets, restricting Sri Lanka to 326 runs. Gerald Coetzee emerged as the star with three wickets to his name.https://x.com/OfficialSLC?s=09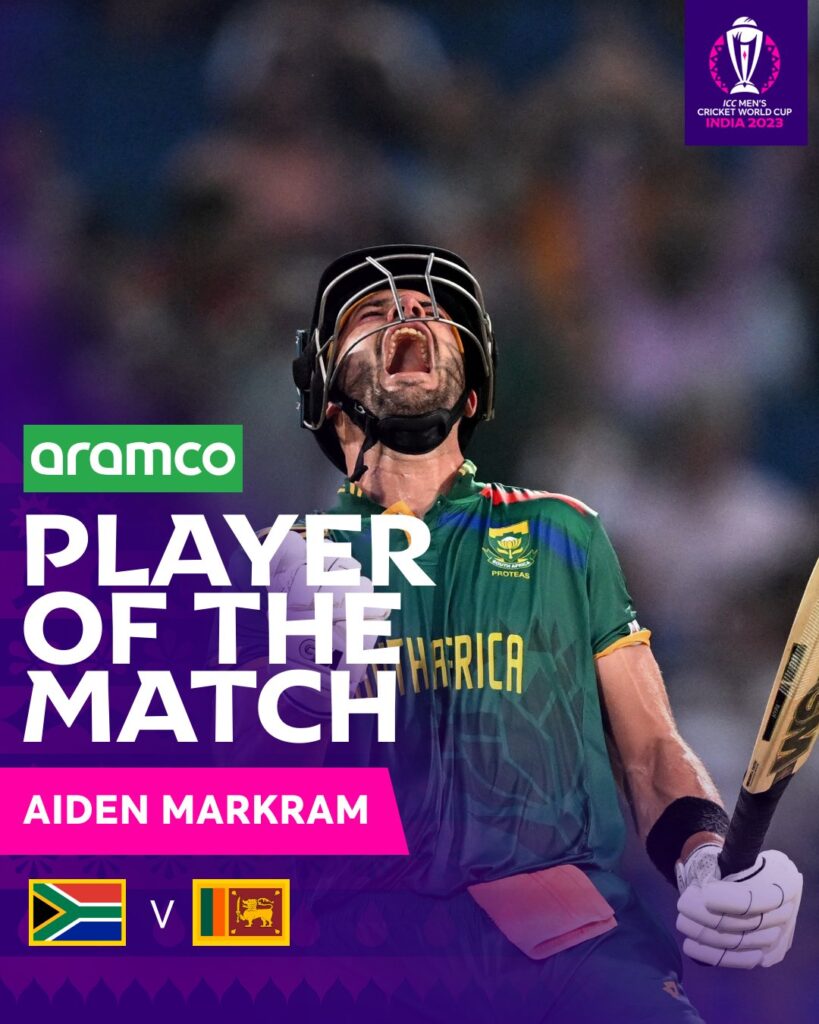 South Africa batting :- 428/5
Q. de Kock(Wk) 100
c Dhananjaya de Silva b Matheesha Pathirana
T. Bavuma(C) 8
lbw b Dilshan Madushanka
R. van der Dussen 108
c Sadeera Samarawickrama b Dunith Wellalage
A. Markram 106
c Kasun Rajitha b Dilshan Madushanka
H. Klaasen 32
c Dasun Shanaka b Kasun Rajitha
D. Miller 39
Not out
M. Jansen 12
Not out
Extras :- 23 (NB 1, W 21, LB 1)
Total runs :- 428 (5 wkts, 50 ov)
With 14 sixes and 45 fours
Yet to bat :-
Gerald Coetzee · Keshav Maharaj · Kagiso Rabada · Lungi Ngidi
Fall of Wickets :-
10/1 (T. Bavuma, 1.4 ov) · 214/2 (Q. de Kock, 30.4 ov) · 264/3 (R. van der Dussen, 37.1 ov) · 342/4 (H. Klaasen, 43.1 ov) · 383/5 (A. Markram, 47.1 ov)
SRI LANKA bowling :-
K. Rajitha 10over 90run 1wicket
D. Madushanka 10over 86run 2wicket
M. Pathirana 10over 95run 1wicket
D. Wellalage 10over 81run 1wicket
D. Shanaka 6over 36run 0wicket
D. de Silva 4over 39run 0wicket
SRI LANKA batters :-
P. Nissanka 0
b Marco Jansen
K. Perera 7
b Marco Jansen
K. Mendis (Wk) 76
c Heinrich Klaasen b Kagiso Rabada
S. Samarawickrama 23
c Marco Jansen b Gerald Coetzee
C. Asalanka 79
c b Lungi Ngidi
D. de Silva 11
c b Keshav Maharaj
D. Shanaka (C) 68
b Keshav Maharaj
D. Wellalage 0
c Heinrich Klaasen b Gerald Coetzee
K. Rajitha 33
c Aiden Markram b Gerald Coetzee
M. Pathirana 5
b Kagiso Rabada
D. Madushanka 4
not out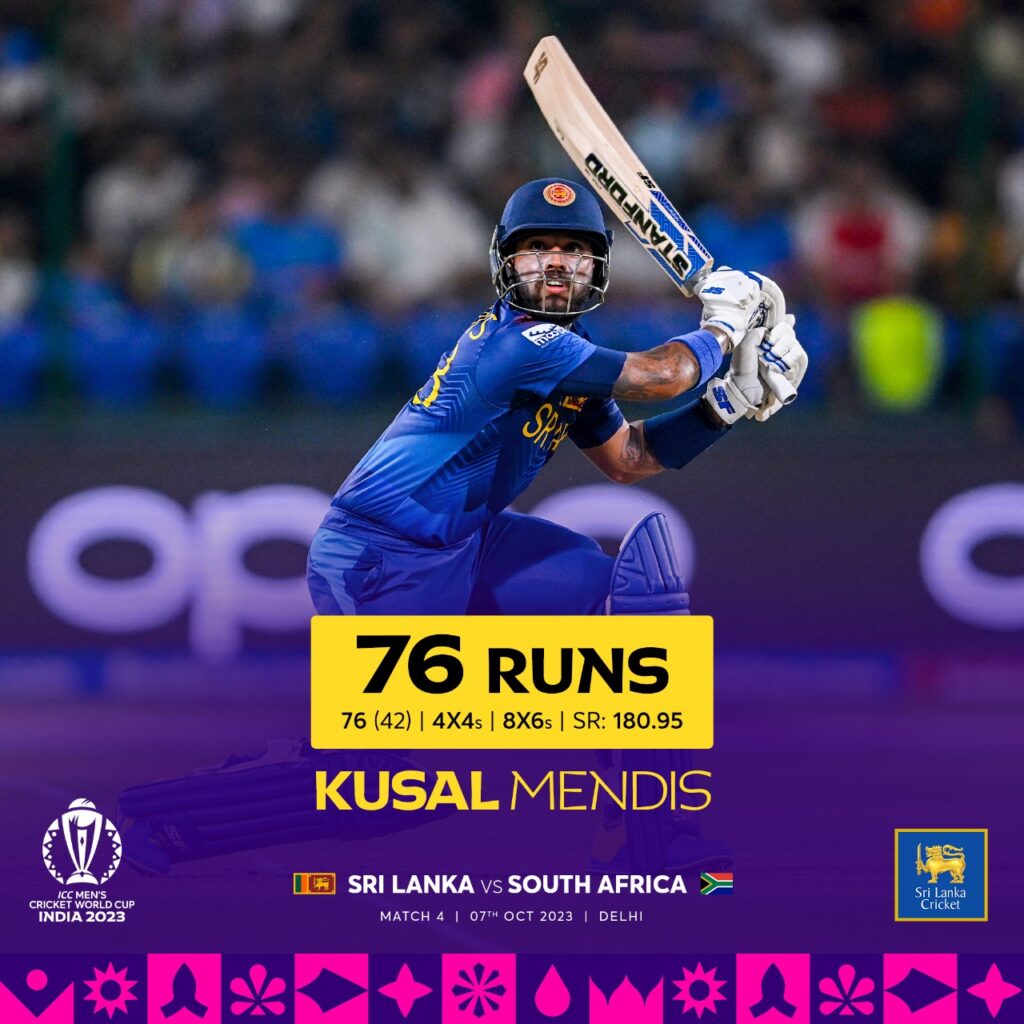 South Africa bowling:-
L. Ngidi 8 ovr 49run 1wkt
M. Jansen 10 ovr 92 run 2 wkt
K. Rabada 7.5ovr 50run 2wkt
K. Maharaj 10 ovr 62 run 2 wkt
G. Coetzee 9 ovr 68 run 3wkt
Extras :- 20 (NB 1, W 14, LB 5)
Total runs :- 326 (10 wkts, 44.5 ov)
Fall of wickets:-
1/1 (P. Nissanka, 1.1 ov) · 67/2 (K. Perera, 7.5 ov) · 109/3 (K. Mendis, 12.4 ov) · 111/4 (S. Samarawickrama, 13.2 ov) · 150/5 (D. de Silva, 20.1 ov) · 232/6 (C. Asalanka, 31.6 ov) · 233/7 (D. Wellalage, 32.2 ov) · 291/8 (D. Shanaka, 39.4 ov) · 322/9 (K. Rajitha, 43.4 ov) · 326/10 (M. Pathirana, 44.5 ov)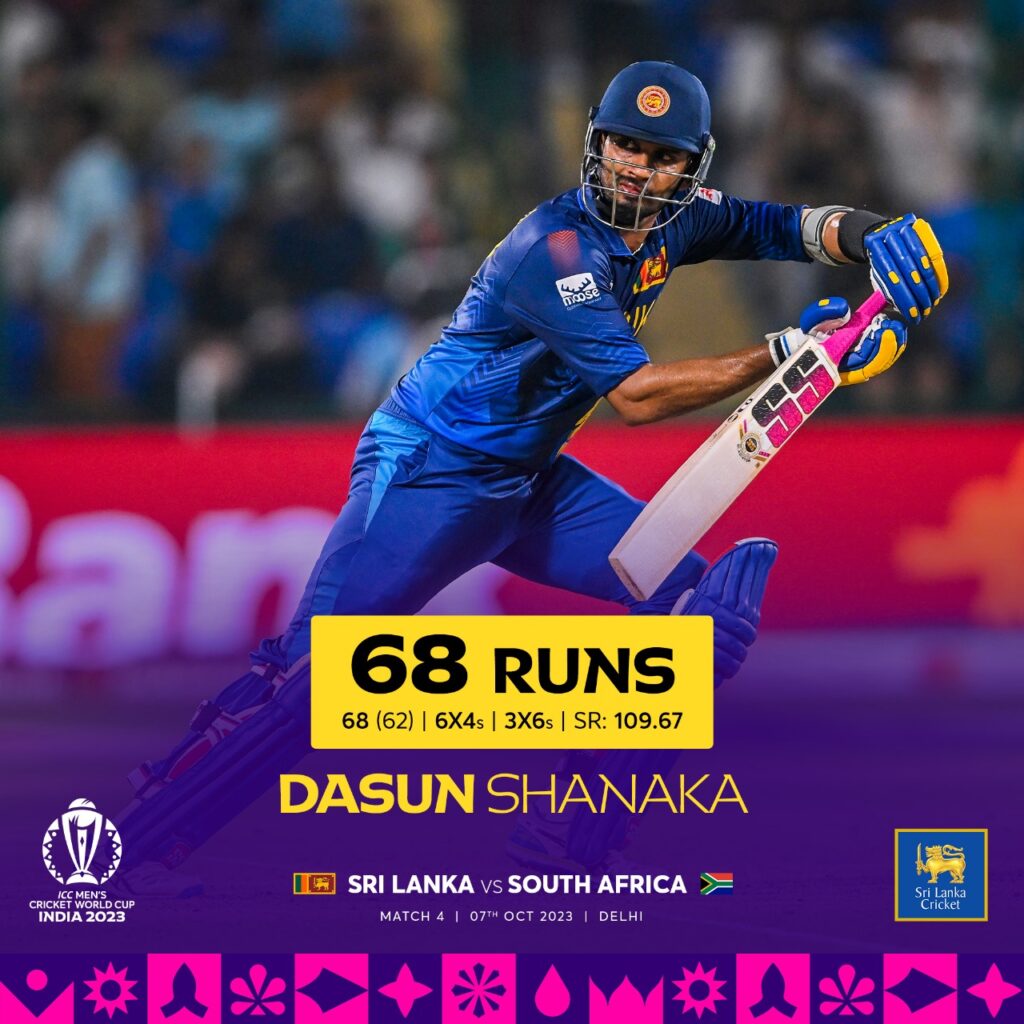 The clash between South Africa and Sri Lanka in ICC World Cup 2023 will be etched in cricketing history as a match of monumental proportions. South Africa's record-breaking total, driven by centuries from Quinton de Kock, Rassie van der Dussen, and Aiden Markram, showcased their cricketing prowess. Sri Lanka's valiant effort in the chase, led by Kusal Mendis, Charith Asalanka, and Dasun Shanaka, was commendable, but it couldn't match the sheer power of South Africa's performance. This match will be remembered as one that redefined the boundaries of cricketing excellence.https://gamingpur.com/bangladesh-dominates-beat-afghanistan-2023-world-cup/