Dominant Pakistan Triumphs Over Netherlands in Thrilling ODI World Cup 2023 Clash : Pakistan vs Netherlands
Pakistan vs Netherlands:
Pakistan:-286 (49) Netherlands:-205 (41)
In a high-octane encounter at the ODI World Cup 2023, Pakistan emerged victorious against a resilient Netherlands side. The match was marked by outstanding performances from Pakistan's rising star, Saud Shakeel, and some exceptional bowling that ultimately secured the win for Pakistan.
"Pakistan's Challenging Start in Odi world cup 2023"
In the opening stages of the game, Pakistan faced a tough time at the crease. Fakhar Zaman and Imam-ul-Haq fell early, but the team was determined to post a competitive total.
"Saud Shakeel's Heroics"
The turning point of the match came when Saud Shakeel heroic showcased his batting prowess. On his World Cup debut, Shakeel played a heroic knock of 68 runs off 52 balls, earning him the well-deserved title of "Player of the Match." He spoke about staying positive and working hard on his game, a testament to his dedication.
"Saud Shakeel heroic and Mohammad Rizwan's Partnership"
Saud Shakeel was not alone in his heroics. Mohammad Rizwan also played a vital role, contributing 68 runs. Their partnership was instrumental in Pakistan's recovery and their eventual posting of a formidable total.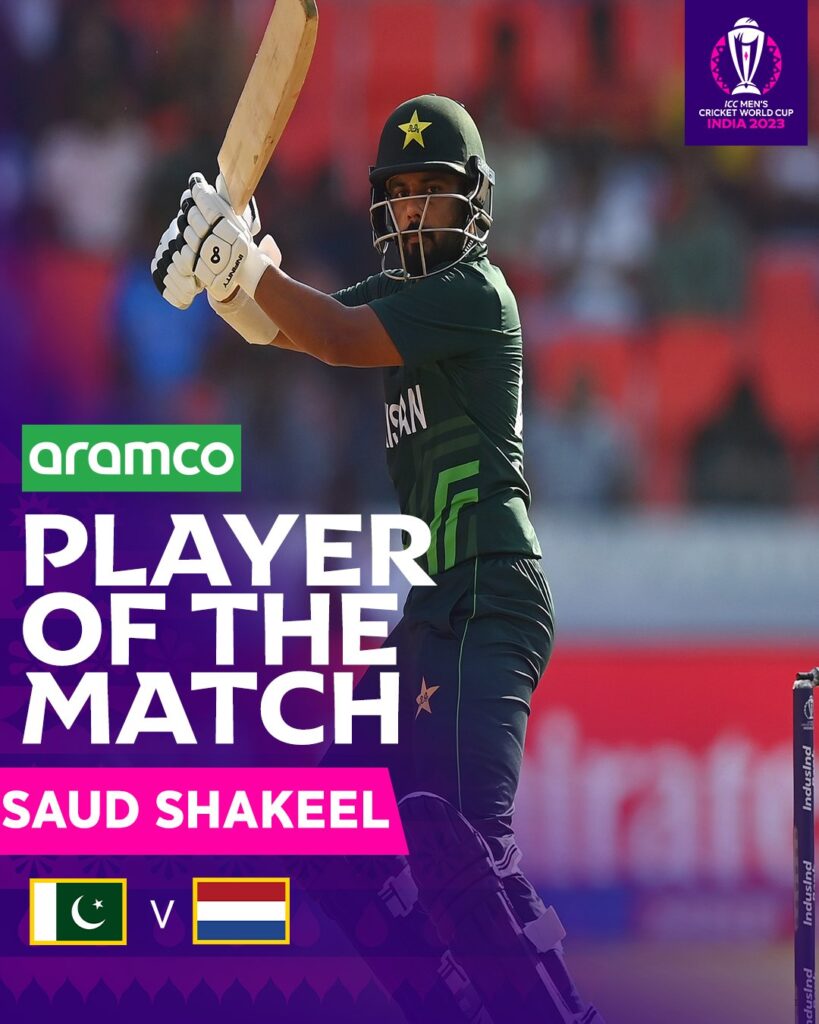 "Netherlands' Resilience with the Ball"
Netherlands' bowlers, led by Bas de Leede, put up a spirited performance. De Leede bagged four crucial wickets, while Colin Ackermann and others chipped in with valuable contributions. Their efforts ensured that Pakistan had to fight hard for their runs.
"Netherlands' Batting Display"
In response to Pakistan's target of 287 runs, Netherlands displayed resilience with the bat. Vikramjit Singh played a brilliant innings of 52, supported by Bas de Leede, who contributed a significant 67 runs. https://indianexpress.com/article/sports/cricket/pakistan-vs-netherlands-live-score-world-cup-2023-2nd-match-pak-vs-ned-scorecard-latest-updates-hyderabad-8970441/
"Pakistan's Bowling Brilliance"
Despite Netherlands' fightback, Pakistan's bowling unit proved their mettle. Hasan Ali provided the early breakthrough, and Shadab Khan broke a crucial partnership. Haris Rauf's magical spell with the old ball secured three wickets, putting Pakistan back in control.
"Bas de Leede's Grit"
Bas de Leede emerged as the standout performer for Netherlands, but he couldn't carry his team over the finish line. Pakistan's bowlers eventually managed to dismiss him, inching closer to victory.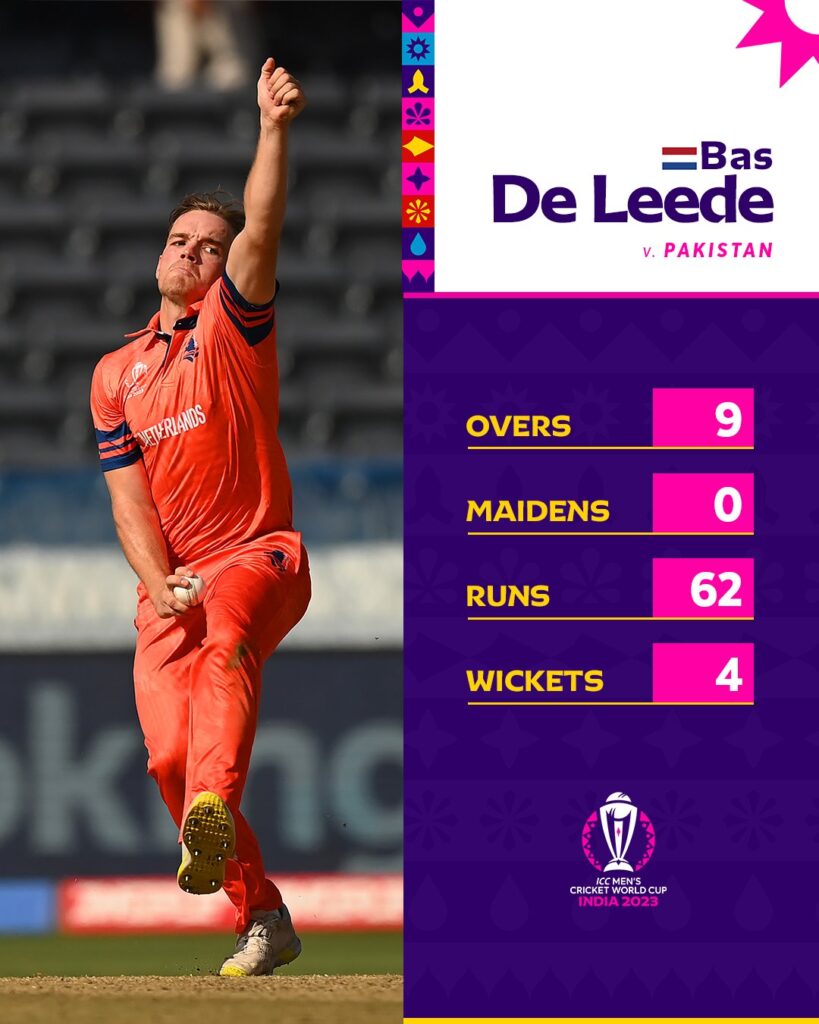 "Pakistan's Strong Start to the Odi World Cup 2023"
This victory marks Pakistan's strong start to the ODI World Cup 2023. While the Netherlands put up a valiant fight, Pakistan's superior quality ultimately prevailed.
Pakistan batting:
F. Zaman 12
c & b Logan van Beek
Imam-ul-Haq 15
c Aryan Dutt b Paul van Meekeren
B. Azam(C) 5
c Saqib Zulfiqar b Colin Ackermann
M. Rizwan(Wk) 68
b Bas de Leede
S. Shakeel 68
c Saqib Zulfiqar b Aryan Dutt
I. Ahmed 9
c Scott Edwards b Bas de Leede
M. Nawaz 39
run out (Paul van Meekeren)
S. Khan 32
b Bas de Leede
H. Ali 0
lbw b Bas de Leede
S. Afridi 13
not out
H. Rauf 16
st Scott Edwards b Colin Ackermann
Extras: 9 (NB 1, W 8)
Total runs : 286 (10 wkts, 49 ov)
Fall of wickets:
15/1 (F. Zaman, 3.4 ov) · 34/2 (B. Azam, 8.3 ov) · 38/3 (Imam-ul-Haq, 9.1 ov) · 158/4 (S. Shakeel, 28.1 ov) · 182/5 (M. Rizwan, 31.3 ov) · 188/6 (I. Ahmed, 31.6 ov) · 252/7 (S. Khan, 43.4 ov) · 252/8 (H. Ali, 43.5 ov) · 267/9 (M. Nawaz, 46.2 ov) · 286/10 (H. Rauf, 48.6 ov)
Bowlers overs runs Wicket
A. Dutt 10 48 01
L. van Beek 06 30 01
Ackermann 08 39 02
Pv. Meekran 06 40 01
B. Leede 09 62 04
Netherlands batting:
V. Singh 52
c Fakhar Zaman b Shadab Khan
M. O'Dowd 5
c Shaheen Afridi b Hassan Ali
C. Ackermann 17
b Iftikhar Ahmed
B. de Leede 67
b Mohammad Nawaz
T. Nidamanuru 5
c Fakhar Zaman b Haris Rauf
S. Edwards (C) (Wk) 0
lbw b Haris Rauf
S. Zulfiqar 10
lbw b Shaheen Afridi
R. van der Merwe 4
run out (Babar Azam)
L. van Beek 28
not out
A. Dutt 1 2
b Hassan Ali
P. van Meekran 7
b Haris Rauf
Extras: 9 (W 9)
Total runs : 205 (10wkts, 41ov)
Fall of wickets:
28/1 (M. O'Dowd, 5.5 ov) · 50/2 (C. Ackermann, 11.1 ov) · 120/3 (V. Singh, 23.5 ov) · 133/4 (T. Nidamanuru, 26.2 ov) · 133/5 (S. Edwards, 26.4 ov) · 158/6 (S. Zulfiqar, 32.1 ov) · 164/7 (B. de Leede, 33.2 ov) · 176/8 (R. van der Merwe, 35.6 ov) · 184/9 (A. Dutt, 37.1 ov) 205/10 (P. van Meekran, 40.6 ov)
Bowlers overs runs Wicket
Conclusion: Pakistan's Path to Glory
In a thrilling encounter, Pakistan triumphed over the Netherlands, showcasing their strength in both batting and bowling. Saud Shakeel's remarkable debut performance and the team's collective effort bode well for their journey in the ODI World Cup 2023.
Pakistan's win over the Netherlands in the ODI World Cup 2023 was a testament to their cricketing prowess. Saud Shakeel's heroic innings and Pakistan's strong bowling performance set the tone for what promises to be an exciting campaign. As they move forward in the tournament, Pakistan remains a formidable force to reckon with.