Novak Djokovic's Historic 24th Grand Slam Triumph at the US Open 2023!

Novak Djokovic, the Serbian tennis maestro, etched his name in history books once again on September 12, 2023, by winning his 24th Grand Slam title at the US Open. At the age of 36, he not only became the oldest man to clinch the US Open title but also bolstered his claim as one of the greatest tennis players of all time.
In a mesmerizing showdown against Daniil Medvedev, Djokovic's mastery was on full display, employing a serve and volley strategy to secure victory with a final score of 6-3, 7-6, 6-3. This blog delves deep into Djokovic's incredible achievement, his tactical brilliance, and the record-breaking season that solidified his tennis legacy.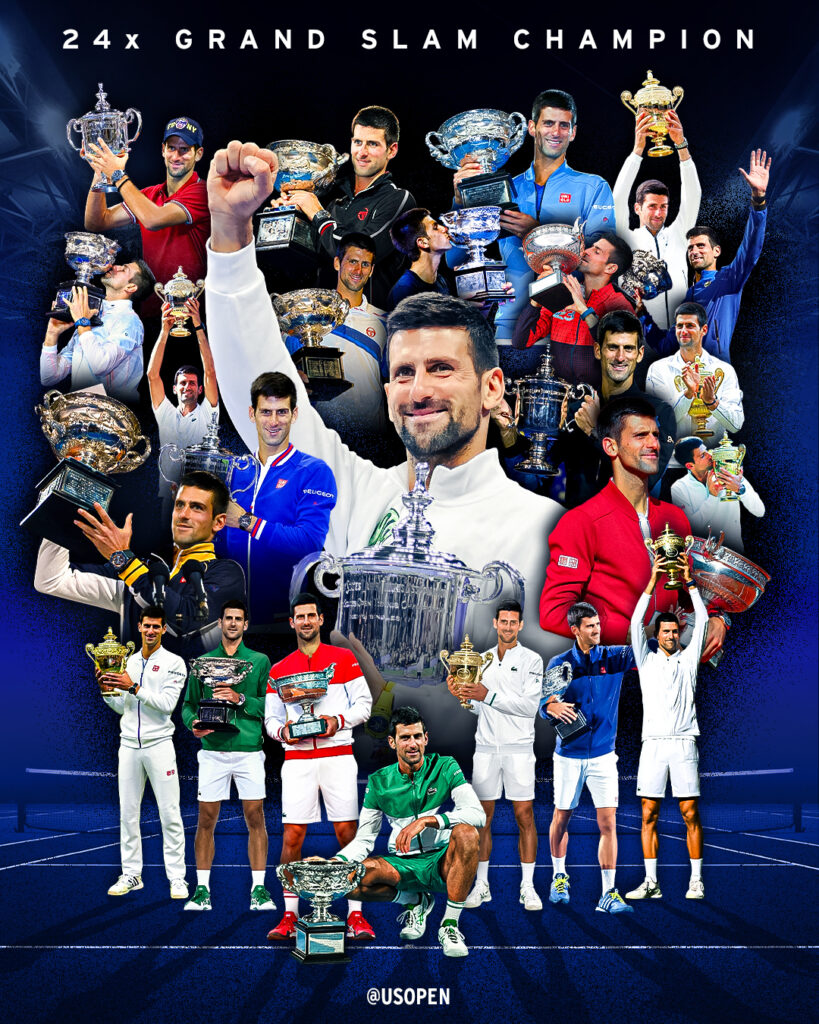 photo by US open tennis X
Djokovic's 24th Grand Slam Triumph
Novak Djokovic's tennis journey reached another pinnacle at the US Open 2023 when he clinched his 24th Grand Slam title. This remarkable feat catapulted him into the league of legends, joining the likes of Roger Federer and Rafael Nadal. Djokovic's relentless pursuit of excellence and his ability to perform at the highest level year after year are nothing short of extraordinary.
Djokovic vs. Medvedev: US Open 2023 Showdown
The US Open final in 2023 was a tennis spectacle for the ages, with Djokovic facing off against the formidable Daniil Medvedev. Djokovic's serve and volley strategy was the linchpin of his victory, allowing him to outmaneuver his opponent and capture the championship in straight sets. The final score of Djokovic vs. Medvedev: 6-3, 7-6, 6-3 tells the story of a fiercely contested match filled with breathtaking rallies and moments of sheer brilliance
Djokovic: The Oldest US Open Champion
Djokovic's win at the US Open 2023 is not just a testament to his exceptional skill but also to his longevity in the sport. At 36 years and 10 days, he became the oldest man to claim the US Open title, surpassing the previous record held by Ken Rosewall. Djokovic's unwavering commitment to maintaining peak physical and mental condition has allowed him to rewrite the record books and continue competing at the highest level.
The Serve and Volley Master
Throughout his career, Djokovic has been known for his versatility on the tennis court. At the US Open 2023 final, his mastery of the serve and volley strategy was particularly impressive. By seamlessly blending powerful serves with precision net play, he not only controlled key points but also showcased his adaptability and tactical brilliance. Djokovic's ability to evolve his game to suit the situation is a testament to his tennis IQ and his determination to stay ahead of the competition.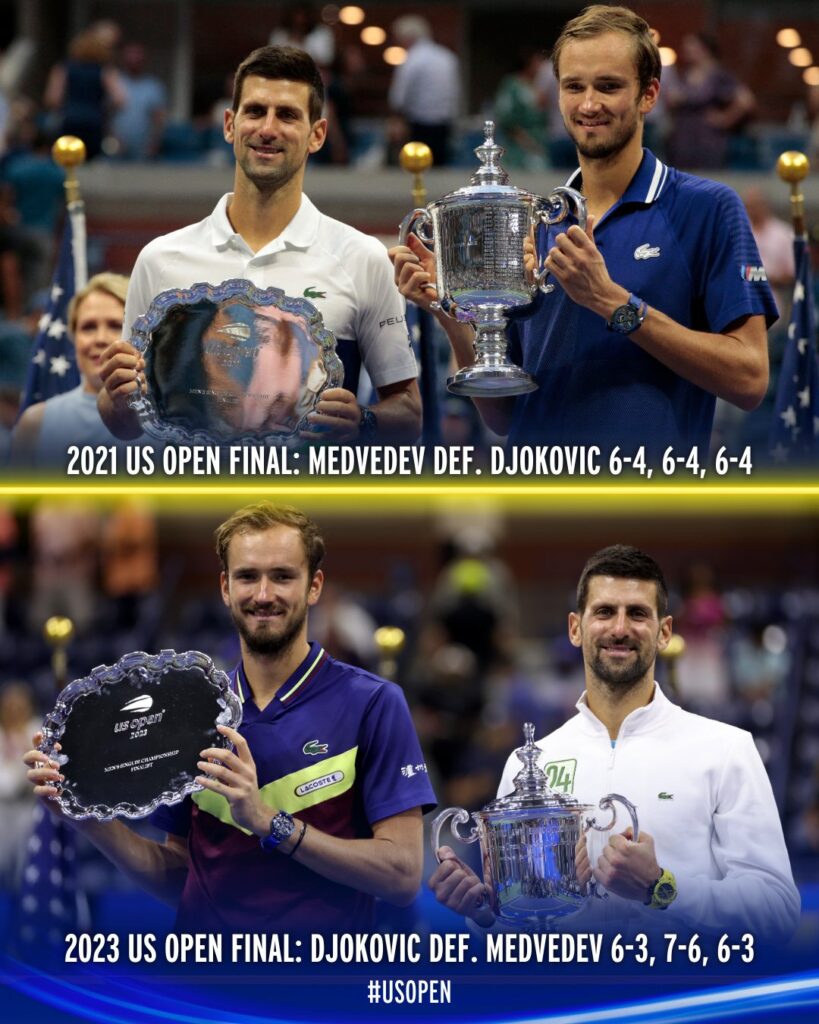 photo by US open tennis X
Djokovic's Record-Breaking Season
The US Open triumph was the crowning jewel of Djokovic's record-breaking 2023 season. He kicked off the year by capturing his ninth Australian Open title, a testament to his consistency and dominance on the hard courts of Melbourne. Next, he conquered the French Open for the second time, showcasing his prowess on clay. His victory at Wimbledon marked his sixth title at the All England Club, highlighting his versatility on grass courts. Djokovic's accomplishments in the Grand Slam events during the year showcased his unrivaled skill and determination.
Djokovic's Quest for Tennis Immortality
With his 24th Grand Slam title, Novak Djokovic has cemented his status as one of the greatest tennis players of all time. Yet, he shows no signs of slowing down. His hunger for success and his desire to continue breaking records drive him forward. Djokovic has expressed his gratitude for the support of his fans and the inspiration he draws from rivals like Federer and Nadal. He recognizes the role they've played in pushing him to be better, both physically and mentally.https://x.com/usopen?s=09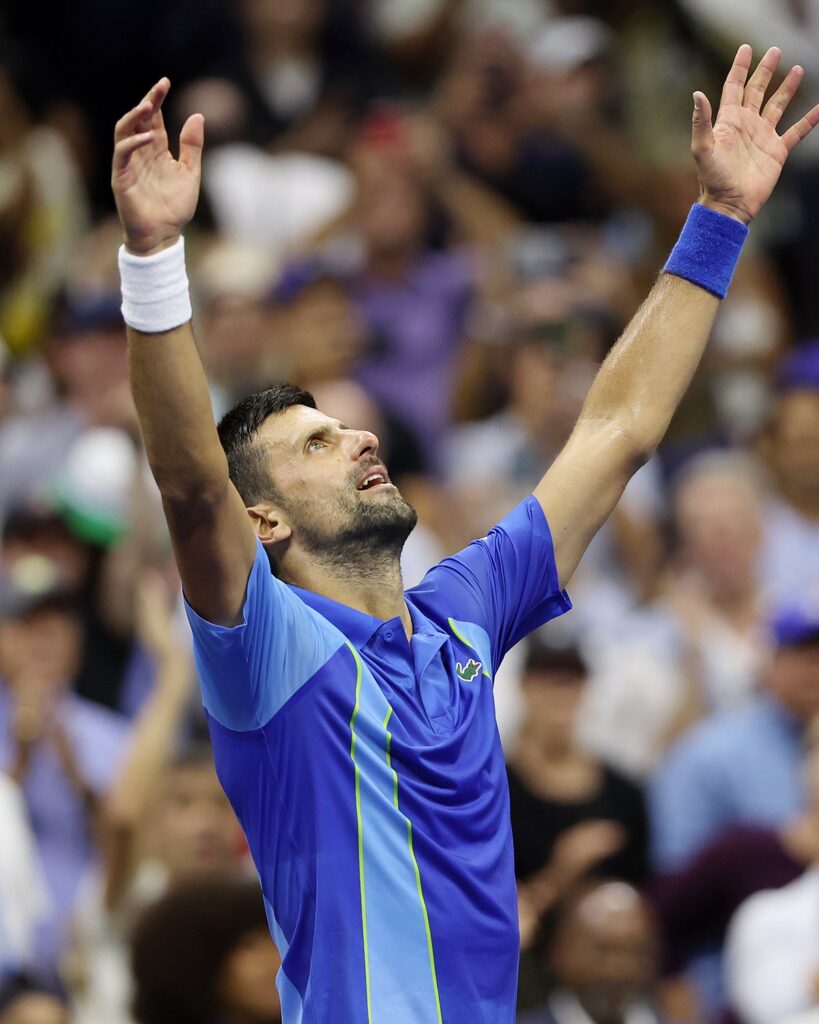 photo by US open tennis X
Novak Djokovic's historic 24th Grand Slam win at the US Open 2023 is a testament to his unparalleled skill, unwavering determination, and unmatched adaptability on the tennis court. His mastery of the serve and volley strategy in the final against Medvedev showcased his tactical brilliance. Djokovic's record-breaking season, culminating in a final score of 6-3, 7-6, 6-3, solidifies his legacy as a tennis icon. As he continues to chase greatness and inspire tennis enthusiasts worldwide, Djokovic's remarkable journey reminds us that the pursuit of excellence knows no age limits, and the love for the game is everlasting.https://gamingpur.com/biden-vs-trump-the-election-forcast-2024/