Inter Miami Electrifies LAFC with 3-1 Win Led by Dynamic Messi, Busquets, and Alba
Inter Miami Electrifies LAFC: In a spectacular upset, Inter Miami triumphed over LAFC on Sunday night, with Lionel Messi, Sergio Busquets, and Jordi Alba showcasing their magical skills. These former Barcelona stars played pivotal roles, either scoring or assisting in all three goals for Inter Miami. The victory extended their remarkable unbeaten streak to 11 games across various competitions, enhancing their playoff prospects and underlining their MLS title aspirations.

image credit – Jordi alba X
How Inter Miami Turned Their Season Around
At the onset of the season, Inter Miami endured a dismal start, enduring nine consecutive losses and languishing at the bottom of the Eastern Conference. A transformation became imperative, and in July, the club secured the signings of Messi, Busquets, and Alba from Barcelona.
The arrival of these three soccer legends proved transformative for Inter Miami. They brought with them invaluable experience, exceptional skill, and strong leadership, forging a formidable partnership on the field. Furthermore, they inspired their teammates, instilling confidence and elevating the overall team performance.https://twitter.com/InterMiamiCF?s=09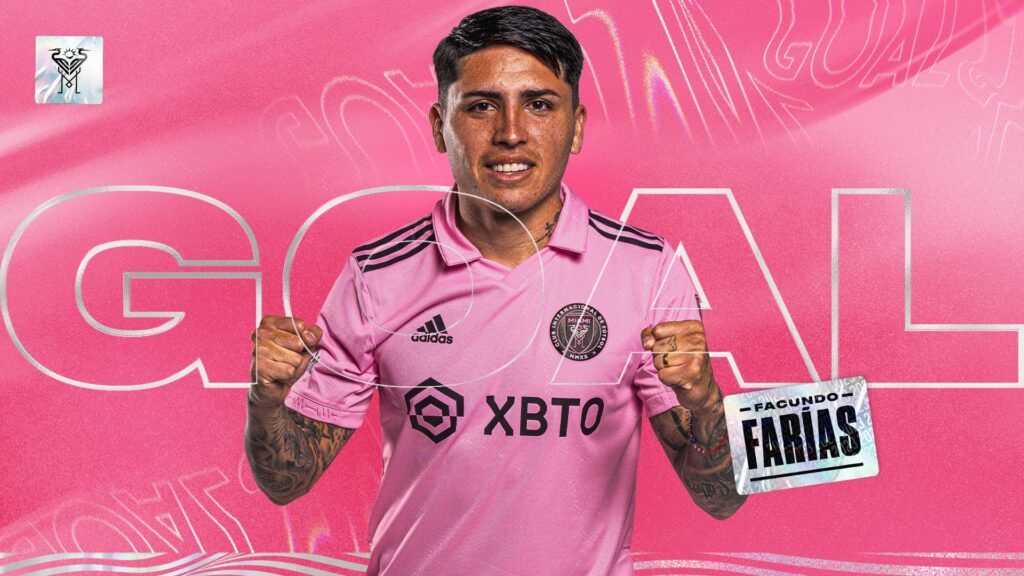 image credit – inter Miami fc. X
Since their debut, Inter Miami's trajectory has been one of continuous improvement. Their triumph in the Leagues Cup in August, including a victory over Mexican giants Club America in the final, stands as a testament to their resurgence. They have also made significant strides in the MLS standings, narrowing the gap with playoff contention. This resurgence has been accompanied by an impressive display of style, amassing 28 goals while conceding only 12 during their unbeaten 11-game run.
Messi, in particular, has exerted tremendous influence, netting 11 goals and providing eight assists in these 11 games. His exceptional performance has resulted in the breaking of several MLS records, including the fastest hat-trick and the highest number of goals in a single game.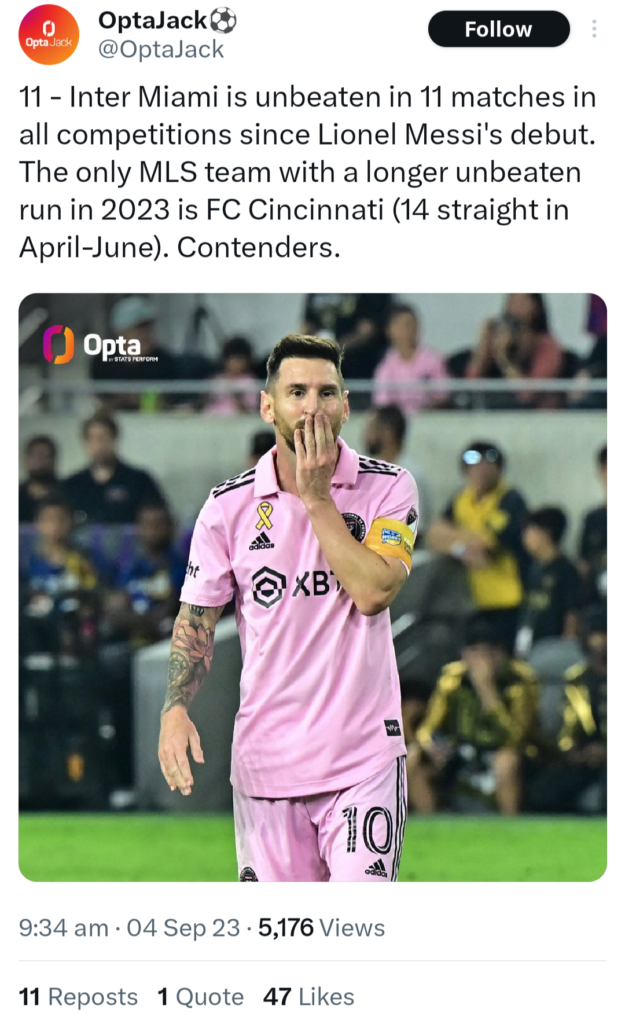 image credit – optajack X
How Inter Miami Shocked LAFC
One of Inter Miami's most challenging tests materialized on Sunday night when they confronted LAFC at BMO Stadium. As the defending MLS Cup champions and perennial title contenders, LAFC boasted a star-studded roster featuring Carlos Vela, Denis Bouanga, and Eduard Atuesta.
Expectations tilted heavily in favor of LAFC, especially considering that Inter Miami had played two games in the preceding week and faced the additional challenge of cross-country travel. However, Inter Miami defied these odds with a breathtaking exhibition of soccer that left LAFC and their fans in awe.
From the opening moments, Inter Miami seized control of the game, demonstrating dominance in possession and creating scoring opportunities with remarkable ease. The breakthrough arrived in the 18th minute when Messi delivered a perfectly timed through ball to Alba, who calmly slotted it past LAFC goalkeeper Kenneth Vermeer.
Despite LAFC's attempts to respond, they struggled to breach Inter Miami's resolute defense. Moreover, they squandered numerous scoring opportunities, most notably when Bouanga missed an open goal after a setup by Vela.
Inter Miami extended their lead in the 51st minute when Messi replicated his assist to Alba, who secured his second goal of the night, marking his inaugural MLS goal. LAFC managed to pull one back in the 66th minute, with Vela converting a penalty after being fouled by Chiellini.
The victory was sealed in the 82nd minute when Messi orchestrated yet another brilliant pass, leading to Leo Campana scoring his first MLS goal with a powerful strike. The final whistle ignited jubilation among Inter Miami players and their fans, who had witnessed one of the team's finest performances.
LAFC coach Steve Cherundolo conceded that Inter Miami had outperformed his team, applauding their clinical finishing in front of the goal. He acknowledged that despite creating ample chances, LAFC had faltered in terms of precision.
What This Win Means for Inter Miami
Inter Miami's sensational victory over LAFC underscores their ambition as more than just a team with marquee names. They have set their sights on securing a playoff berth and ultimately clinching the MLS championship.
Messi himself articulated their objectives, expressing a desire to rank among the top eight teams in the league and aspire to claim the title. He emphasized the team's growing cohesion and increasing confidence with each match.
Inter Miami coach Gerardo "Tata" Martino echoed Messi's sentiments, characterizing the win over LAFC as their most challenging to date. He affirmed that it demonstrated their readiness to compete against the league's elite teams, while also lauding his players for their unwavering dedication and attitude.
The path ahead for Inter Miami remains arduous, with formidable opponents and the demanding rigors of a lengthy season still to be faced. However, they have firmly established themselves as a squad boasting talent, chemistry, and unyielding determination in pursuit of their objectives. With Messi, Busquets, and Alba leading the way, their possibilities are boundless.
Conclusion
Inter Miami's remarkable resurgence, fueled by the brilliance of Messi, Busquets, and Alba, has become a topic of fervent discussion in MLS circles. Their transformation from struggling to formidable has occurred in a matter of weeks, and their triumph over LAFC, despite challenging circumstances, underscores their newfound self-assurance and capacity to compete at the highest echelons.
As they continue their journey towards the playoffs and the coveted league title, Inter Miami substantiates that they should not be underestimated. Their roster comprises a team capable of triumphing on any given day, and with a trio of soccer legends, they are equipped to conjure magic. The ongoing script of Inter Miami's Hollywood-esque resurgence has fans eagerly anticipating what the future holds.
https://gamingpur.com/mobile-legends-patch-1-8-16-update-revamped-moskov/
---