Dominant Ind Defeats NZ in Thrilling India vs New Zealand ICC World Cup 2023 Clash
"India vs New Zealand ICC World Cup 2023: An Epic Showdown"
The cricketing world witnessed a breathtaking battle in the ICC World Cup 2023 as India clashed with New Zealand in a match that will be remembered for years to come. In this high-stakes encounter at the HPCA Stadium, both teams brought their A-game, and the result was a thrilling contest that ended with India emerging victorious.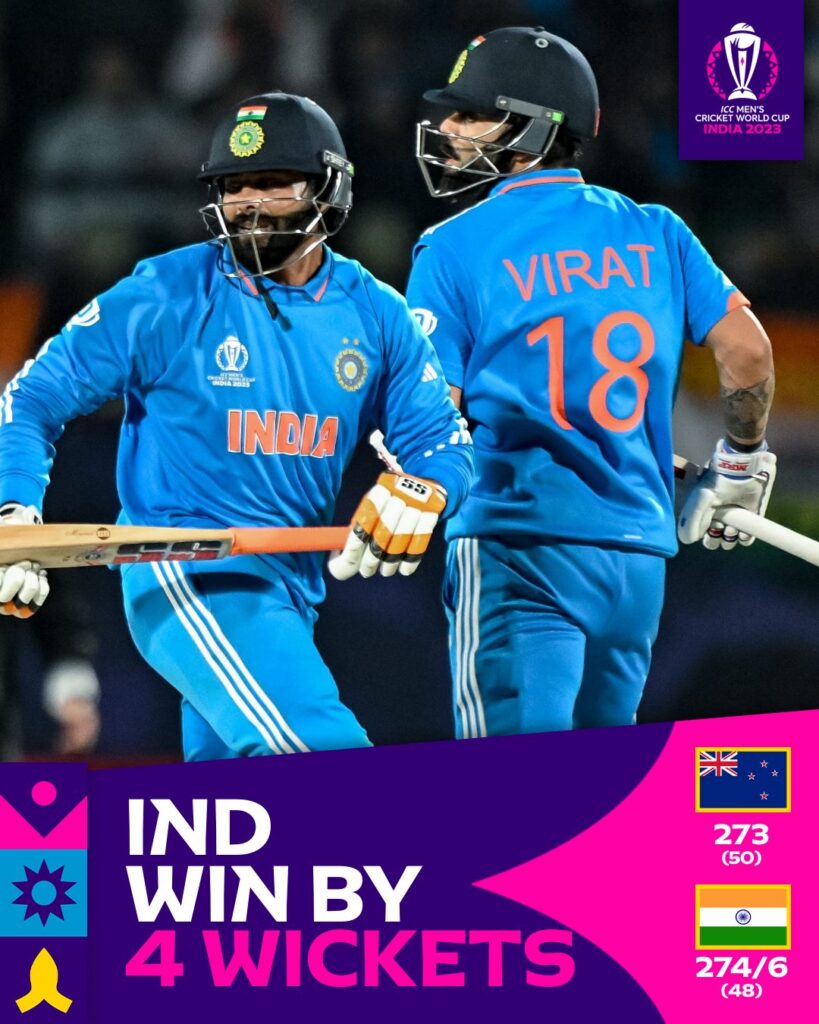 "Toss and Tactical Decisions"
The match began with a crucial toss, and it was India who had the upper hand. Winning the toss, they opted to bowl, a strategic decision that set the tone for the day's play.
"New Zealand's Batting Masterclass"
New Zealand came out swinging, with Daryl Mitchell leading the charge with a brilliant 130 runs off 127 balls. Rachin Ravindra's composed 75 runs from 87 balls and Glenn Phillips' 23 runs from 26 balls provided vital support.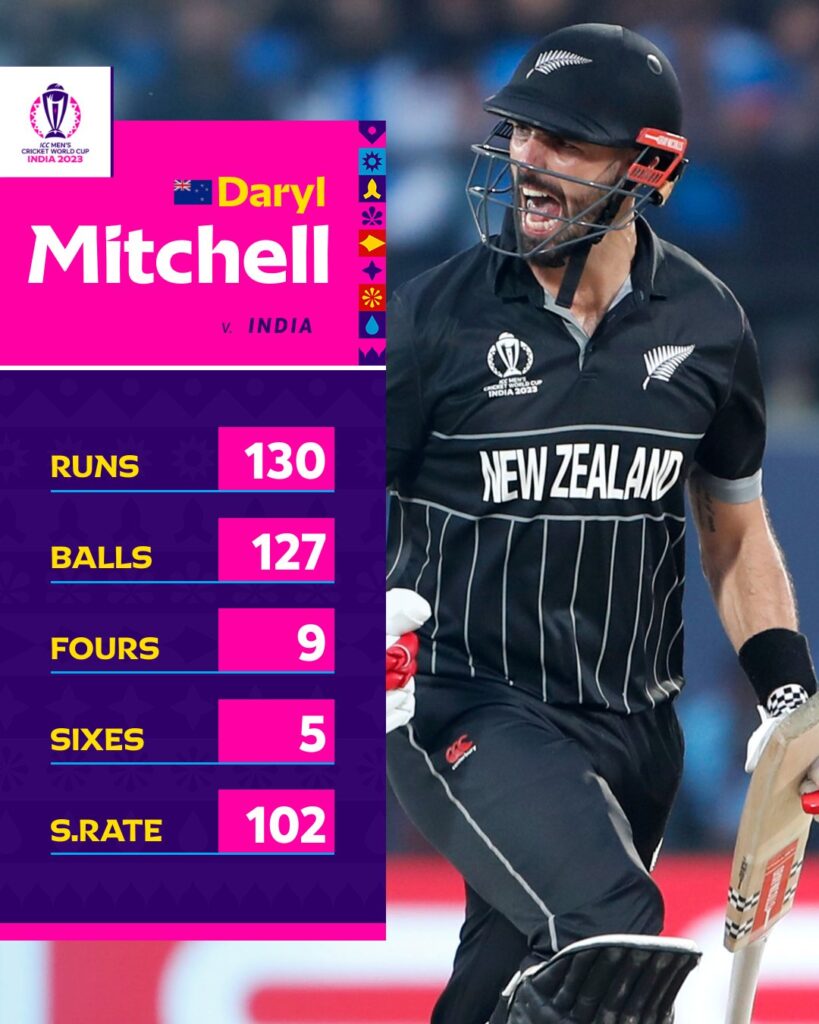 "India's Bowling Heroics"
Despite New Zealand's strong start, India's bowlers displayed remarkable resilience. Kuldeep Yadav and Mohammed Siraj took crucial wickets, ending with figures of 2/73 and 1/45, respectively. However, the star of the show was Mohammed Shami, who secured an incredible five-wicket haul, finishing with figures of 5/54.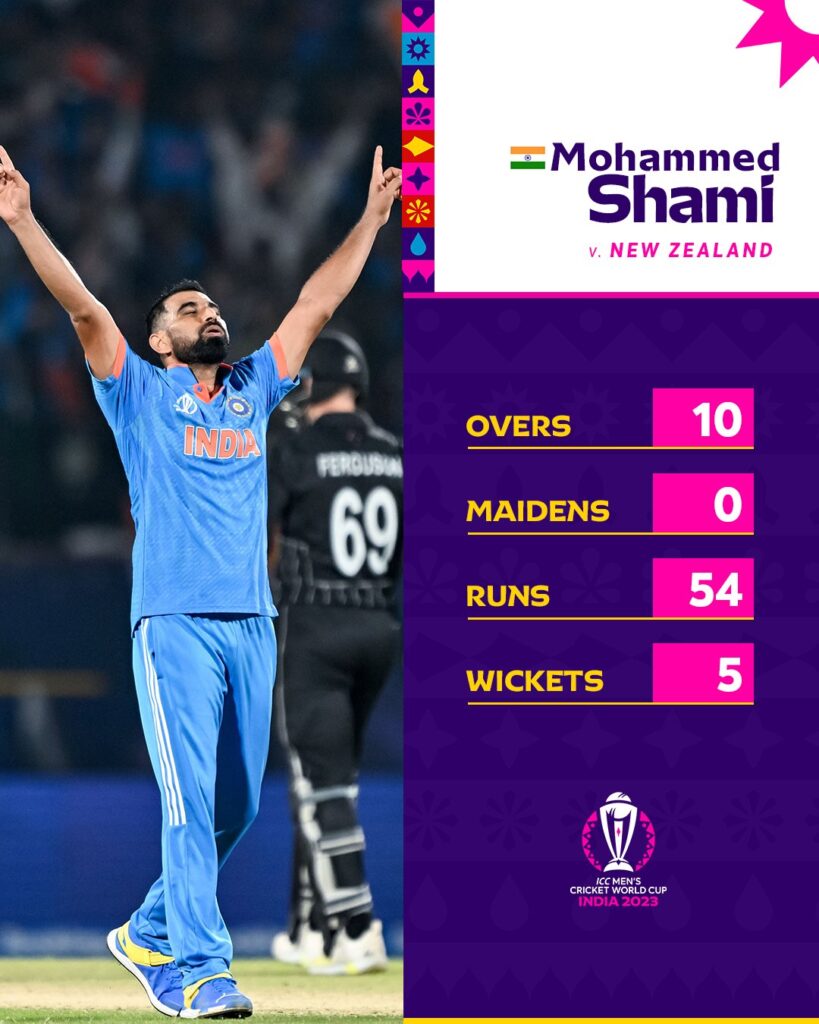 "The Impact of Tight Fielding"
India's fielding was nothing short of spectacular. They took every opportunity to restrict New Zealand's scoring, making catches, and preventing boundaries. This tight fielding was a significant factor in India's comeback in the last ten overs.
"New Zealand's Slide and India's Resurgence"
New Zealand, at one point, appeared to be heading for a score of 300. Daryl Mitchell's anchoring innings didn't receive much support from the other end. However, India's bowlers managed to pull things back in the final ten overs. This fightback made all the difference, and it was a testament to the bowlers' determination.
"India's Solid Batting Response"
Chasing New Zealand's total of 273, India's top-order batsmen stepped up to the challenge. Virat Kohli's gritty 95 runs from 104 balls and Rohit Sharma's 46 runs from 40 balls laid the foundation for the chase.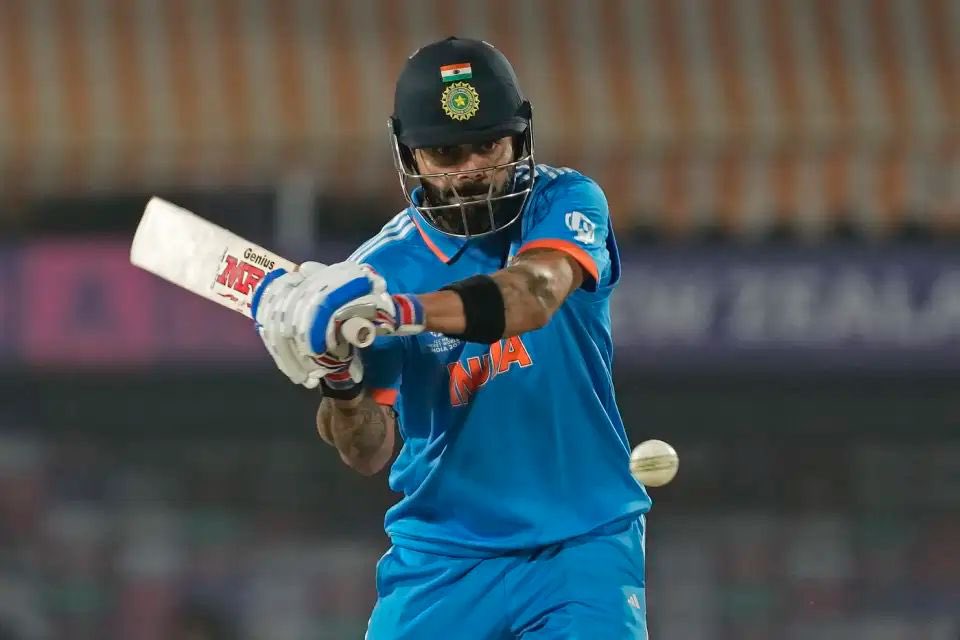 "Jadeja's Match-Winning Knock"
Ravindra Jadeja played a stellar innings, remaining unbeaten with 39 runs from 44 balls. His calm and composed batting saw India through to a thrilling victory.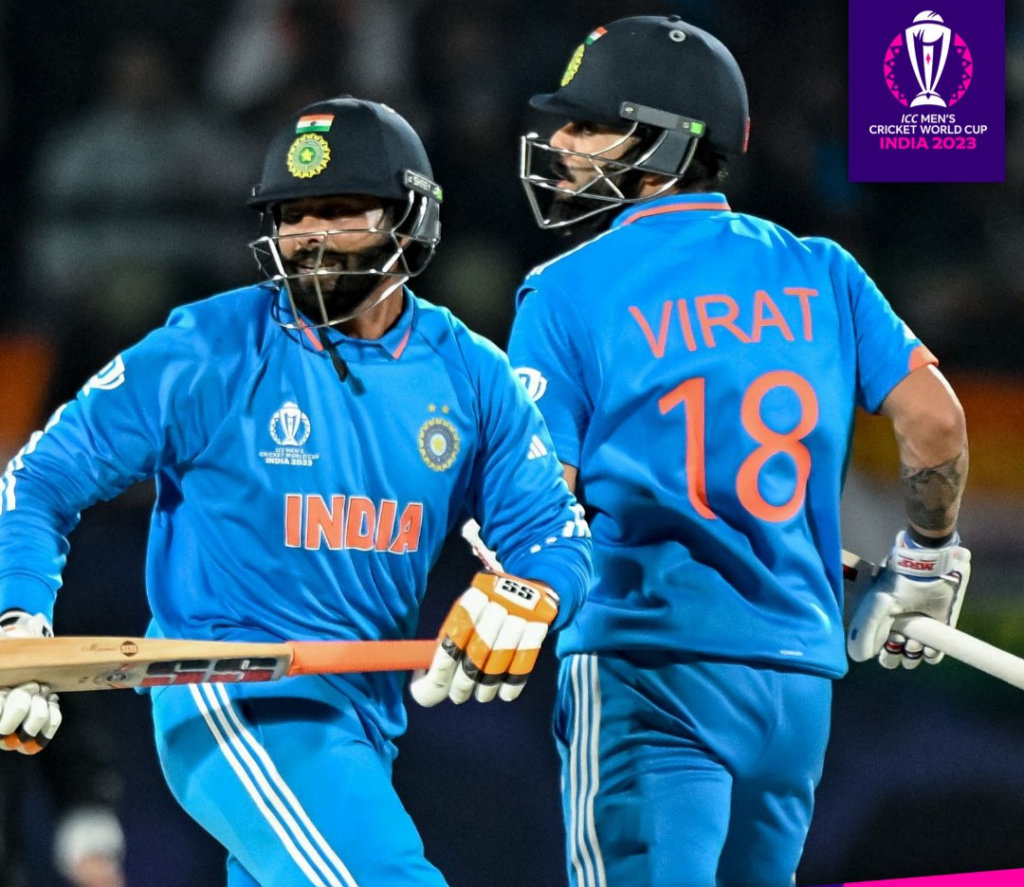 "New Zealand's Bowling Efforts"
New Zealand's bowlers gave their all, with Lockie Ferguson taking 2 wickets for 63 runs in 8 overs. Mitchell Santner and Matt Henry also chipped in with a wicket each.
"A Spectacular Finish"
The match reached a nail-biting climax as India chased down the target with just 12 balls to spare. The scoreboard read 274/6 in India's favor.
"India's Revenge and Unbeaten Streak"
This victory held special significance for India, as it marked sweet revenge for their loss to New Zealand in the 2019 World Cup. With this win, India maintained their unbeaten record in the 2023 World Cup.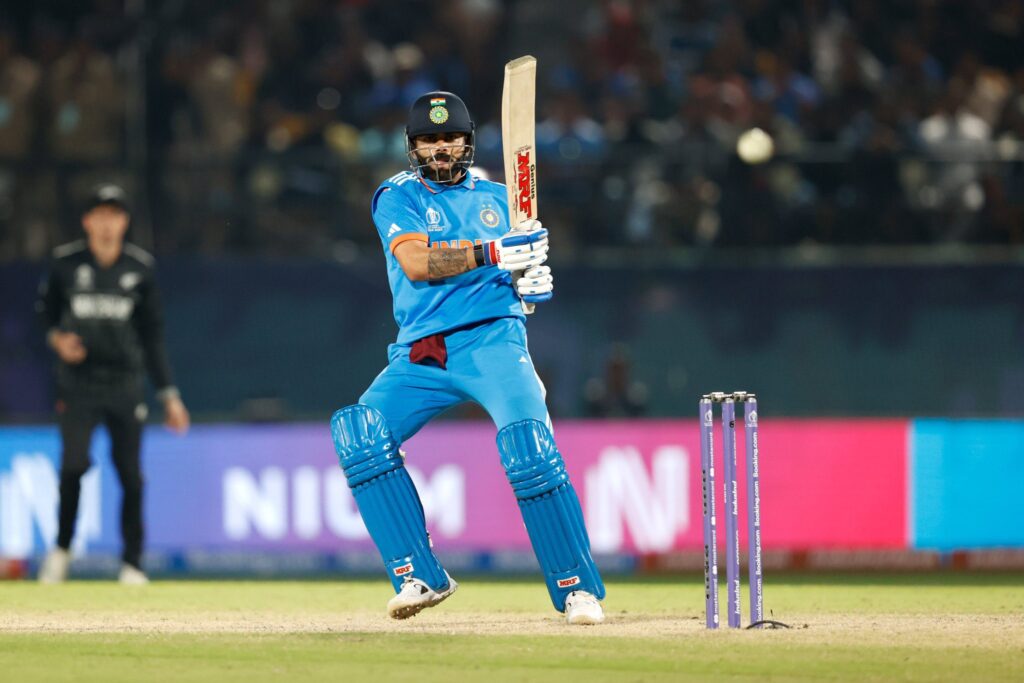 "The Impact on the World Cup Standings"
As the dust settles on this intense showdown, India remains the only unbeaten team in the ICC World Cup 2023. This victory cements their position as a formidable force in the tournament.
"Celebrating India's Comprehensive Win"
In the end, India's comprehensive win was a testament to their skill, determination, and teamwork. The ICC World Cup 2023 has seen India rise as the dominant side, and fans around the world will be thrilled by their performance.
"Key Takeaways from the Thrilling Encounter"
India's decision to bowl after winning the toss paid off, allowing them to gain control early in the game.
Daryl Mitchell's heroic century for New Zealand was a standout performance.
Mohammed Shami's five-wicket haul was a turning point in the match.
Tight fielding from India kept the pressure on New Zealand throughout.
Ravindra Jadeja's composed innings secured the victory for India.
This win was a sweet revenge for India's loss to New Zealand in the 2019 World Cup.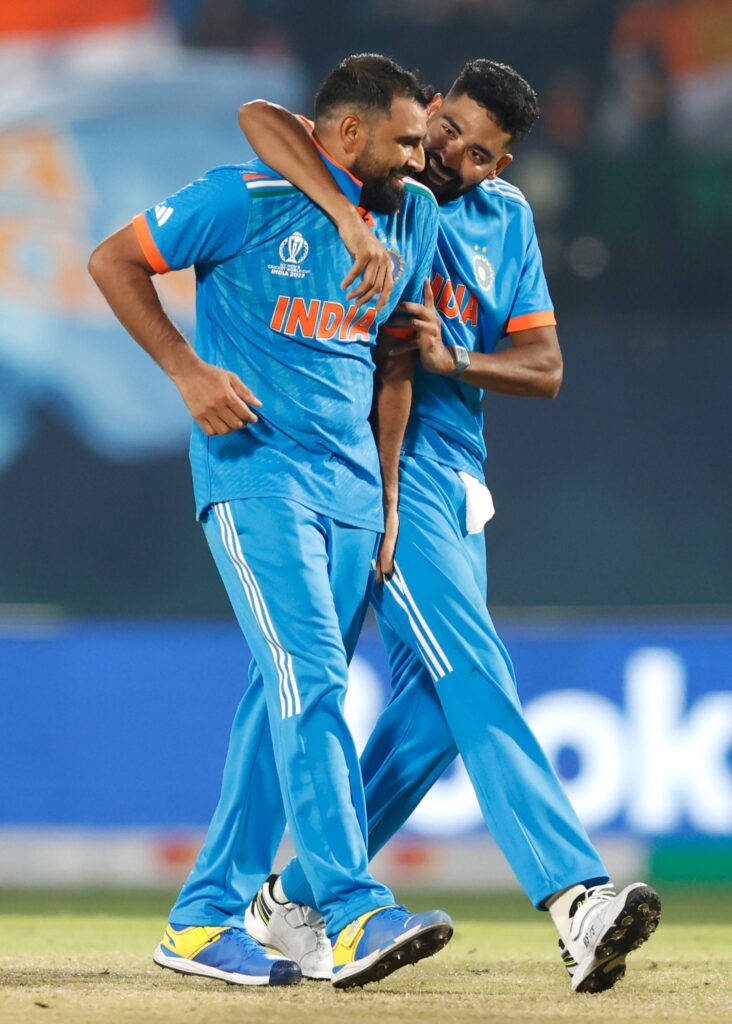 "Looking Ahead to More Thrills in the ICC World Cup 2023"
The stage is set for more exhilarating encounters in the ICC World Cup 2023. With India's dominance on full display, cricket enthusiasts can expect even more excitement as the tournament progresses.
In conclusion, India's victory over New Zealand in the ICC World Cup 2023 was a match for the ages. With powerful batting, exceptional bowling, and brilliant fielding, India emerged as the dominant force in this thrilling encounter. As the tournament continues, fans eagerly anticipate more high-octane clashes and unforgettable moments on the cricket field. India go to the top of #CWC23 points table with a brilliant win in Dharamsala India vs New Zealand in the ICC World Cup 2023 at the stunning HPCA Stadium in Dharamsala.