Dominant Strategies and Rainy Showdowns: Asia Cup 2023 – IND vs NEP best Dream11 Team Prediction and Rain Status
IND vs NEP best Dream11 Team Prediction:The stage is set for a thrilling encounter in the Asia Cup 2023 as India faces off against Nepal in Match 5. This high-stakes battle is not just about cricket but also about Dream11 predictions and the unpredictable weather. In this blog, we'll delve into the key players, Dream11 team predictions, and the rain status for this epic clash.
Asia Cup 2023: IND vs NEP – A Clash of Titans
As the cricketing giants, India and Nepal, lock horns in the Asia Cup 2023, the excitement reaches a fever pitch. India, after a washout game against Pakistan, is determined to secure a win to advance in the tournament. With stars like Rohit Sharma and Virat Kohli, the Men in Blue have a formidable lineup.
India Playing 11:
Rohit Sharma (c)
Shubman Gill
Virat Kohli
Shreyas Iyer
Ishan Kishan
Hardik Pandya
Ravindra Jadeja
Shardul Thakur
Kuldeep Yadav
Mohammed Siraj
Jasprit Bumrah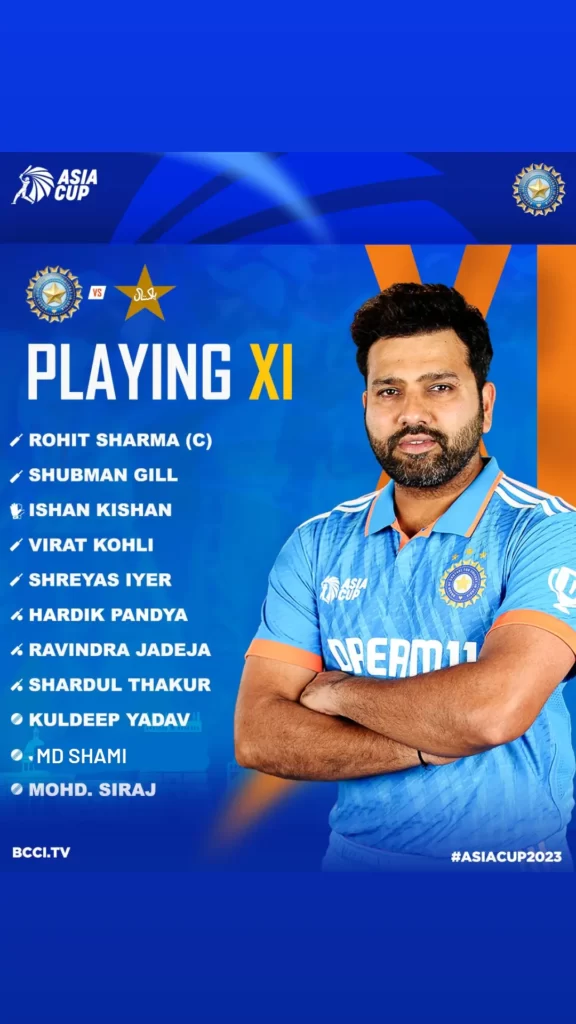 image credit – acc X
Nepal, on the other hand, faced a tough challenge against Pakistan in their first outing, where they were chasing a massive target of 343. Despite the odds, they aim to make a mark in the group stage.
Nepal Playing 11:
Aasif Sheikh
Kushal Bhurtel
Aarif Sheikh
Rohit Paudel (c)
Sompal Kami
Dipendra Singh Airee
Gulshan Jha
Kushal Malla
Karan KC
Sandeep Lamichhane
Lalit Rajbanshi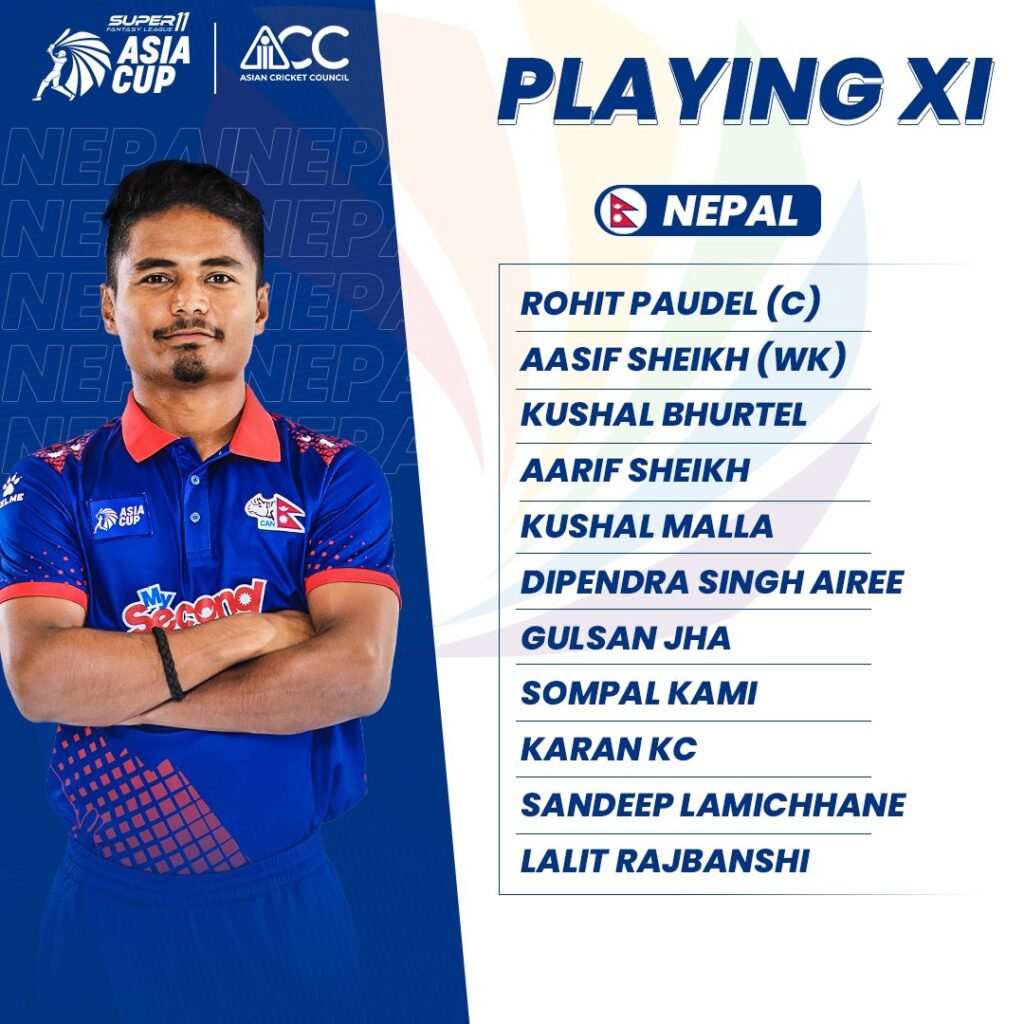 image credit – acc X
Dream11 Team Prediction
For the fantasy cricket enthusiasts, crafting the perfect Dream11 team is crucial. Here's a Dream11 team prediction for the IND vs NEP clash:https://twitter.com/ACCMedia1?s=09
Wicket-Keeper: Ishan Kishan
Batsmen:
Rohit Sharma
Virat Kohli
Shreyas Iyer
Aasif Sheikh
Kushal Bhurtel
All-Rounders:
Hardik Pandya
Rohit Paudel
Bowlers:
Mohammed Siraj
Mohammed Shami
Sandeep Lamichhane
Rain Status for IND vs NEP
While the cricketing world eagerly anticipates this showdown, there's another element to consider – the weather. According to Accuweather, there's an 89 percent chance of rainfall with thunderstorms in Pallekele, Kandy during the day when India takes on Nepal. However, the rain threat gradually diminishes as the day progresses, with the nighttime showing about a 68% chance of precipitation.
This means that rain might play a significant role in this match, potentially affecting the strategies and outcomes.
Jasprit Bumrah's Absence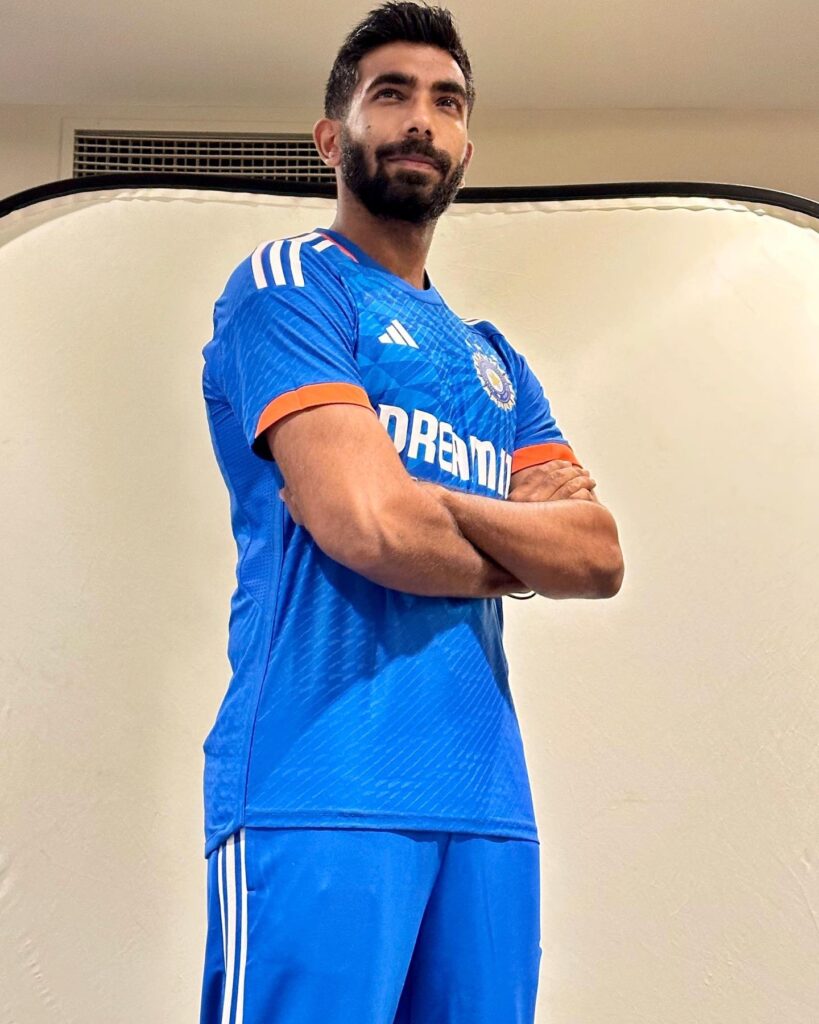 Image credit- jasprit Bumrah X
One notable absence from the Indian squad for this match is Jasprit Bumrah. However, there's a heartwarming reason behind his temporary departure. Jasprit Bumrah, the renowned Indian fast bowler, is currently en route to Mumbai, accompanied by an air of anticipation and excitement. His journey has a special purpose – to be by the side of his wife, Sanjana Ganesan, as they eagerly await the arrival of their first child. This marks a remarkable and joyous milestone in their lives, as they prepare to embrace parenthood.
Amidst the speculations surrounding Bumrah's absence from the Indian squad in the Asia Cup, the Board of Control for Cricket in India (BCCI) has moved swiftly to quash any injury-related concerns. A high-ranking BCCI official has come forward to provide clarity on the matter, firmly stating that Bumrah's temporary withdrawal from the team is solely due to personal reasons.
The official's assertion should put to rest any lingering doubts about Bumrah's availability for the remainder of the Asia Cup tournament. According to the latest information, Bumrah is expected to rejoin the Indian squad during the Super 4 stage of the competition.
This development reaffirms that Bumrah's commitment to both his family and his cricketing duties remains unwavering. As fans eagerly anticipate his return to the cricketing arena, they can also celebrate this significant and heartwarming chapter in his personal life.
In Conclusion
The Asia Cup 2023 clash between India and Nepal promises to be a spectacle of cricketing talent and Dream11 strategy. As fans eagerly await the outcome, they'll also keep a close eye on the weather conditions in Pallekele, which could add an element of unpredictability to this thrilling encounter. While Jasprit Bumrah's absence is felt, it's for a heartwarming reason, and fans can expect his return in the later stages of the tournament. Stay tuned for all the action, drama, and excitement that the Asia Cup 2023 has to offer!https://gamingpur.com/inter-miami-electrifies-lafc-with-3-1-win-led-by-dy/