India Dominates Afghanistan in Thrilling Clash at ICC Cricket World Cup 2023 : IND vs AFG
In an intense showdown at the Arun Jaitley Stadium during the ICC Cricket World Cup 2023, Ind vs Afg battled for supremacy. The match was a rollercoaster ride filled with spectacular performances and nail-biting moments, ultimately ending with India prevailing over Afghanistan. This article will delve into the thrilling encounter, analyzing key moments, standout players, and the impact of the match on both teams.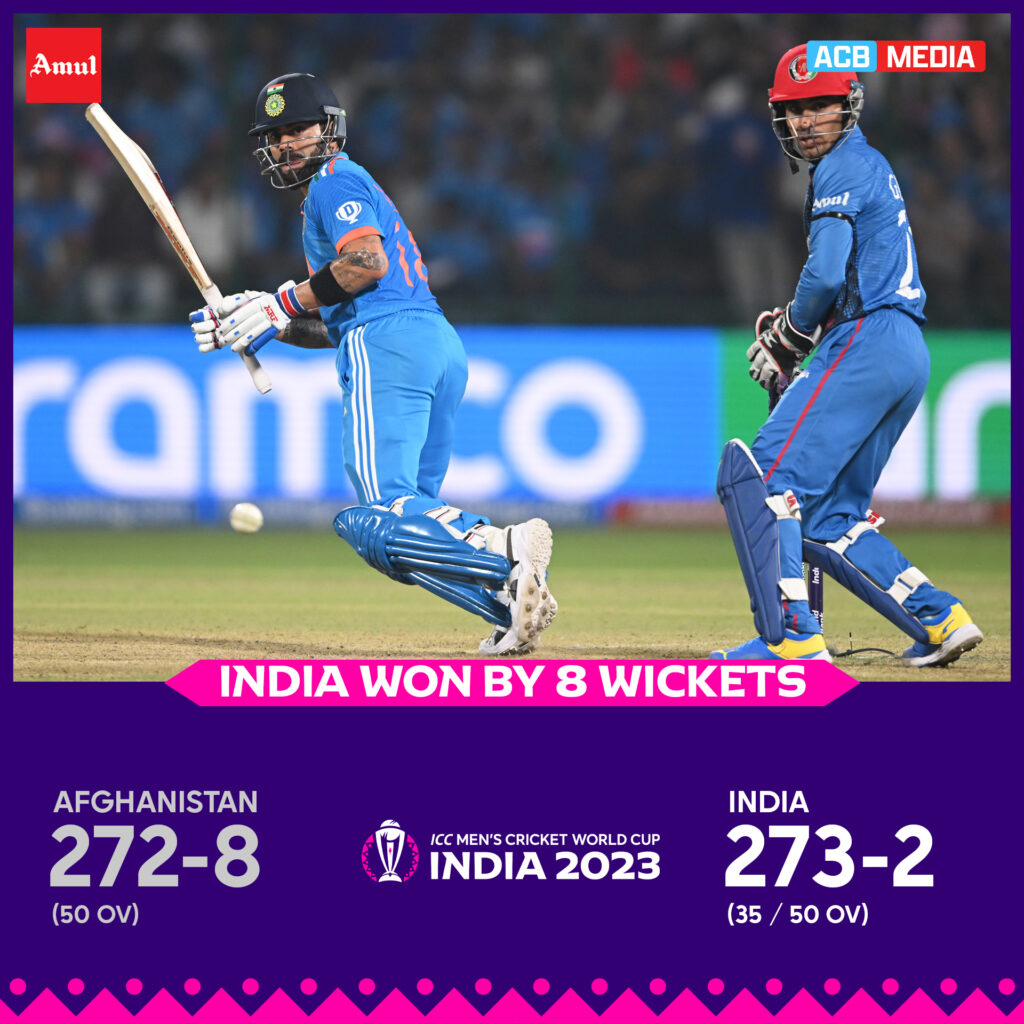 IND vs AFG: A High-Stakes Encounter in ICC cricket World Cup 2023:
The stage was set at the iconic Arun Jaitley Stadium as Afghanistan won the toss and opted to bat. The crowd's anticipation was palpable as they awaited a riveting clash between these two cricketing nations.
Match summary
Player of the Match
Rohit Sharma(IND)131 (84)
Afghanistan · 272/8 (50)
| | |
| --- | --- |
| Hashmatullah Shahidi80 (88) | Jasprit Bumrah4/39 (10) |
| Azmatullah Omarzai62 (69) | Hardik Pandya2/43 (7) |
| Ibrahim Zadran22 (28) | Shardul Thakur1/31 (6) |

India · 273/2 (35)
| | |
| --- | --- |
| Rohit Sharma131 (84) | Rashid Khan2/57 (8) |
| Virat Kohli55* (56) | Naveen-ul-Haq0/31 (5) |
| Ishan Kishan47 (47) | Mohammad Nabi0/32 (4) |
Afghanistan's Gritty Batting Display
Afghanistan's batting lineup showed tremendous grit, posting a competitive total of 272/8 in their allotted 50 overs. The early wickets of I. Zadran and R. Gurbaz didn't deter Afghanistan, with H. Shahidi and A. Omarzai stepping up to the plate. Shahidi's remarkable 80 was the cornerstone of their innings.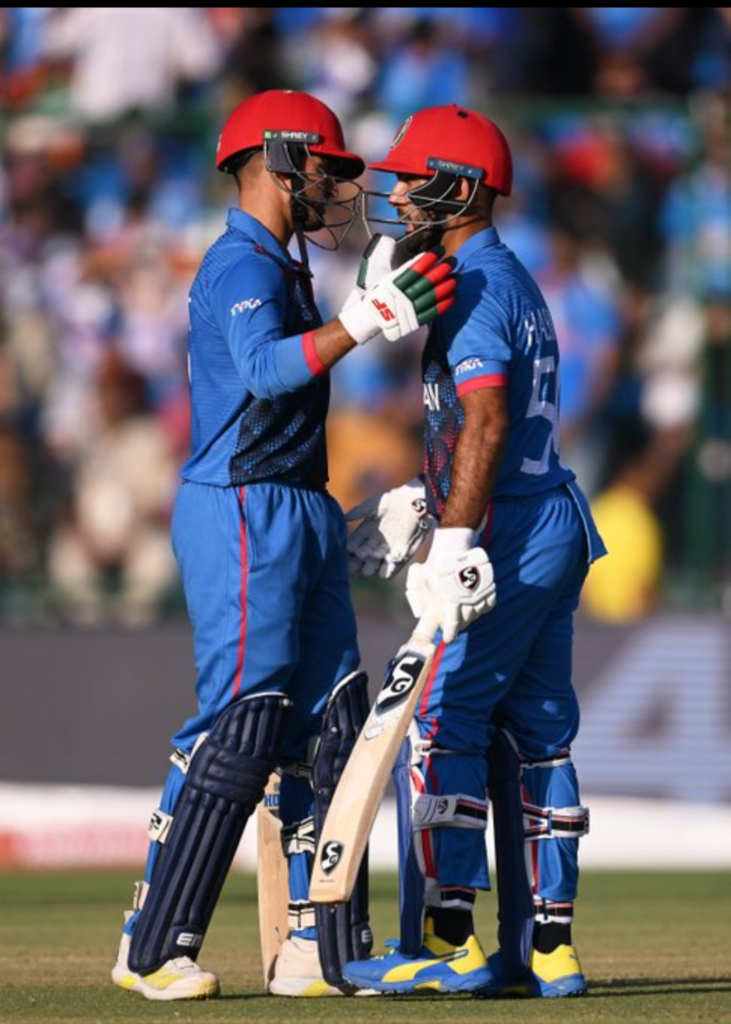 India's Bowling Prowess
India's bowlers displayed their class and composure throughout Afghanistan's innings. Jasprit Bumrah was the standout performer, claiming four wickets for just 39 runs. Hardik Pandya and Shardul Thakur also contributed with crucial wickets. The spin duo of Kuldeep Yadav and Ravindra Jadeja maintained control, albeit briefly.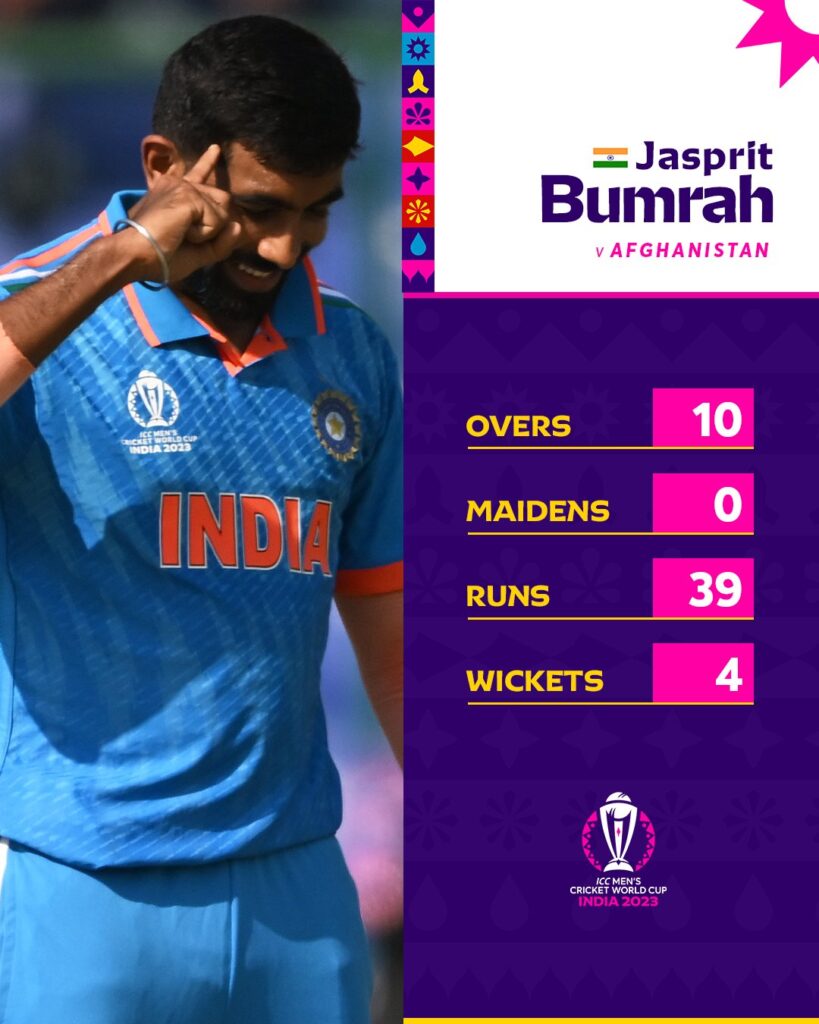 Afghanistan's Second-Highest World Cup Total
Afghanistan managed to post their second-highest total in World Cup history. Their innings was characterized by a rollercoaster ride, starting with a promising partnership between Rahmanullah Gurbaz and Ibrahim Zadran, and later, Shahidi and Azmatullah Omarzai's heroics.
India's Commanding Bowling Display
India's bowlers were relentless, restricting Afghanistan and eventually dismissing them for 272. The persistence of Jasprit Bumrah and the cunning variations of Hardik Pandya were pivotal in India's fightback.
India's Dominant Batting
Chasing a target of 273, India's batsmen showcased dominance from the very beginning. Rohit Sharma, the captain, led from the front with a sensational century, scoring 131 runs off 84 balls. His performance was truly historic, breaking records and milestones along the way.
The Rohit Sharma Show

Rohit Sharma's 131 was nothing short of a cricketing spectacle. He blazed through Afghanistan's bowlers, scoring the fastest century by an Indian in World Cup history. His masterful performance left fans in awe.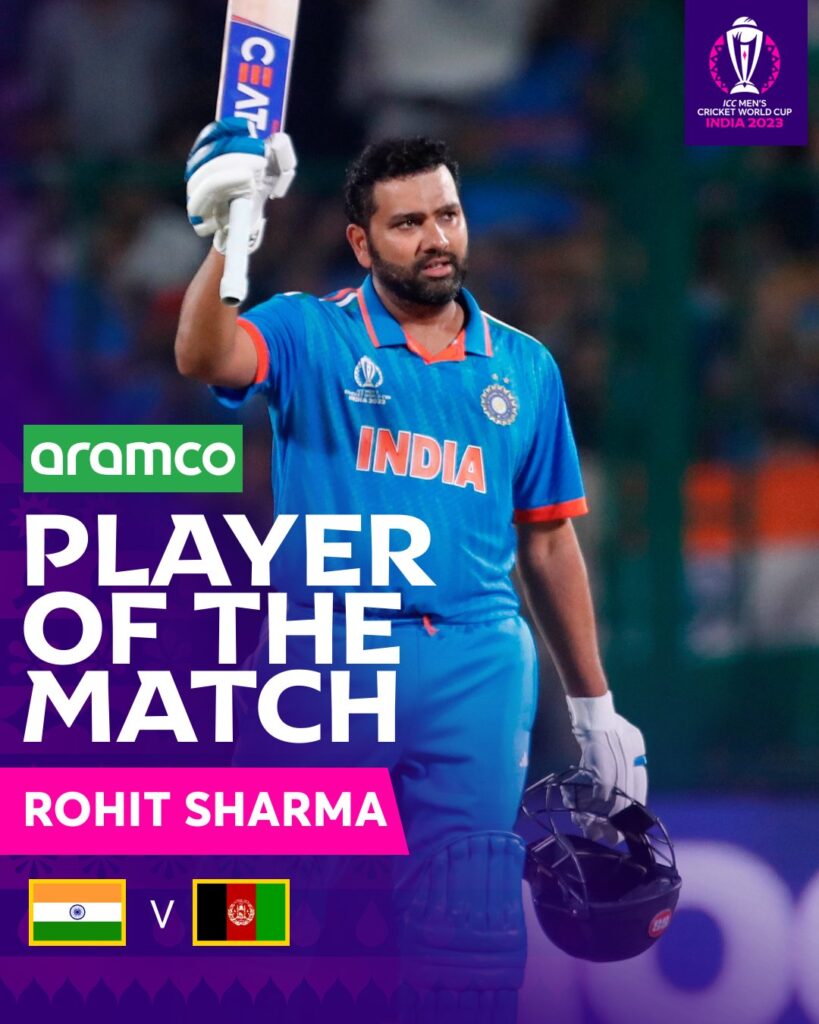 Kohli and Iyer's Contribution
As Rohit Sharma departed, the responsibility fell on Virat Kohli and Shreyas Iyer. Kohli remained unbeaten on 55, providing stability and experience. Together with Iyer, they steered India to a comfortable victory with 15 overs to spare.
Afghanistan's Struggles with the Ball
Afghanistan's bowlers struggled to contain India's relentless pursuit of the target. Fazalhaq Farooqi and Mujeeb Ur Rahman couldn't maintain control, while Rashid Khan managed to pick up two wickets but was somewhat expensive. It was a challenging day for Afghanistan's bowling unit.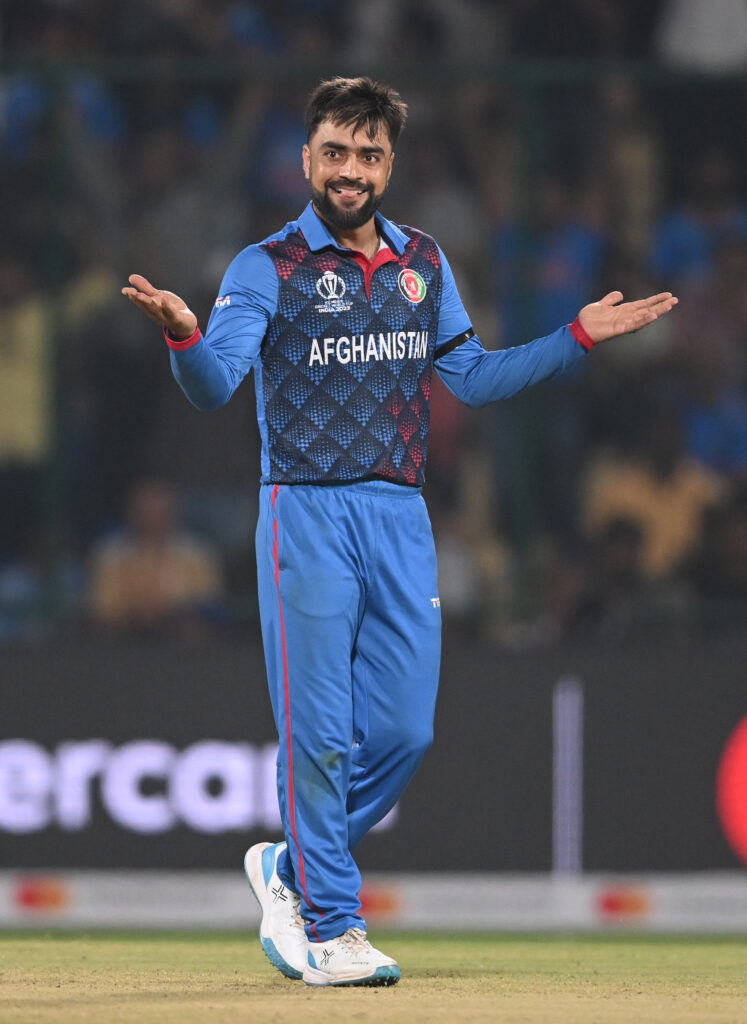 India's Road to Victory

India's comprehensive victory in this encounter provides them with a much-needed boost as they prepare to face arch-rivals Pakistan in their upcoming match. Their batting display, led by Rohit Sharma's heroics, and the collective effort of their bowlers were commendable.
Afghanistan's Quest for Redemption

Despite the loss, Afghanistan showed glimpses of their potential and resilience. They will aim to bounce back in the next game and rectify their performance, especially with their bowling and fielding.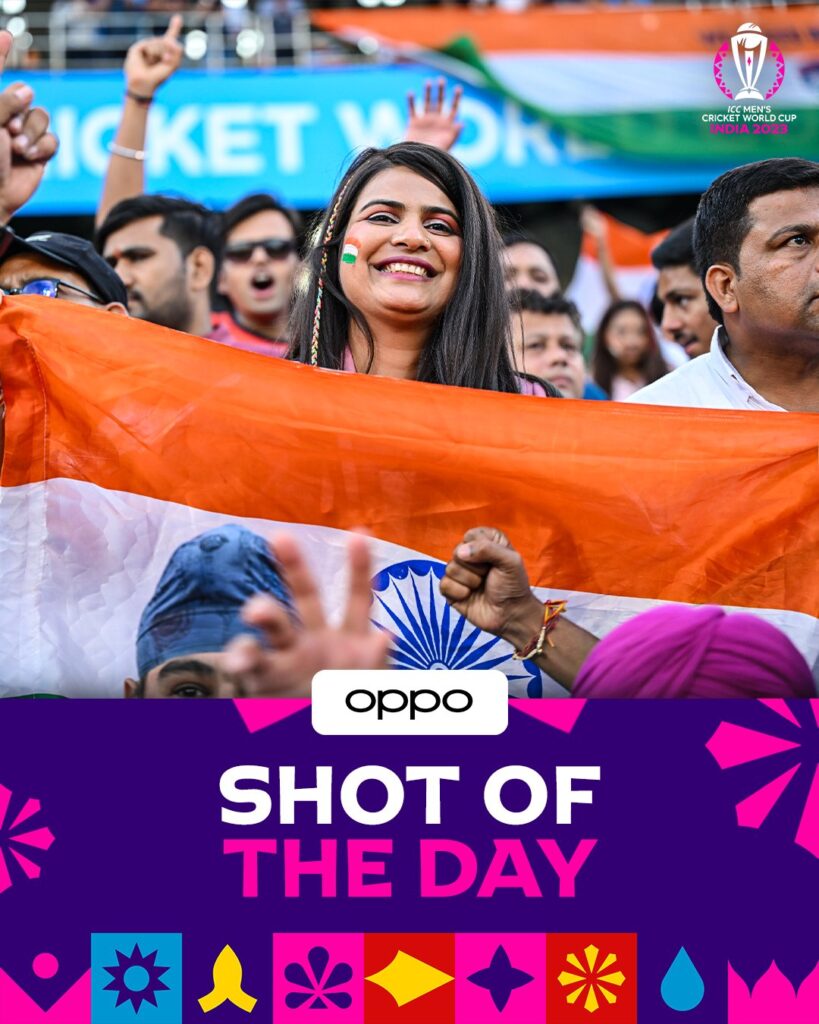 A Thrilling Encounter

The Ind vs. Afg clash in the ICC Cricket World Cup 2023 was a breathtaking spectacle for cricket enthusiasts. It showcased the spirit of competition, individual brilliance, and the unpredictability of the sport. As India secured a resounding victory, fans eagerly await the next thrilling matches in this World Cup. https://gamingpur.com/india-vs-afghanistan-icc-mens-cricket-world-cup-2023/ https://cricket.af/post/acb-name-squad-for-the-bangladesh-ttwenties