England's Dominant Victory: Crushing Bangladesh in the Cricket World Cup 2023
Record-Breaking Encounter in the Cricket World Cup 2023: England vs Bangladesh
The stage was set for a thrilling encounter in the Cricket World Cup 2023 as England faced off against Bangladesh at the picturesque HPCA Stadium. In this high-octane clash, England's sheer dominance left Bangladesh in the dust, setting the tone for a memorable tournament.
Player of the Match : England vs Bangladesh
Player of the Match
Dawid Malan(ENG)140 (107)
Cricket World Cup 2023: England vs Bangladesh Score Highlights
England · 364/9 (50)
| | |
| --- | --- |
| Dawid Malan140 (107) | Mahedi Hasan4/71 (8) |
| Joe Root82 (68) | Shoriful Islam3/75 (10) |
| Jonny Bairstow52 (59) | Taskin Ahmed1/38 (6) |

Bangladesh · 227 (48.2)
| | |
| --- | --- |
| Liton Das76 (66) | Reece Topley4/43 (10) |
| Mushfiqur Rahim51 (64) | Chris Woakes2/49 (8) |
| Towhid Hridoy39 (61) | Liam Livingstone1/13 (3) |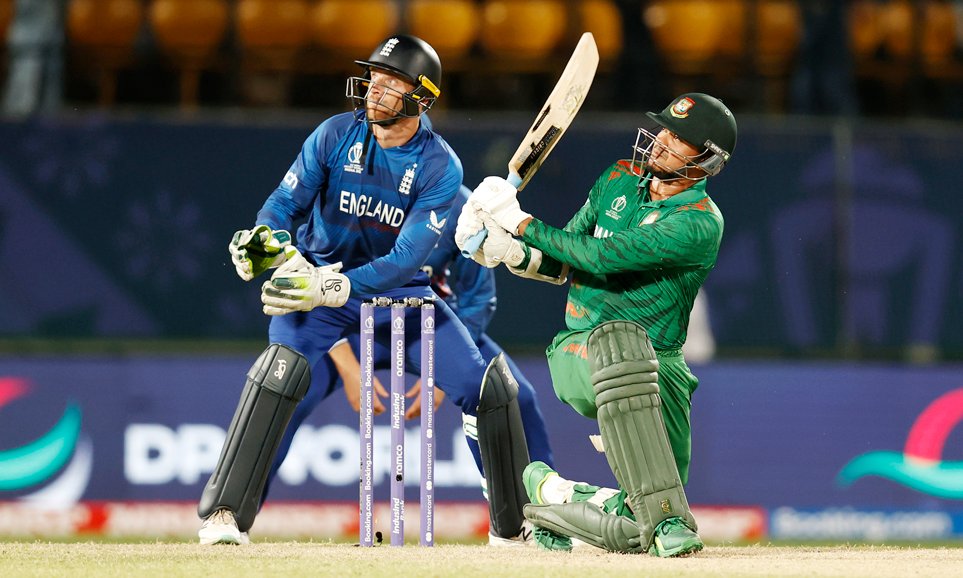 England's Batting Fireworks
England's innings were nothing short of fireworks, with their powerful batting lineup wreaking havoc on the Bangladesh bowlers. Dawid Malan emerged as the hero of the day, delivering a breathtaking performance that left the crowd in awe.
Malan's sensational knock of 140 runs from just 107 balls showcased his class and ability to anchor the innings. His brilliant partnership with Jonny Bairstow, who contributed 52 runs, set the stage for England's imposing total of 364/9 in their allotted 50 overs.
The Malan Masterclass
Dawid Malan's spectacular innings featured a plethora of elegant shots, with his impeccable timing and placement making it difficult for the Bangladesh bowlers to contain him. The moment of his dismissal was met with relief by the Bangladesh team, as they knew they had witnessed something special.
England's Top-Order Brilliance
England's top-order batsmen, including Joe Root and Jos Buttler, also made significant contributions. Root's classy 82 and Buttler's quickfire 20 added substantial runs to the total. The likes of H. Brook, L. Livingstone, and Sam Curran chipped in with valuable runs as well.
Bangladesh's Struggle with the Ball
Bangladesh's bowlers had a tough day at the office, with Mahedi Hasan being the standout performer, claiming four crucial wickets. However, the rest of the bowling attack struggled to contain the English onslaught. Reece Topley was relentless in his pursuit of wickets, securing a four-wicket haul and putting immense pressure on Bangladesh.
Bangladesh's Challenging Chase
Chasing a colossal target of 365 runs, Bangladesh faced an uphill battle from the start. England's bowlers were relentless in their pursuit of wickets, and Bangladesh lost their top-order batsmen within the first few overs. Liton Das provided some resistance with a gutsy 76, but the lack of support from his teammates proved to be their downfall.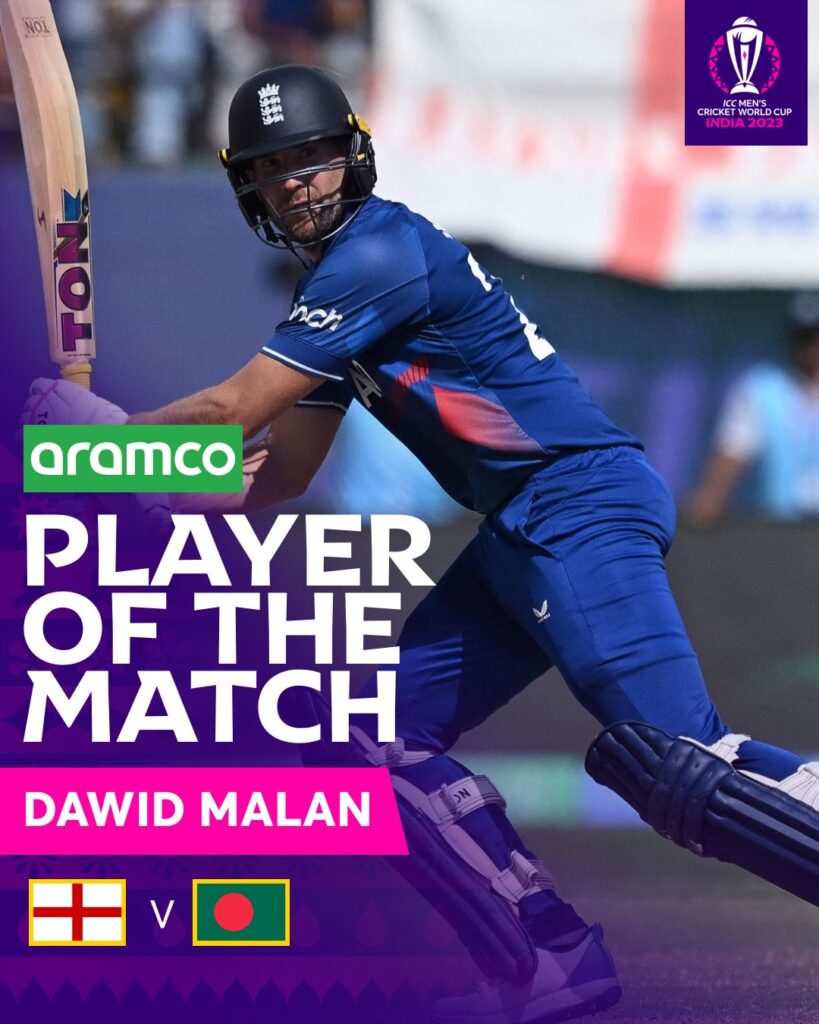 Reece Topley's Four-Fer
Reece Topley emerged as England's hero with the ball, claiming four wickets and dismantling Bangladesh's batting order. His exceptional bowling display showcased his skill and precision, making him a force to be reckoned with in the tournament.
England's Bowling Prowess
England's bowlers, including Chris Woakes, Sam Curran, and Mark Wood, showcased their prowess by taking crucial wickets at regular intervals. Adil Rashid and Liam Livingstone also contributed to the bowling effort, ensuring that Bangladesh never gained momentum in their chase.
A Convincing Victory for England
In the end, England's all-round brilliance and dominance on the field led to a convincing victory by 137 runs. Their batting fireworks, coupled with disciplined bowling, proved to be too much for Bangladesh to handle. This victory marked a strong start to England's campaign in the Cricket World Cup 2023.
Bangladesh's Uphill Battle Ahead
For Bangladesh, it's back to the drawing board as they look to regroup and bounce back from this heavy defeat. With many matches ahead in the tournament, they will need to address their batting woes and bowling inconsistencies to stand a chance against formidable opponents.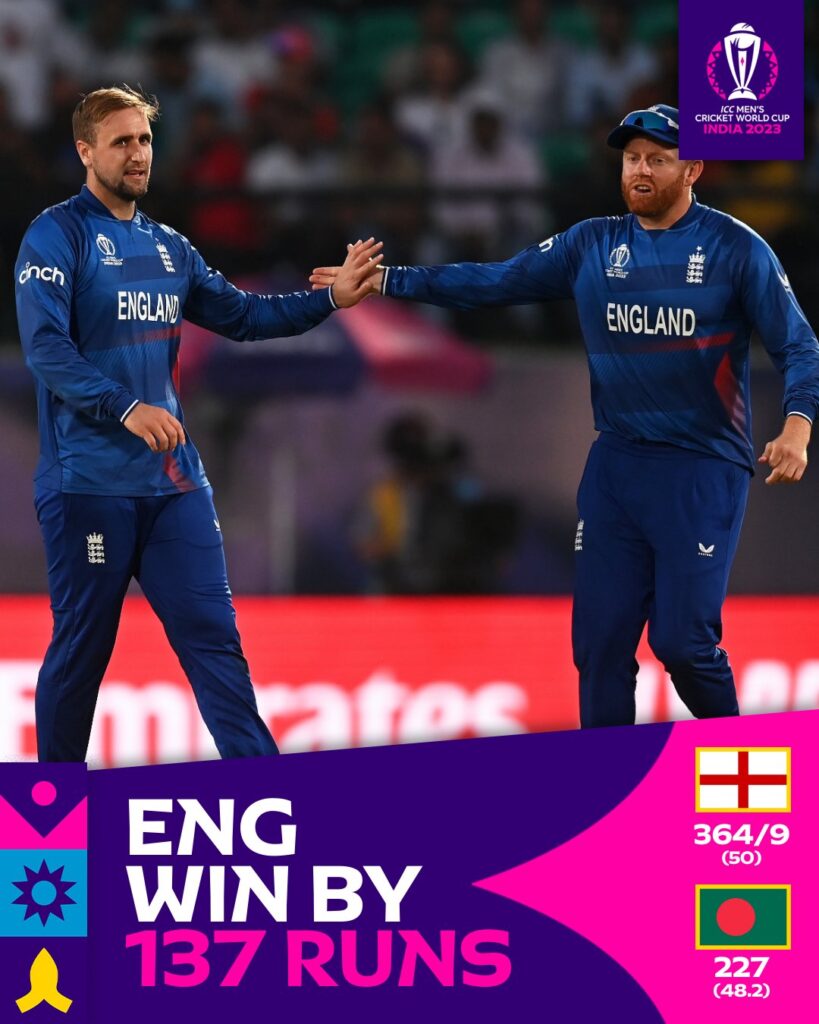 England's crushing victory over Bangladesh in the Cricket World Cup 2023 was a record-breaking encounter that showcased their dominance in the tournament. Dawid Malan's masterclass with the bat, coupled with Reece Topley's four-fer, set the tone for a memorable match. While England celebrated a thumping win, Bangladesh faces the challenge of turning their fortunes around in the upcoming matches. As the tournament unfolds, cricket fans can expect more thrilling contests and remarkable performances on the road to crowning the world champions.