BGMI Masters Series 2023 Season 2: Grand Finals Unveil Thrilling Battle for Supremacy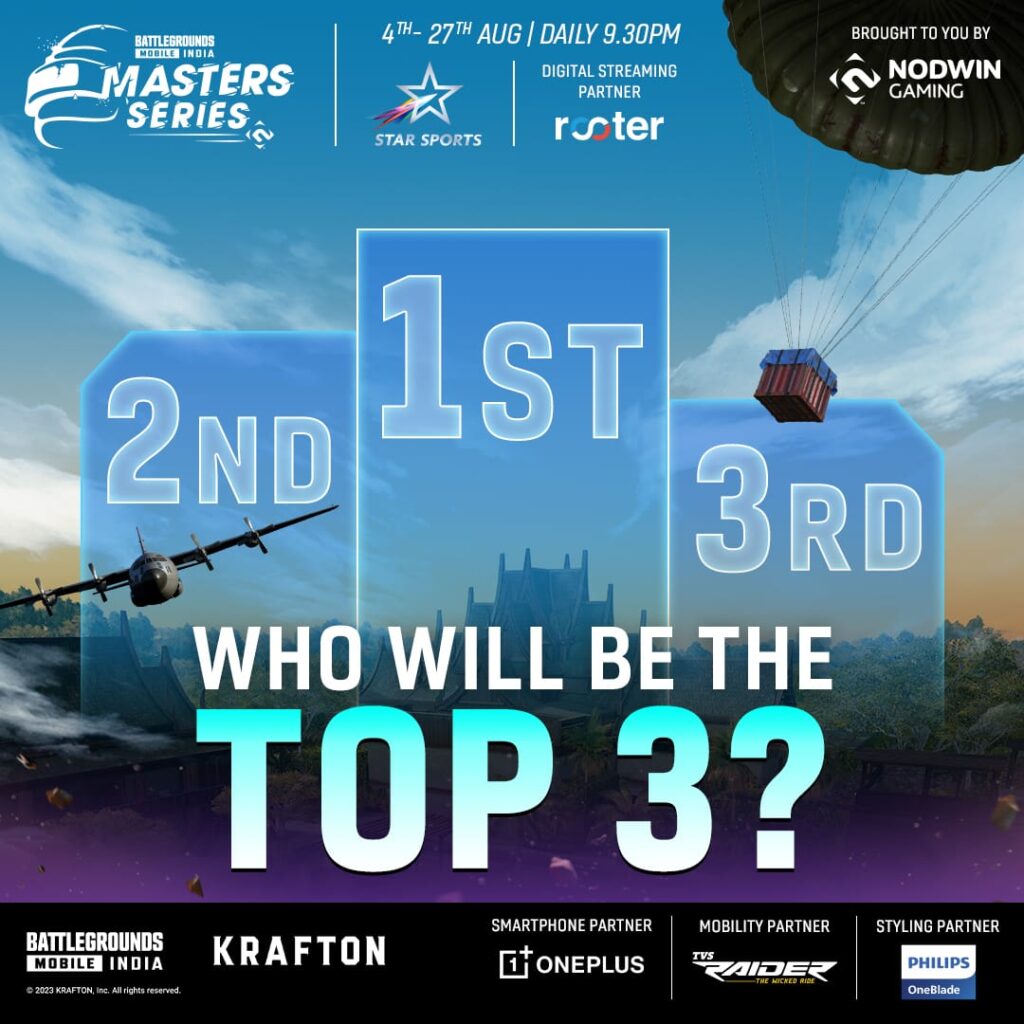 BGMI Masters Series 2023 Season 2 Grand Finals:-This tournament's format has epitomized the very essence of gaming at its finest. Twenty-four elite teams were meticulously categorized into three groups, igniting a fiery round-robin competition that unfolded over four intense days. With each day adorned by three electrifying matches, the BGMI action has kept fans teetering on the edge of their seats. The qualification week saw a total of 12 fiercely contested matches, a testament to the unwavering commitment of these teams.
Yet, amid this showcase of gaming brilliance, a twist of fate emerged. Icons of the gaming world, such as Team Soul and Godlike Esports, once darlings of the crowd, found themselves outside the coveted final stages. This unexpected development only deepened the intrigue that has been a hallmark of the entire BGMI Masters Series Season 2, captivating viewers from the very inception. The crescendo of this captivating journey culminates in the Grand Finals, poised to ignite on August 25.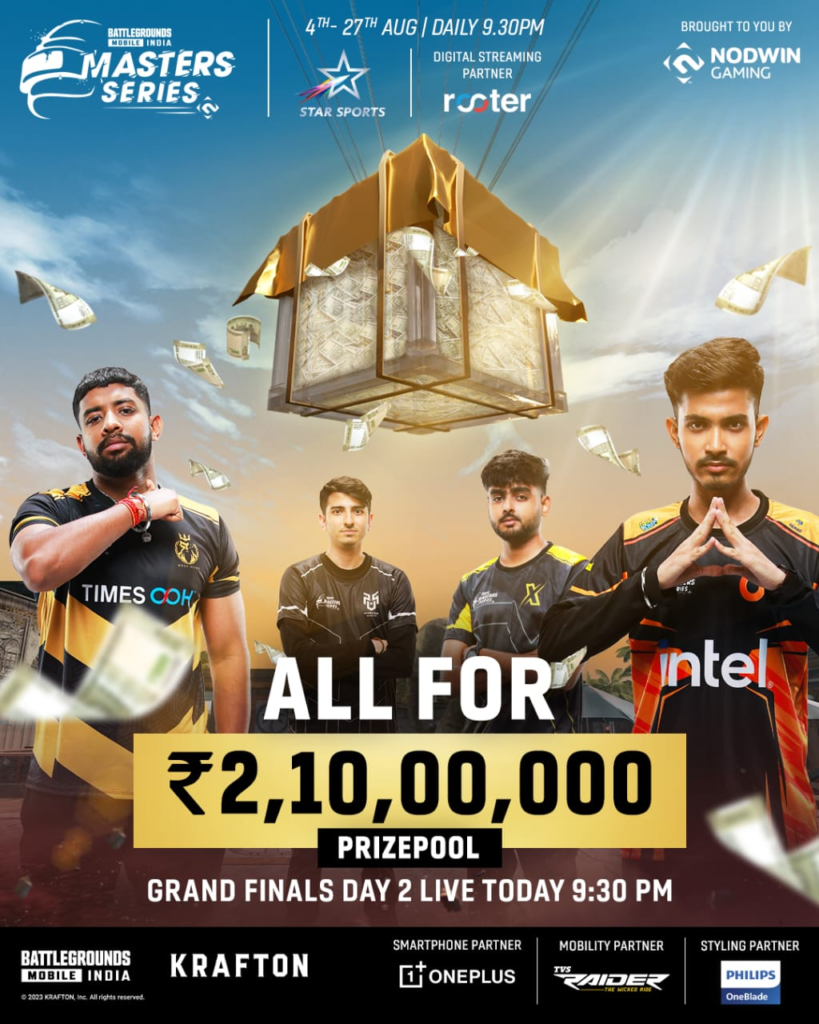 The voyage to the zenith of BGMI glory has been nothing less than a roller-coaster ride, fuelled by undying passion and relentless determination to excel. As the stage is set, the spotlight turns to the 16 remarkable teams that have conquered challenges, exceeded boundaries, and carved their names into the Grand Finals' roster.
A closer inspection of the elite squads reveals a lineup brimming with potential, all poised to collide in the ultimate showdown:
Blind Esports: Exuding grit and determination, they embody an unstoppable force on the battlefield.
Team iNSANE: Their relentless pursuit of victory has propelled them to these coveted finals.
Global Esports: With a global perspective, they bring an unparalleled edge to the battleground.
Marcos Gaming: Their prowess bears testament to the countless hours of dedication invested.
OR Esports: A fusion of skill and strategy promises intense, edge-of-the-seat moments.
Medal Esports: Their journey has unfolded as a spectacle deserving of a medal.
Velocity Gaming: Their gameplay is a testament to their name, an unyielding pursuit of victory.
Enigma Gaming: With strategies shrouded in enigma, they keep rivals guessing at every turn.
Team 8Bit: Bursting forth with eight-bit energy and skill, they're set to dominate the stage.
WSB Gaming: Their gameplay resonates with the battleground's true spirit, a tale of determination.
Gods Reign: Triumphing over challenges, they've earned their rightful place in the grand finale.
OneBlade: A single blade that can cleave through the competition with precision.
Orangutan: A formidable force to be reckoned with, swinging into the finals with zeal.
Lucknow Giants: Their giant strides have propelled them to this epic showdown.
Gladiators Esports: The gladiators of the gaming realm, poised to engage in an epic battle.
Team X Spark: Igniting sparks of brilliance, they promise to illuminate the Grand Finals.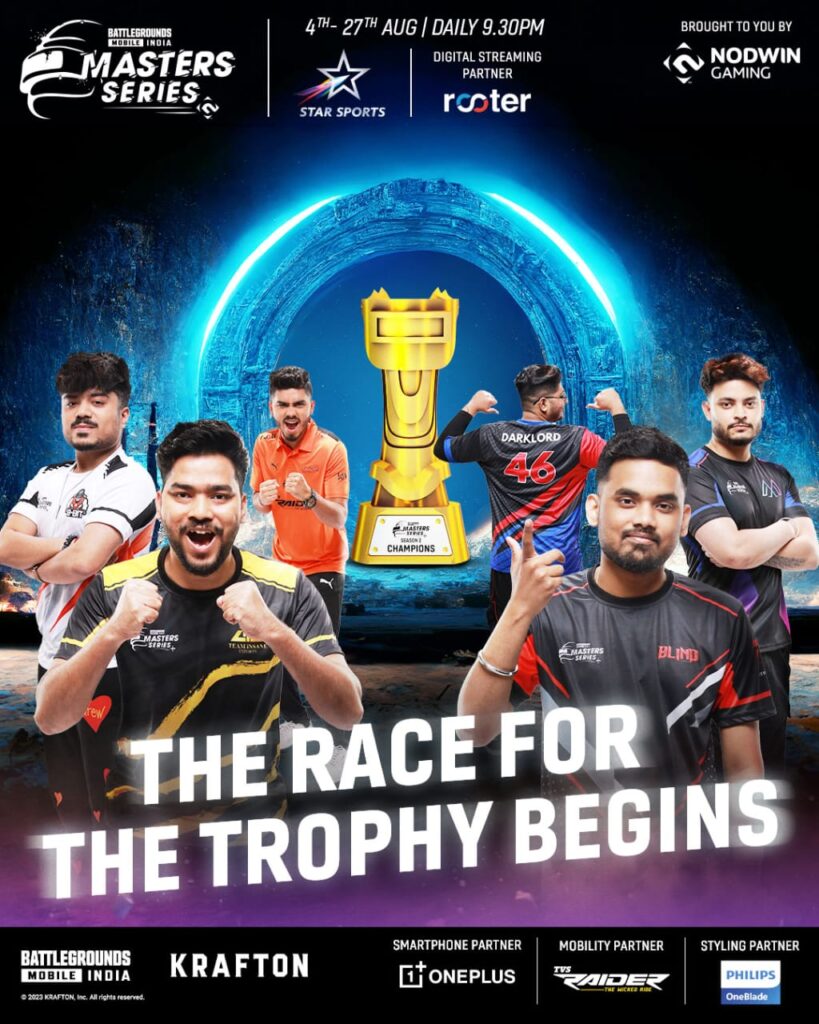 These 16 teams stand at the precipice of glory, propelled by dedication and prowess toward this defining moment. The stakes have never been higher, with a staggering ₹2.1 crore prize pool awaiting the ultimate victor. Their journey, laden with trials and triumphs, encapsulates the very essence of gaming and the pursuit of excellence. https://twitter.com/NodwinGaming/status/1695383085297422591?s=08
The Grand Finals, scheduled from August 25 to 27, are poised to be a spectacle of unparalleled proportions. The battlegrounds shall transform into arenas of strategy and skill, as pixels evolve into strategies and reflexes evolve into victories. All of this set against the backdrop of an eager audience and the digital realm poised to etch history anew.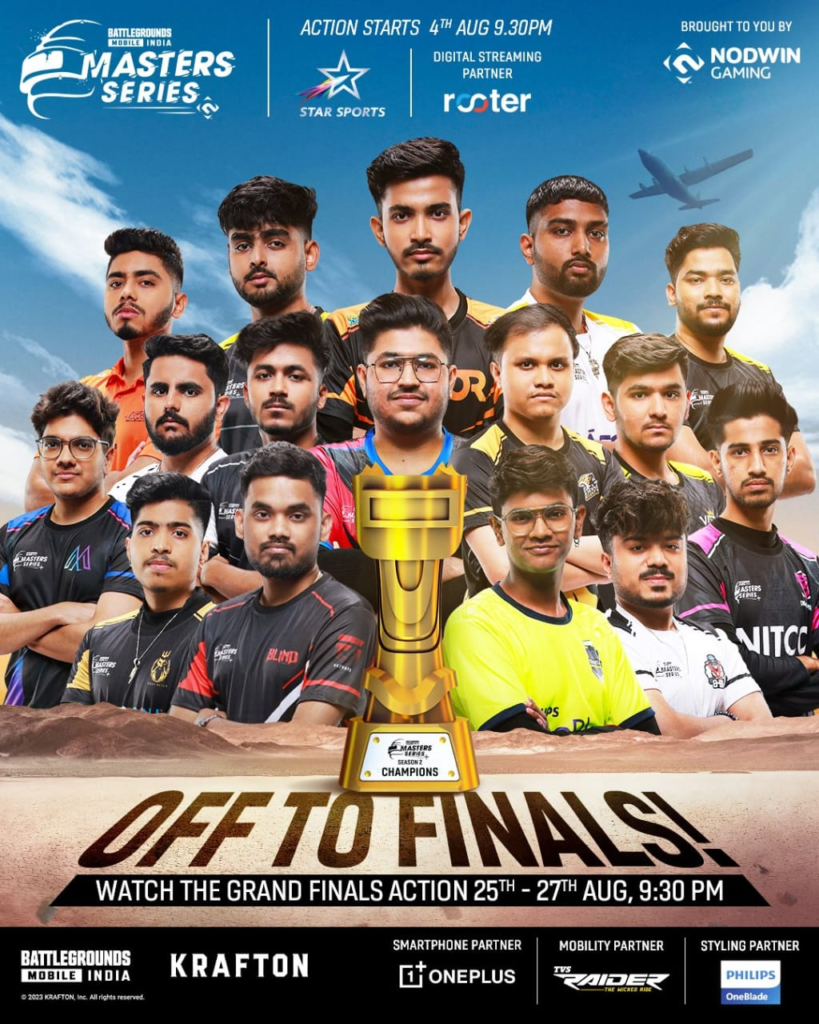 https://twitter.com/NodwinGaming/status/1695504593659289786?s=19
For those yearning to witness this riveting spectacle, the avenues are crystal clear:
Television: Tune in to Star Sports 1 and Star Sports 2 for real-time immersion in Hindi, English, or Tamil.
Digital Platform: Rooter stands as the platform of choice for enthusiasts to absorb every pulse-pounding moment in Hindi.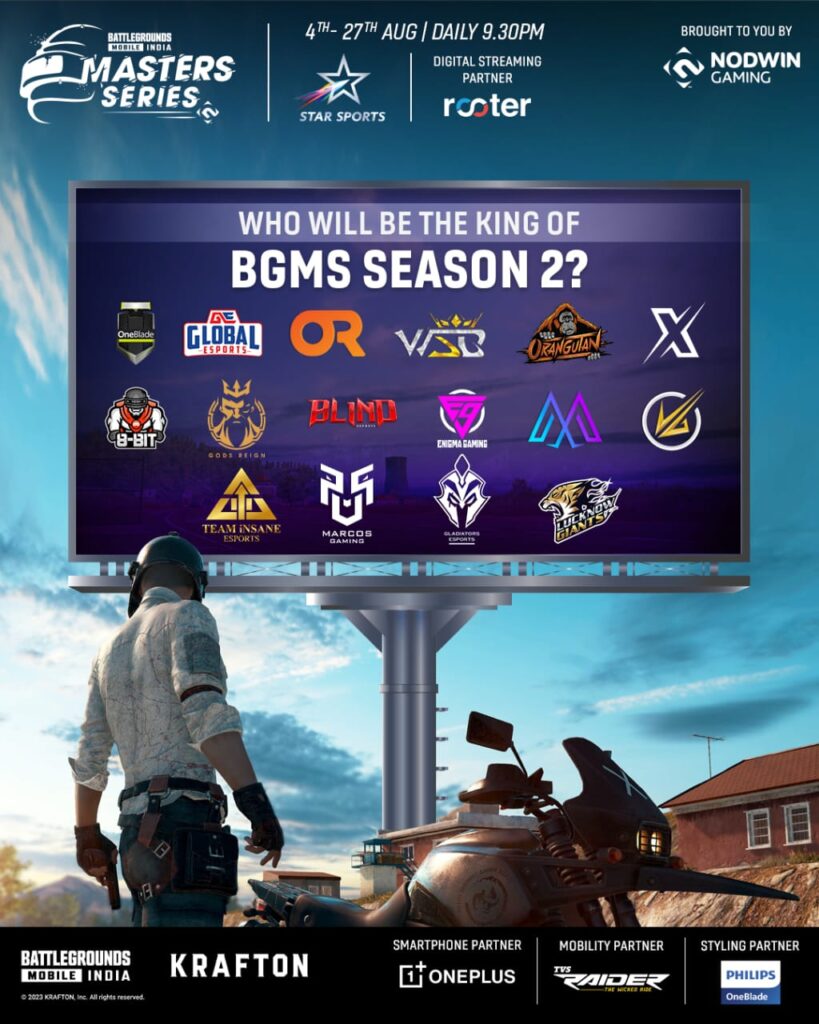 As the countdown ignites and anticipation crescendos, brace yourself for an action-packed showdown. The battlegrounds are set to transform into a canvas where skill, strategy, and relentless determination will script a defining moment. This is not merely a tournament; it's a chapter poised to etch itself into the annals of BGMI history. As these teams vie for supremacy and their names in the records, the BGMI Masters Series 2023 Season 2 Grand Finals promise an unforgettable experience. Prepare for a narrative that will reverberate for years to come, a history crafted pixel by pixel, click by click, and victory by victory. https://gamingpur.com/bgmi-%e0%a4%ae%e0%a5%87%e0%a4%82-zero-recoil-%e0%a4%95%e0%a5%87-%e0%a4%b2%e0%a4%bf%e0%a4%8f-best-gyroscope/