Asia Cup 2023: Thrilling India vs. Nepal Clash Amid Rain Interruptions, India's Dominant victory
India vs. Nepal : The Asia Cup 2023 witnessed an exhilarating showdown between India and Nepal during its fifth match on September 4, 2023, at Kandy's Pallekele International Cricket Stadium. Despite India's favored status, Nepal's spirited performance, coupled with rain interruptions leading to a revised target via the "DLS" method, made this encounter unforgettable. In this concise blog post, we'll dive into the exciting highlights, exceptional performances, and noteworthy records set during this rain-affected Asia Cup 2023 clash between India and Nepal.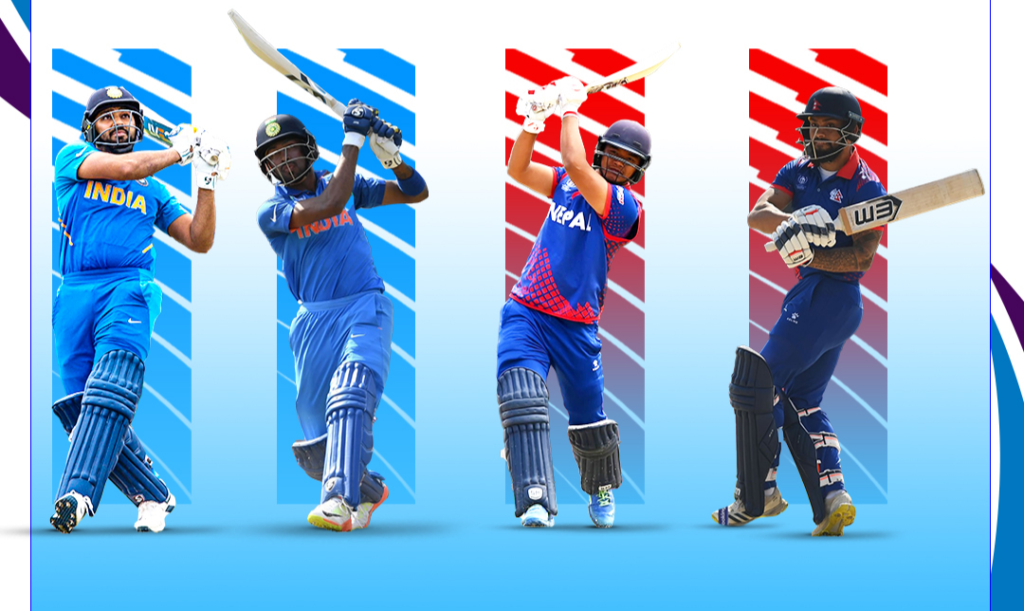 Nepal's Turn to Bat First
Indian Captain Rohit Sharma won the toss and opted to bowl first, challenging Nepal to face India's formidable bowling lineup. Nepal's opening duo, Gyanendra Malla and Kushal Bhurtel, showcased promise with an initial partnership of 43 runs. However, India's bowlers struck back swiftly, grabbing three vital wickets and leaving Nepal at 67 for 3 by the 15th over.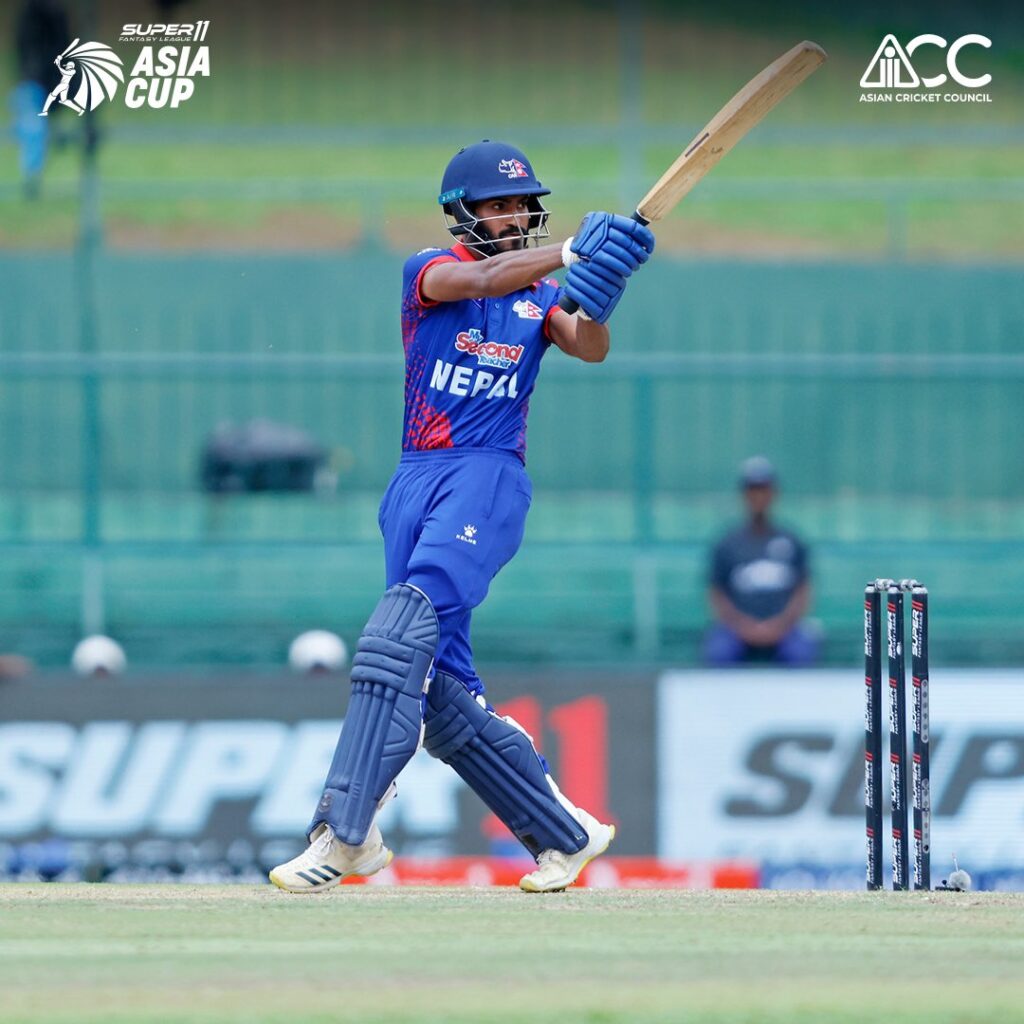 Nepal's middle-order, led by Aasif Sheikh and Binod Bhandari, then took charge to stabilize their innings. Together, they constructed a crucial 55-run partnership for the fourth wicket. Aasif Sheikh emerged as Nepal's top scorer, crafting a composed 58 runs from 71 deliveries, featuring six boundaries and a six. His contributions were complemented by Sompal Kami, who played a fiery cameo, accumulating 48 runs off just 36 balls, including four fours and three sixes. Kami's explosive innings propelled Nepal beyond the 200-run mark, concluding at a competitive total of 230 runs in 48.2 overs.
In this unforgettable Asia Cup 2023 clash between India and Nepal, both teams exhibited tremendous resilience, making it a must-watch for cricket enthusiasts worldwide.
Indian Bowlers' Precision
India's bowlers showcased their precision and skills by containing Nepal to a modest total. Ravindra Jadeja was the standout performer, claiming three wickets while conceding 40 runs in his 10 overs, including two maiden overs. Mohammad Siraj was equally effective, securing 3 wickets for 61 runs in his 9.2 overs. The trio of Mohammad Shami, Shardul Thakur, and Hardik Pandya each contributed with a wicket apiece.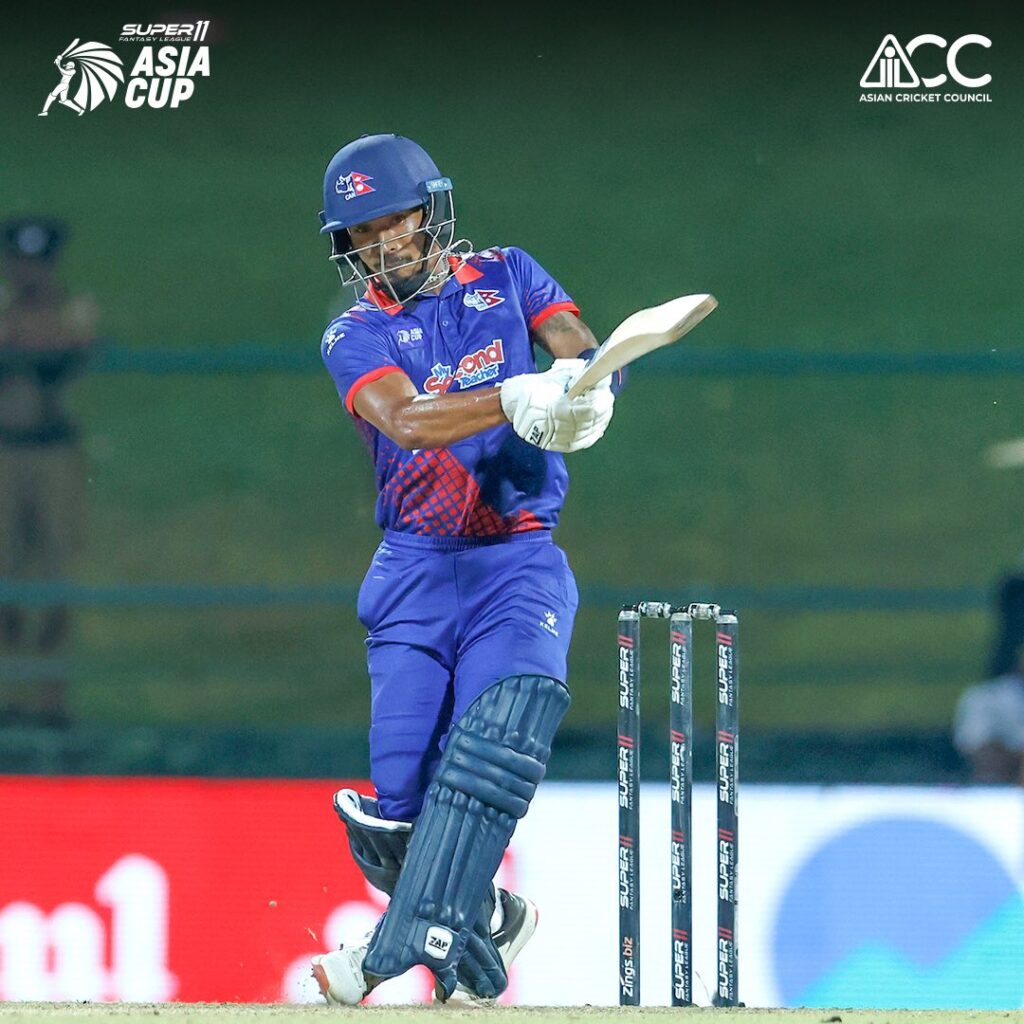 image credit – acc X
Rain Disruption and DLS Adjustment
As India commenced their chase, rain intervened after they had scored nine runs without loss in just two overs. The interruption led to a reduction in the match duration to 23 overs per side, with India's target adjusted to 145 runs based on the Duckworth-Lewis-Stern (DLS) method. This revision made India's task even more comfortable, as they only needed to maintain a run rate of 6.30 per over.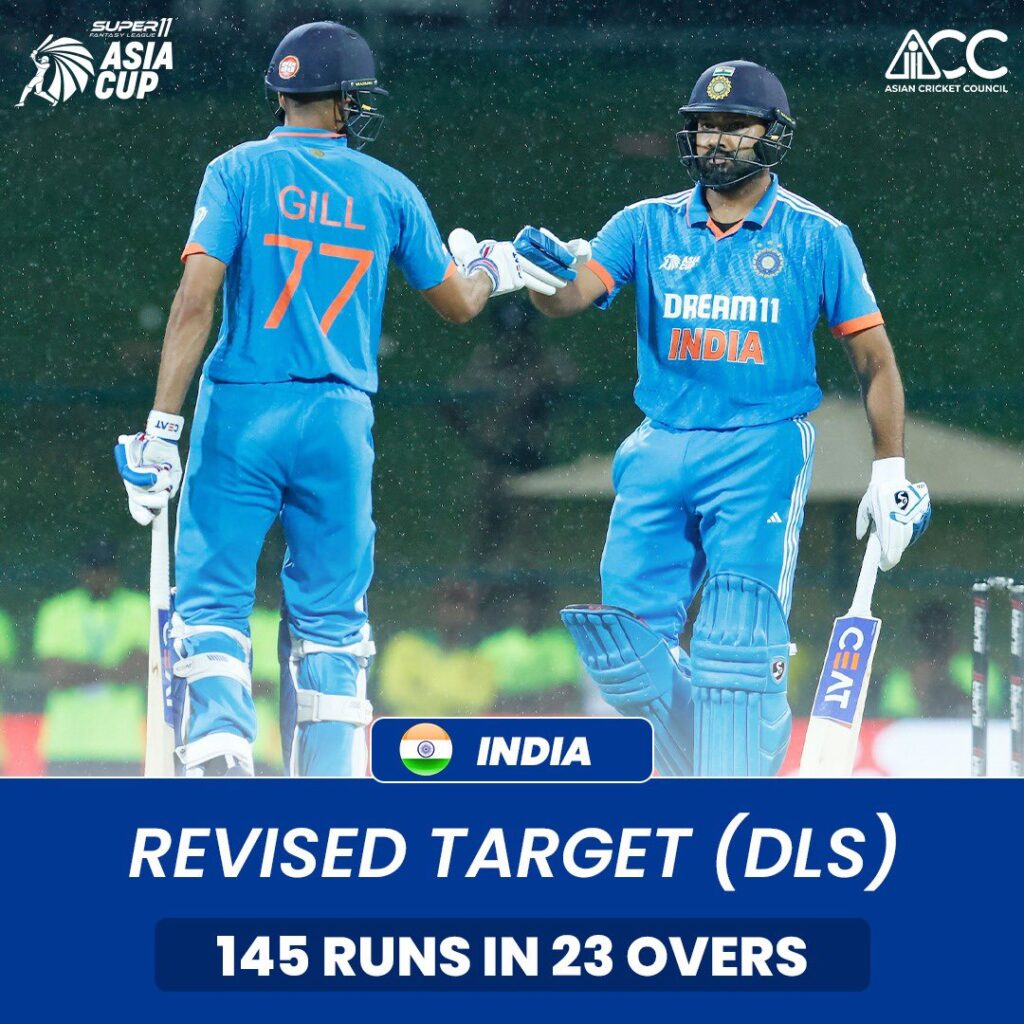 India's Commanding Batting Display
India's openers, Rohit Sharma and Shubman Gill, made light work of the revised target, delivering a commanding batting display. They exhibited no mercy towards the Nepalese bowlers, striking boundaries all over the park. Rohit Sharma was in sublime form, accumulating 74 runs off just 59 balls, including eight fours and four towering sixes. His half-century arrived in a mere 36 balls, breaking several records along the way.
Notably, Rohit Sharma became the first Indian captain to secure two ODIs with a remarkable margin of 10 wickets. His earlier achievement had come against England in 2022. Moreover, he surpassed Suresh Raina's record for the most sixes in Asia Cup by an Indian, hitting his 22nd six in the tournament. Sharma also eclipsed Sachin Tendulkar's record for the most 50+ scores by an Indian in Asia Cup, securing his ninth such score.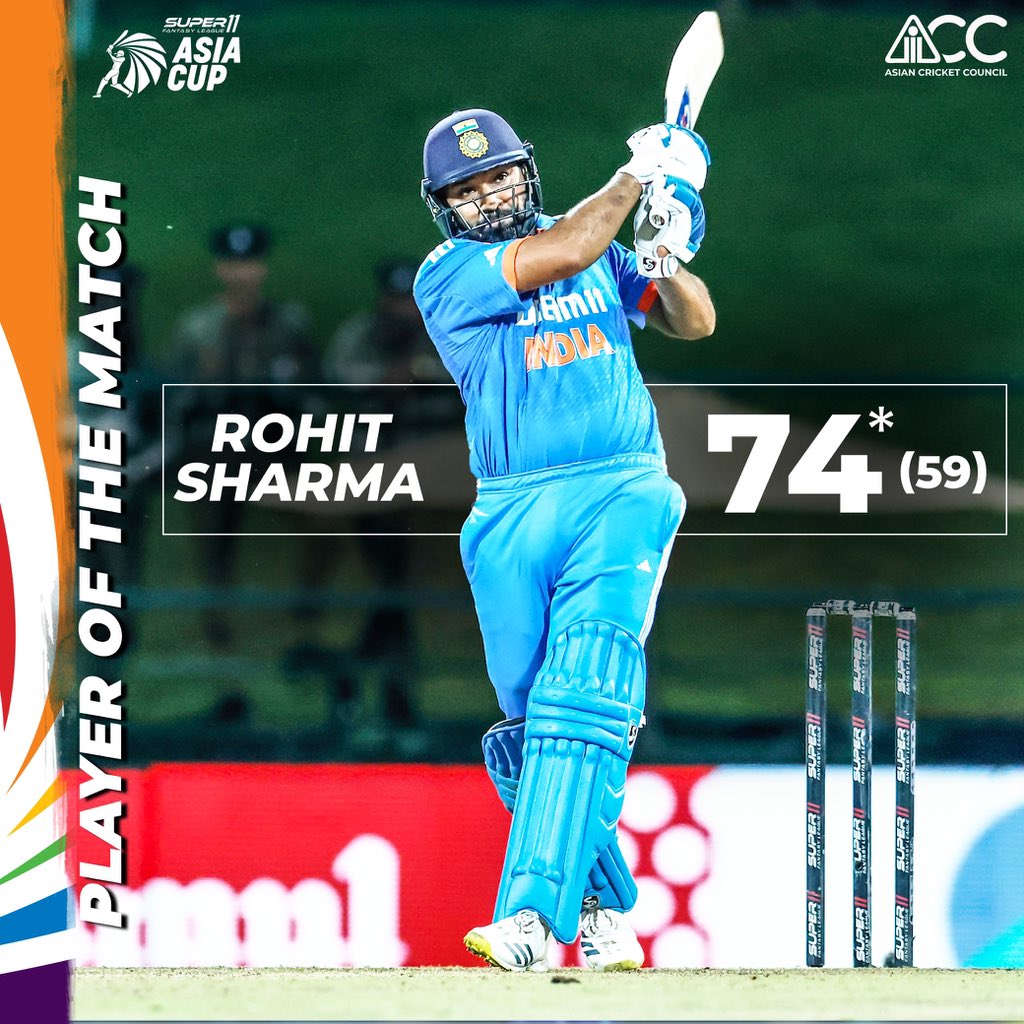 image credit – acc X
Shubman Gill's contribution was equally impressive, as he amassed 67 runs off 62 balls, including seven fours and two sixes. He reached his half-century in just 46 balls, perfectly complementing Sharma's onslaught. Furthermore, Gill became the youngest Indian batsman to score a fifty in Asia Cup, achieving this milestone at the age of 23 years and 102 days.
The pair's remarkable partnership of 147 runs for the first wicket was pivotal in sealing India's victory, achieved in just 20.1 overs. Their commanding performance secured a resounding 10-wicket win for India with a surplus of 17 balls.https://twitter.com/ACCMedia1?s=09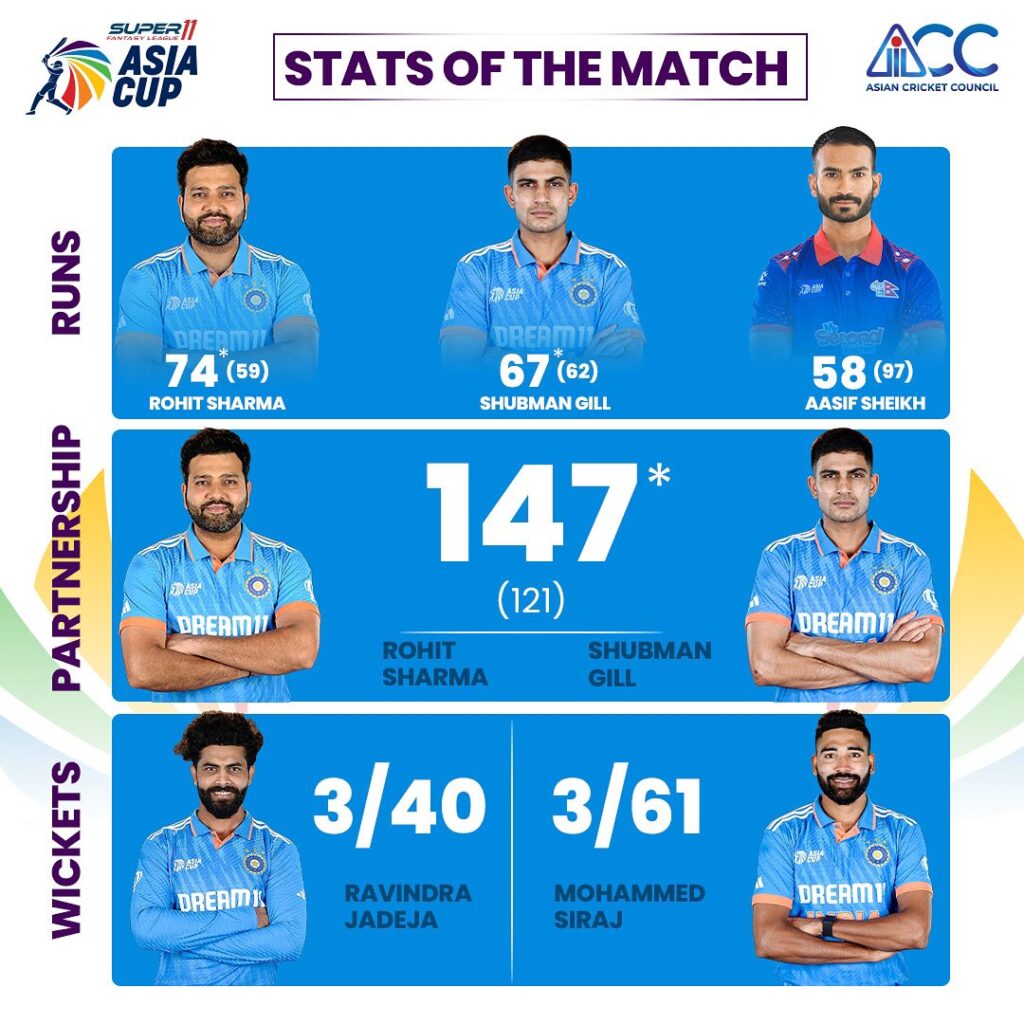 Records Tumble
The India vs. Nepal encounter saw several records tumble and milestones achieved:
Rohit Sharma became the fourth batsman in Asia Cup history to surpass 2000 runs, joining elite company alongside Kumar Sangakkara, Sanath Jayasuriya, and Sachin Tendulkar.
Rohit Sharma ascended to the second-highest run-scorer in Asia Cup history, eclipsing Sanath Jayasuriya's tally of 1220 runs. He now stands at 1248 runs, trailing only Kumar Sangakkara's 1256 runs.
Shubman Gill etched his name in the record books by becoming the youngest Indian batsman to register a fifty in Asia Cup, achieving this feat at the age of 23 years and 102 days. This record bettered Virat Kohli's previous mark, set at the age of 23 years and 182 days in 2012.
India's opening partnership of 147 runs established a new record for the team's highest partnership in Asia Cup, surpassing their earlier best of 127 runs between Sachin Tendulkar and Sourav Ganguly in 2004.
India's 10-wicket victory margin equaled their largest in ODIs, matching their previous wins against England in 2022 and Kenya in 2001.
___________Take a look on point table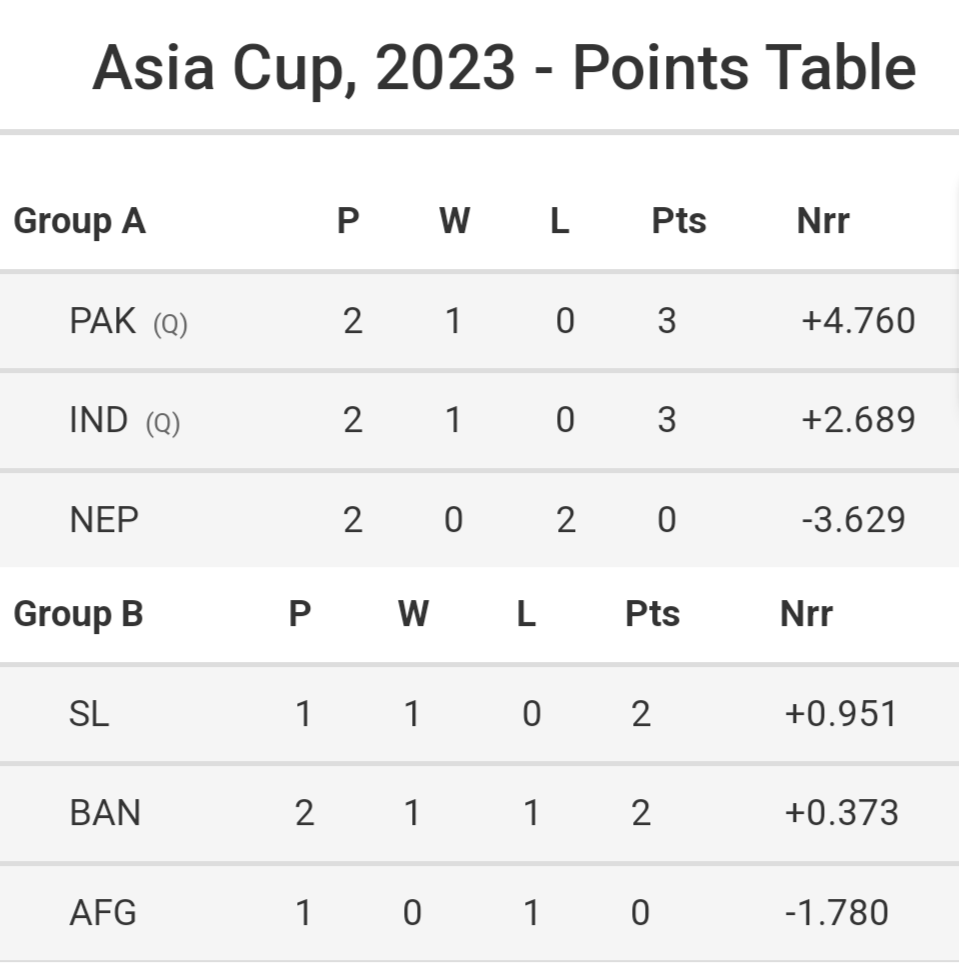 India's World-Class Performance
India's dominating performance in this match underscored why they are regarded as one of the world's top cricket teams. They showcased their exceptional batting prowess and the depth of their bowling lineup. India's adaptability to various conditions and situations was on full display.
Nepal's Glimpse of Potential
While Nepal may have been outclassed by India in this contest, they provided glimpses of their cricketing potential. This historic match marked the first-ever senior-level encounter between India and Nepal in men's cricket. Nepal's spirited performance against a cricketing powerhouse like India serves as a valuable learning experience. To compete with the top teams in the future, Nepal will need to build on this foundation and further refine their skills.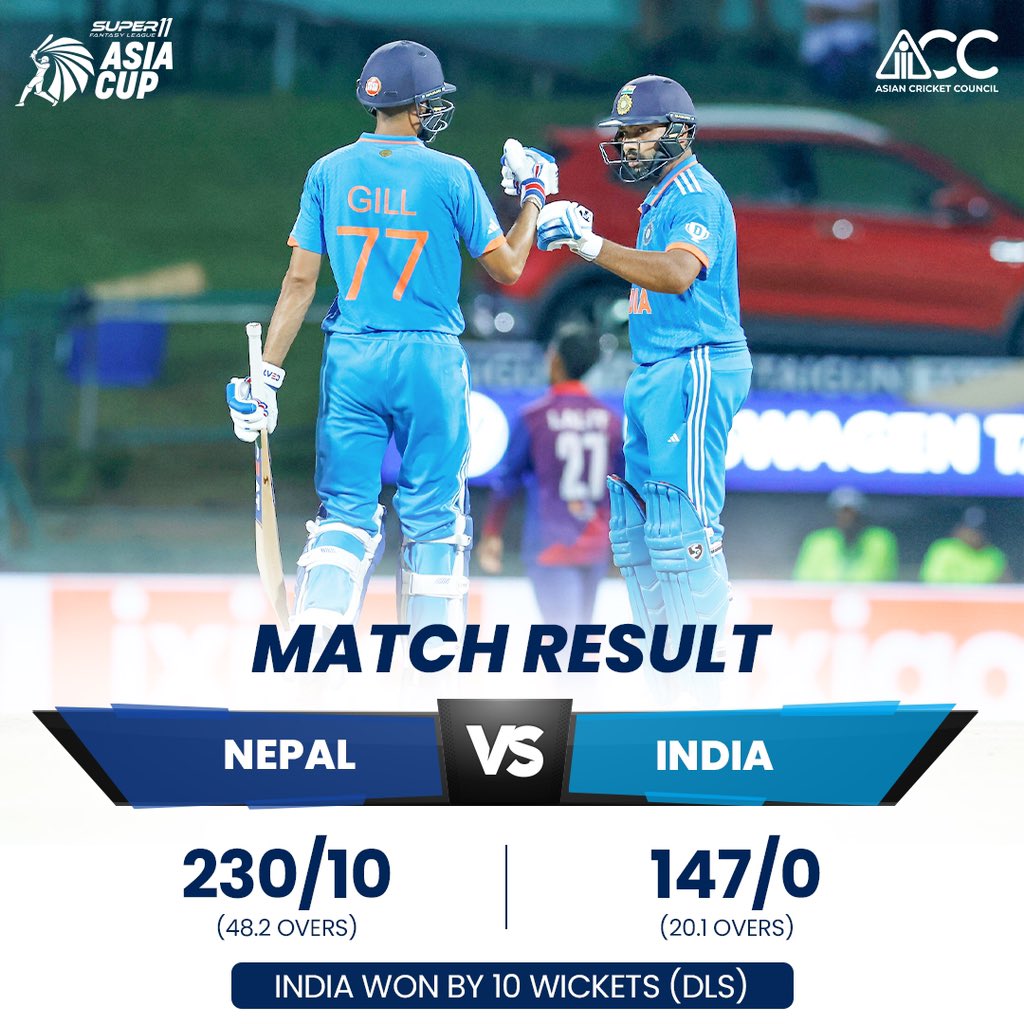 image credit – acc X
The Prestigious Asia Cup 2023
The Asia Cup 2023 is a prestigious cricket tournament featuring six Asian teams. The final is scheduled for September 14, 2023, at the R.Premadasa Stadium in Colombo.
In this thrilling encounter between India and Nepal, cricket enthusiasts witnessed some exceptional performances and record-breaking moments. Stay tuned for more updates from the Asia Cup 2023! Don't forget to like, comment, and share. Have a great day!https://gamingpur.com/chandrayaan-3-mission-pragyan-rover/