Fueling India's AI Revolution: Reliance-NVIDIA partnership Dynamic Dominates Reliance AGM 2023
AI Revolution of Reliance-NVIDIA partnership : In a groundbreaking move that promises to shake up the world of artificial intelligence (AI), India's powerhouse, Reliance Industries Limited, has teamed up with the global chip design giant NVIDIA. This exciting collaboration aims to bolster India's presence in the AI and semiconductor chip manufacturing sectors. Let's delve into the details of this game-changing partnership and what it means for India's tech landscape.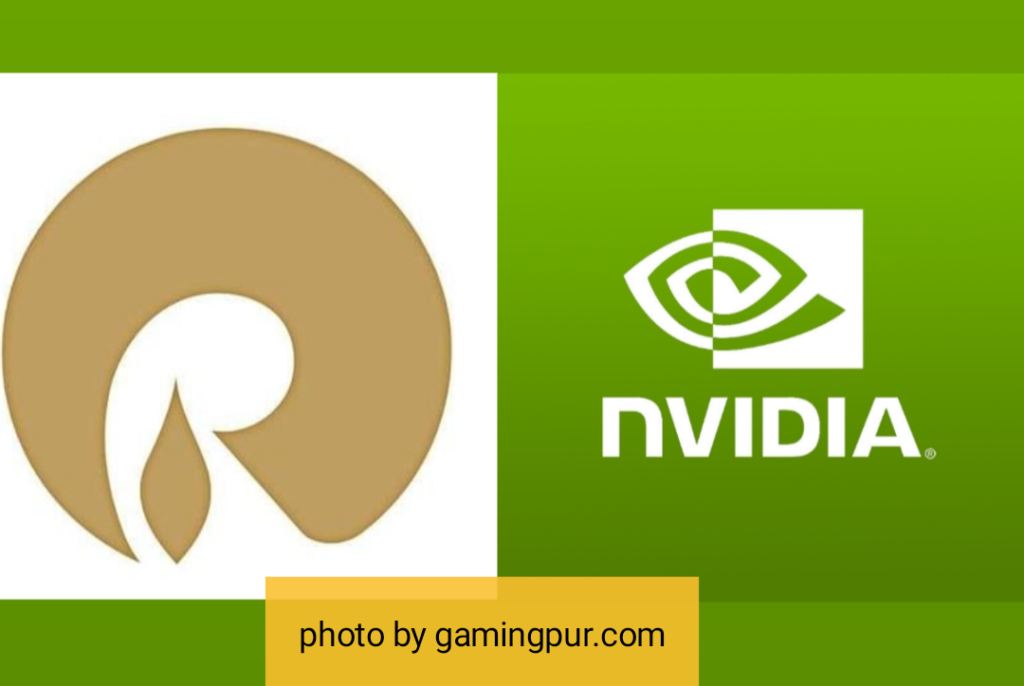 In an unprecedented move poised to reshape the AI landscape, Reliance Industries Limited, a formidable player in India's corporate realm, has joined forces with the global semiconductor giant, NVIDIA. This collaboration, unveiled during the 46th Annual General Meeting (Reliance AGM 2023), is set to usher in a new era of technological advancements and innovation in India. In this article, we'll explore the far-reaching consequences of the Reliance-NVIDIA partnership and what it means for India's thriving tech ecosystem.
Reliance's Vision for AI :
At the helm of the 46th Annual General Meeting, Mukesh Ambani, the visionary leader of Reliance Industries Limited, unveiled an audacious vision for AI. The company articulated its unwavering commitment to the advancement of AI models, signaling its intent to lead the charge in this transformative field.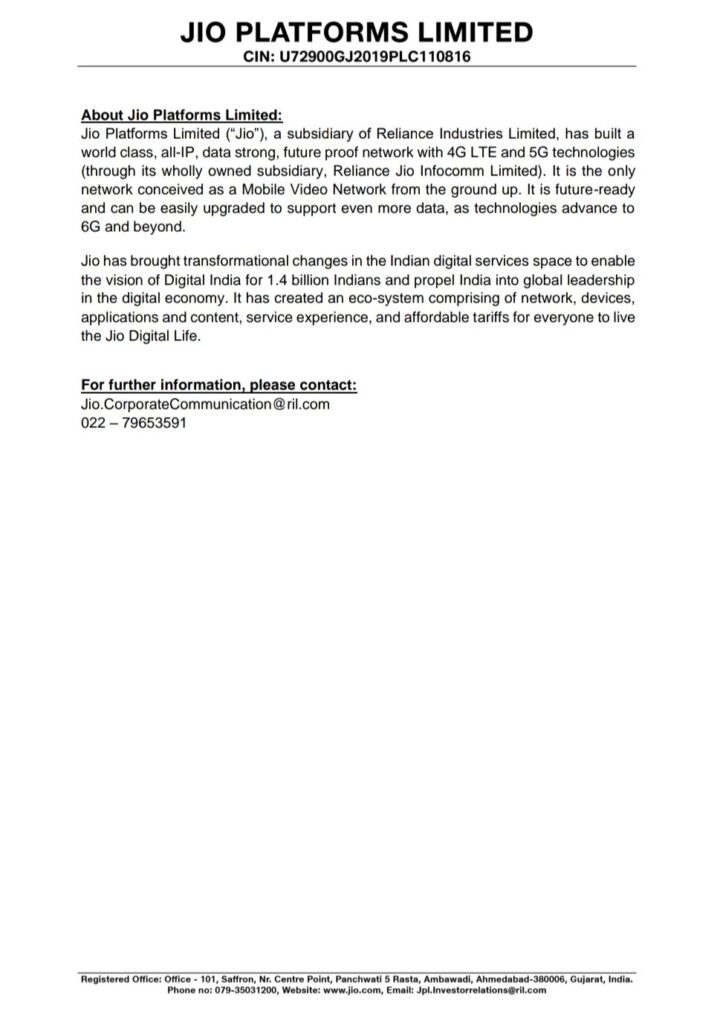 Photo by reliance industries limited x
The Reliance-NVIDIA Partnership:
Reliance's quest to assert dominance in the AI arena took a giant leap forward with its strategic alliance with NVIDIA, a global chip manufacturing behemoth. The primary goal of this collaboration is to forge a robust foundation for cloud-based AI computing, poised to revolutionize the digital services industry.
Why This Deal Matters :
The Reliance-NVIDIA partnership has captured the attention of the tech world for several compelling reasons:
Boosting India's AI Ambitions: This partnership is a strategic masterstroke aimed at elevating India's stature in the global AI and semiconductor chip sectors. It underscores India's determination to play a pivotal role in shaping the future of AI.
Deepening AI Ecosystem: NVIDIA's collaboration with Indian giants like Reliance Industries and Tata Group reinforces its position in India's burgeoning AI ecosystem, which is primed for exponential growth.
Addressing Export Challenges: Amidst U.S. restrictions on chip exports to certain countries, this partnership opens new avenues for NVIDIA in India, diversifying its global operations.
High-Level Discussions: The meeting between NVIDIA CEO Jensen Huang and Prime Minister Narendra Modi underscores India's immense potential in the AI sector, setting the stage for future breakthroughs.
Key Highlights of the Reliance-NVIDIA Partnership :
Under the agreement, NVIDIA will provide the computational firepower essential for constructing a cutting-edge cloud-based AI infrastructure platform. Jio Platforms, a subsidiary of Reliance, will assume responsibility for overseeing and maintaining the infrastructure, while actively engaging with a vast customer base. This strategic partnership is set to birth AI applications and services tailored for Jio's extensive customer network, while simultaneously delivering energy-efficient AI infrastructure to India's scientific community, developers, and startups.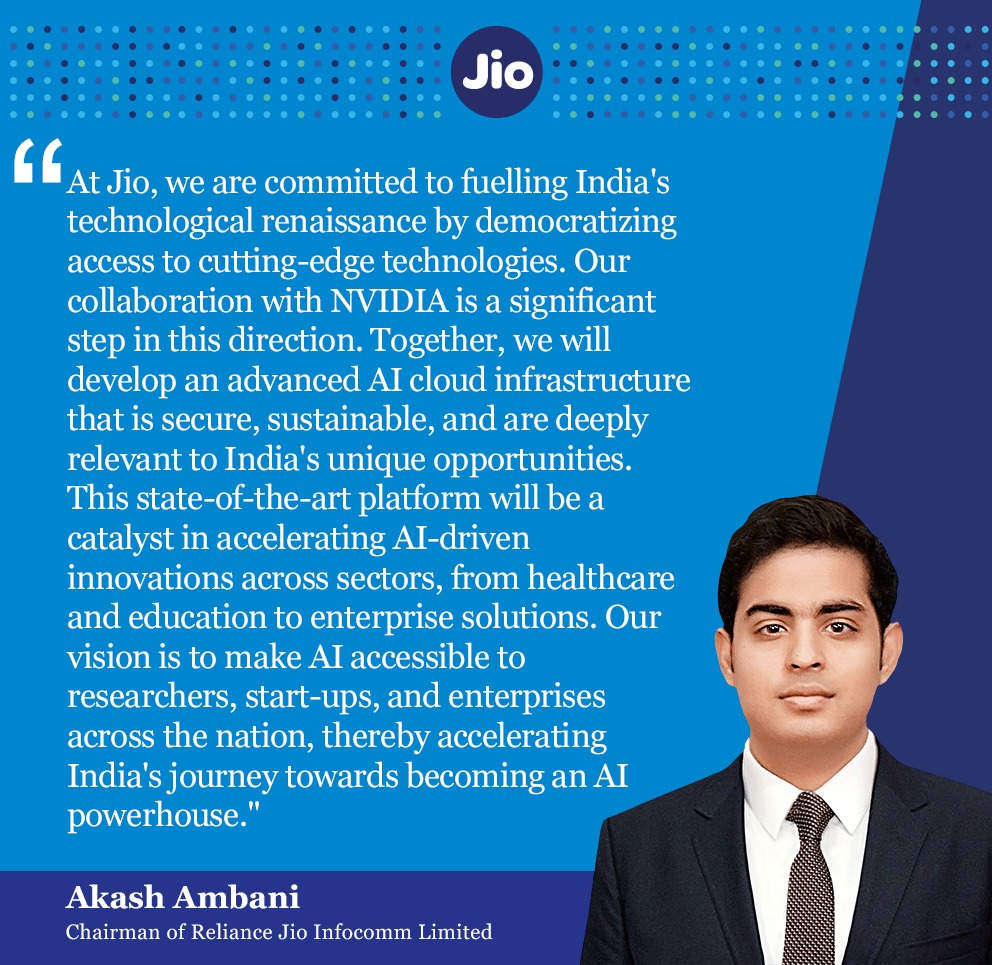 Photo by reliance industries limited x
Tata Consultancy Services (TCS), India's preeminent software services exporter, is poised to harness NVIDIA's resources in the development of generative AI applications and a supercomputer. This groundbreaking collaboration encompasses a significant workforce upskilling initiative involving over 600,000 TCS employees, marking a pivotal step towards enriching India's tech talent pool.
Additionally, this alliance is set to catalyze AI-driven transformations across Tata Group companies, spanning a spectrum of industries, from manufacturing to consumer businesses.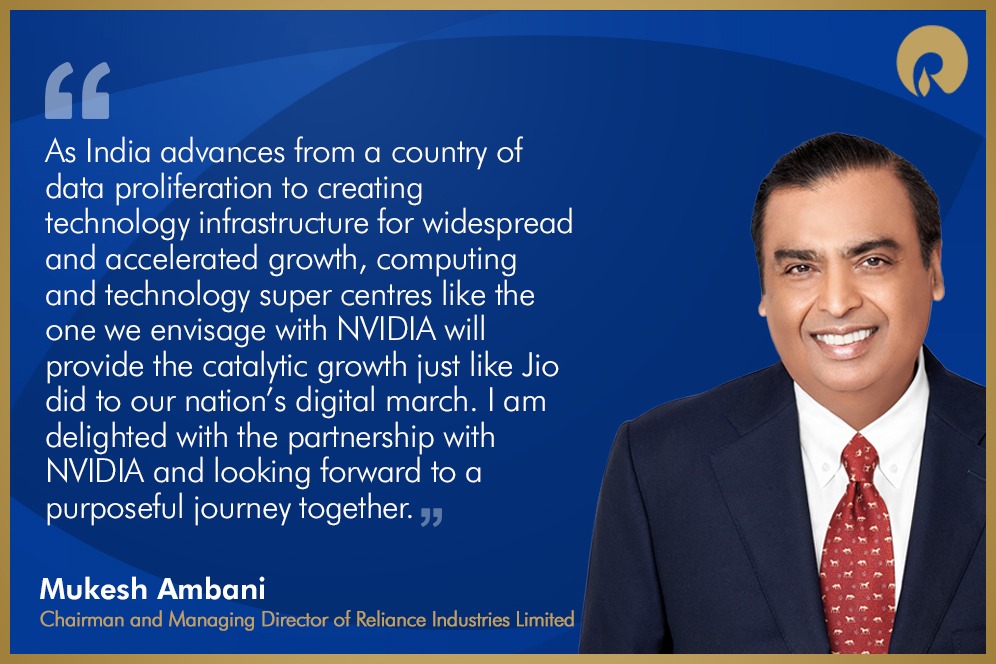 Photo by reliance industries limited x
The Impact on AI and Beyond :
Reliance's access to the state-of-the-art NVIDIA Grace Hopper Superchip, meticulously crafted for AI inference tasks, promises to expedite critical AI projects across India. These projects encompass a diverse array of applications, from the development of sophisticated chatbots to accelerated drug discovery and groundbreaking climate research. This partnership is pivotal for Jio, as it leverages its expansive data resources, facilitating an expansion of services beyond the telecom sector and into diverse domains such as retail and finance.https://x.com/RIL_Updates?s=09
Reliance-NVIDIA Partnership: Shaping India's Technological Future
As the Reliance-NVIDIA partnership continues to make waves, it's evident that this collaboration transcends traditional boundaries, promising to mold India's technological landscape. Stay tuned for the latest developments as Reliance and NVIDIA embark on this transformative journey, steering India towards AI excellence and global prominence. Keep following our blog for updates on this game-changing partnership and the latest insights into the dynamic world of technology and AI.
https://gamingpur.com/tekken-8-a-new-era-of-fighting-games-beckons-in-2024/